Tesla is now the largest car maker in the world and becomes more and more the nightmare of all Short-Sellers. This is unlikely to change in the coming years. Last I explained in the TOTD 6th of February 2020 why Tesla stock fired a powerful buy signal in the DECADE timeframe by printed last December closing price and the afterwards stellar January 2020 gains. To re-read this click here...
At that time we almost knew that the "Big Round" 1000$ number threshold = upmagnet number should necessarily be reached. And now that the price fired a new 1794.99$ all-time high (ATH) at this week high, I can only announce that another powerful buy signal has been fired on DECADE base and thus sometime in the 2020-2029 DECADE the next higher Big Round number, namely the 10000$, with a +90% probability has to be reached and worked off.
For the more short-term oriented trading activities ;-)) and strategies in the big picture we use this monthly up setup what is a monthly 9 Candle up where 9 - 1 = 8 Fib number. Setup starts at last important low of the passed 2010-2019 DECADE, what is the # 1 // final low of 2019: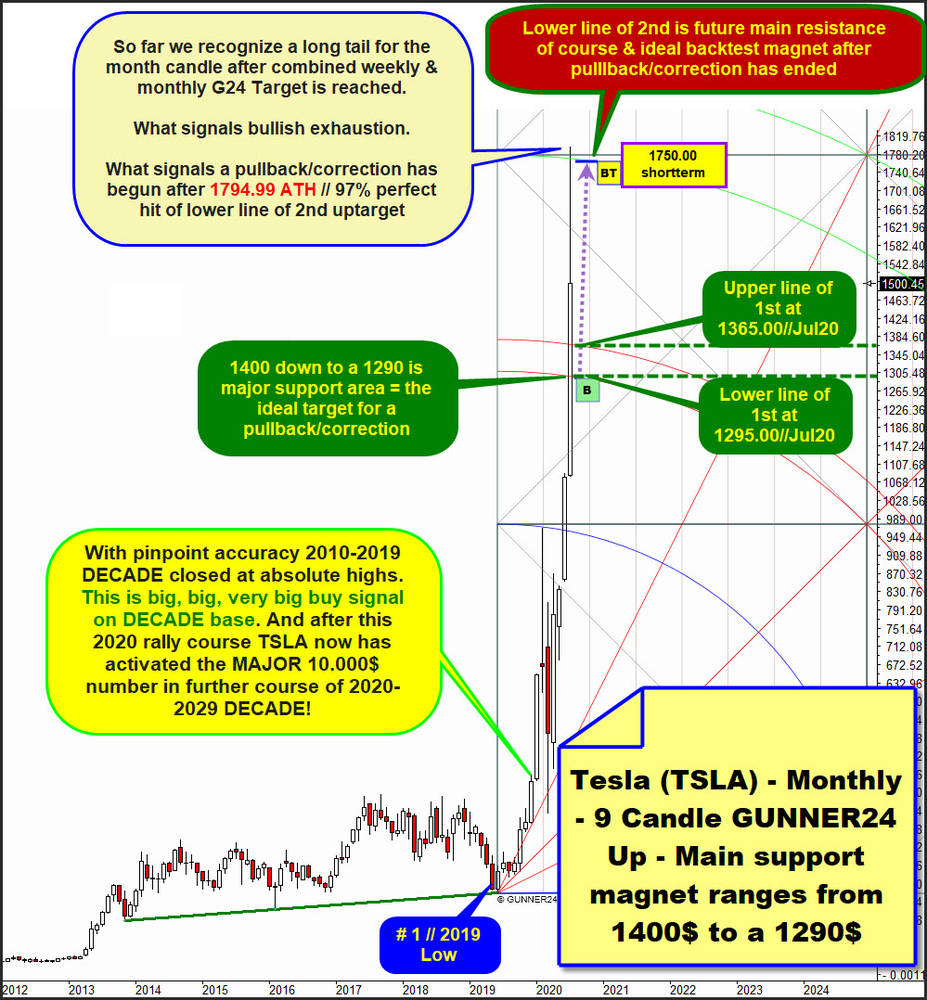 Tesla settled at 1500$. What is round Gann number, thus important and most important nearest support actually. The 9 month candles long initial impulse forecasted some problems starting at lower line of 2nd double arc, natural uptarget out of the most recent important low of the old DECADE.
And here we are. This week printed 1794.99$ July ATH shows 97% perfect hit of lower line of 2nd from below, followed by a serious reaction to the downside. Like the # 9-candle this underway # 14-candle shows a very long upper wick, what always signals an important/significant bullish exhaustion has occured or probaly is underway. ALSO # 14-July 2020 - 1 is 13 Fib number, important natural turn number..., so something points to the outcome that a more serious pullback/correction has started at 1794.99$ July ATH!
The lower line of 2nd could have become an arc resistance in the DECADE time frame, but for sure this rail should deliver GUNNER24 Main Resistance energy for the month candles to come. At same time lower line of 2nd resistance arc is very interesting = major ATH backtest magnet!
==> The first month close above the lower line of 2nd would be the next buy signal in the DECADE time frame!
The, or a more serious pullback/correction of course could run into the 1st double arc environment for testing back this natural monthly future support area.
Within chart above I noted that the 1400$ down to a 1290$ or so is MAJOR future support zone for TSLA shares. Also this 1st GUNNER24 Double Arc range forms future "core support area" running from 1365$ to 1290$ as upper line of 1st is important monthly support at 1365$ for the July 2020 and lower line of 1st arc support runs at 1295$ for this still in the making July 2020 candle.
==> Think we should feel safe going long at 1295$ lower line of 1st monthly support rail when 1295.00$ is getting tested within this probably started daily and weekly pullback/correction cycle.
After this parabolic run, emotions are at rev limiters. The bears are grilled and cry, the bulls are dancing. The intraday volatility is extreme, the stock price drops and rallies a 100$ within some hours, depending on. Next earnings figures and forecast are due next Wednesday after the regular close. Such a long position could therefore possibly be triggered as early as midweek as a consequence of the Q2 earning figures.
This week printed fresh 1794.99$ alltime-high ALSO has arrived at combined weekly GUNNER24 Uptarget Resistance. So, this bull extreme has worked off combined weekly & monthly resistance magnet: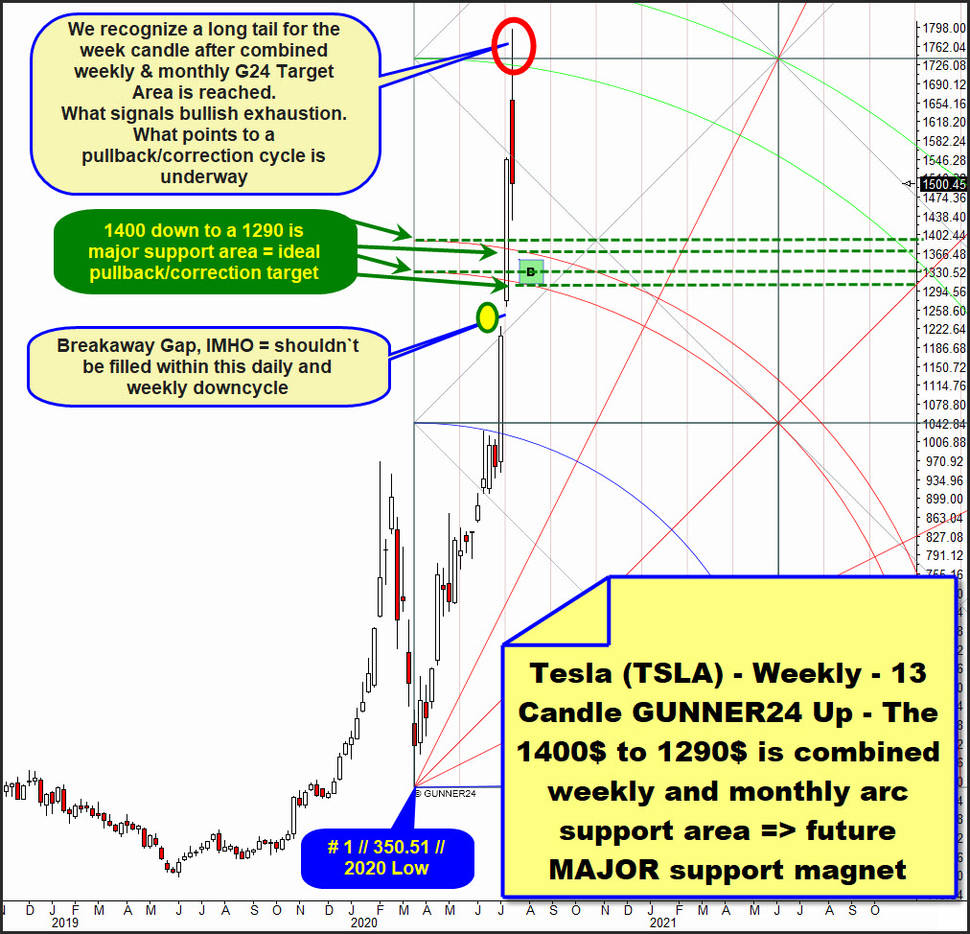 Regarding the weekly chart, I have two valid up setups we should use for trading decisions and the assesment of the trends. Both start at the year low what is the # 1 // 350.51$ // coronavirus panic low.
The above overlayed weekly 13 Candle up shows that the ATH was nearly perfect work off of the lower line of 2nd double arc = natural GUNNER24 Uptarget, now future important weekly resistance. With the 1500$ close this lower line of 2nd now represents not only future week high, but also future weekly closing base resistance threshold.
Accordingly, the first week close above should be the next important buy signal in the weekly chart...
Backtest cycle into 1st double arc support looks to be underway as the candle has long, long upper tail (bull exhaustion!) and has mighty red body what during Feb20 virus sell-off cycle triggered a signal for more down to expect.
From the environment of the 1st double arc there are some important future supports, what I have highlighted dark-green-dotted. Difficult from today's point of view which of them has the highest attraction for a possible turn/low or to be a main support.
But it should be obvious that the 1400$ down to the 1290$ range ALSO should offer unsual strong, cause natural support in the weekly chart.
Here is the next. Another to a Fib number oriented weekly up: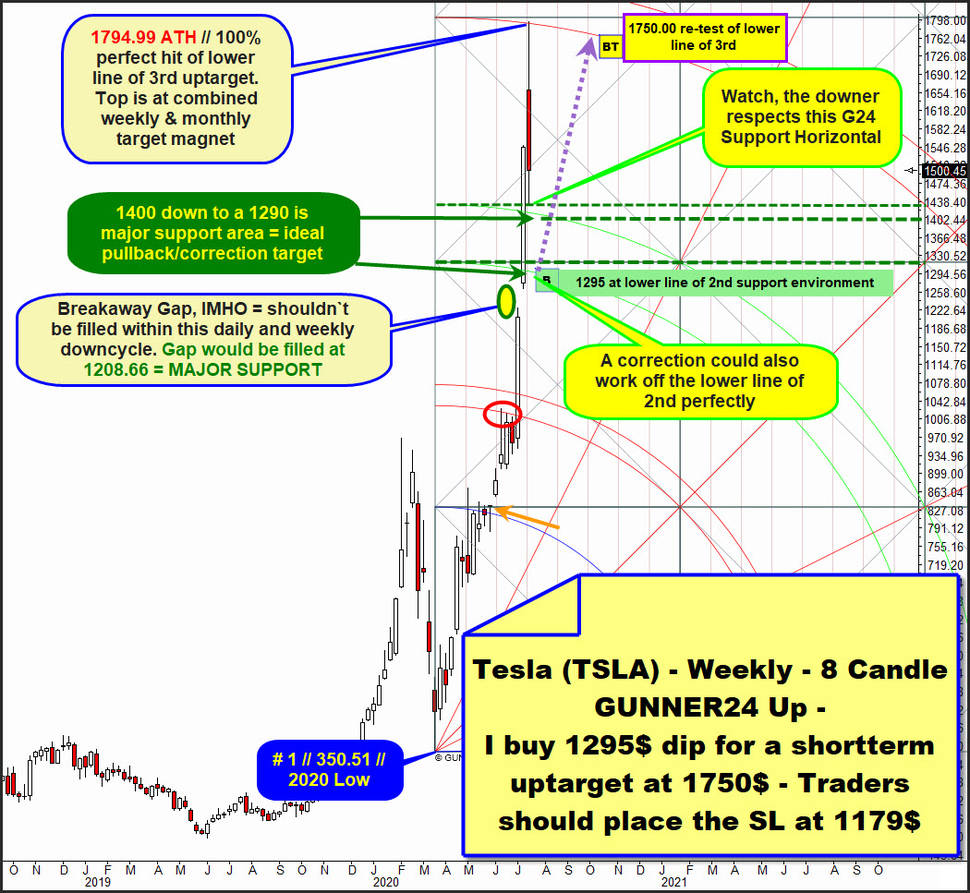 Within this natural 8 Fib number initial impulse dimension we recognize A) some activity at the first square line and the former lower line of 1st double arc resistance rail. B) this week low exactly arrived at the most upper support out of the 2nd double arc. This allows that a daily pullback finally ended at this week Tuesday lows and price could now test back the lower line of 3rd double arc major backtest magnet! This could also be a direct consequence of the upcoming Q2 numbers!
C) The ATH is the 100% perfect work off of the lower line of 3rd uptarget. By this also this lower line of 3rd is a nicely-confirmed weekly resistance on week high and weekly closing base, etc.
==> As outlined this 1794.99$ usually should be an important high as ATH tested combined weekly & monthly arc uptarget resistance magnet at first sight negative from below. What offers that the top could be a very serious or longerlasting one!..., with the corresponding implications for the coming weeks and even months.
Next, let us decuce this conspicuousness:
Lower line of 3rd magnet is important for the price for sure. Lower line of 1st was important for the price as this braked the rally for about 3 week candles. So far we could not recognize yet that the lower line of 2nd was important for the price, but that could still come...
And therefore it might be the outcome that the pullback/correction needs a test of the weekly lower line of 2nd double arc what runs near 1295$, thus together within monthly lower line of 1st double arc support forming the "ideal", cause perhaps most attractive downmagnet support for the downcycle.
And this is the support magnet I will use for a long entry.
==> I will order TSLA shares at 1295.00$ combined weekly & monthly arc support magnet IF getting tested in course of July 2020!
Well. Of course there is the possibility that the gap support magnet at 1208.66$ is important target, even a main down target for a pullback/correction.
But I doubt somehow that this gap will be filled in this likely underway pullback/correction cycle. The combined weekly & monthly 1400$-1290$ support magnet seems to be much too strong for the price to fill this gap magnet necessarily in the coming few weeks.
However, perhaps the gap will be filled sometimes in summer after the serious backtest of the ATH, what is what we should expect after 1400$-1290$ has held and triggered the a corrective wave for the ATH backtest = lilac-dotted arrow forecast!
Once 1400$-1290$ heavy-CONCRETE support range with a 95% probability has triggered the pullback/correction low until end of July the price should aim north again for the quite normal backest of ATH resistance area = the lower line of 3rd double arc main resistance upmagnet above.
This is why I think that a 1295$ long position should be held until the 1750$ main resistance is tested back within 3 to 8 weeks candles!
==> Recommendation for the traders: Please place the stop-loss (SL) for an at 1295$ triggered long position at 1179$!
Longterm oriented investors should hop the TSLA Freight Train at a such 1295$ and really don`t need to place a SL as these uptargets are now finally activated:
A) the next higher round number what is the 2000$ threshold. The 2000$ Gann number upmagnet should be processed sometime in further course of this trading year 2020! This probability has risen to a +90%!
B) with a 90% probability TSLA will trade at "Big, Big Round 10000$" sometime until end of 2029.
==> There is a plausible GUNNER24 Scenario existing that after a 2000$ processing IN FURTHER COURSE OF 2020, a serious backtest of the Big Round 1000$-DECADE main support down to the 800$ can occur.
Be a part of our exclusive sworn GUNNER24 Trader Community – now... I try to make you rich!
Be prepared!
Eduard Altmann