In advance the natural weekly GUNNER24 2nd double arc resistance together with existing rising ATH resistance rail and until then also for this year totally confirmed 116-year Pre-Election Year trading cycle signaled important 2019 cycle highs are due towards end of July to early-August at about ES # 3035 pts. So it did happen and current 2019 ES # alltime-high (ATH) was harvested on July 26th at 3027.50 pts.
The derivation of this striking GUNNER24 Forecast you can check here again ==> Issue 06/23/2019 - "S&P 500 again runs on rails in this Pre-Election Year"
This quite easy to identify MAJOR 2019 price/time magnet should have triggered a 5 to 15 week candles lasting pullback in the 2019 rally year that with a +90% probability will be able to close near or close to reached year highs.
And right on schedule the US stock markets started their individual pullback cycles which for the often telling E-mini S&P 500 future continuous contract (ES #) for next week candle will be at No. 5: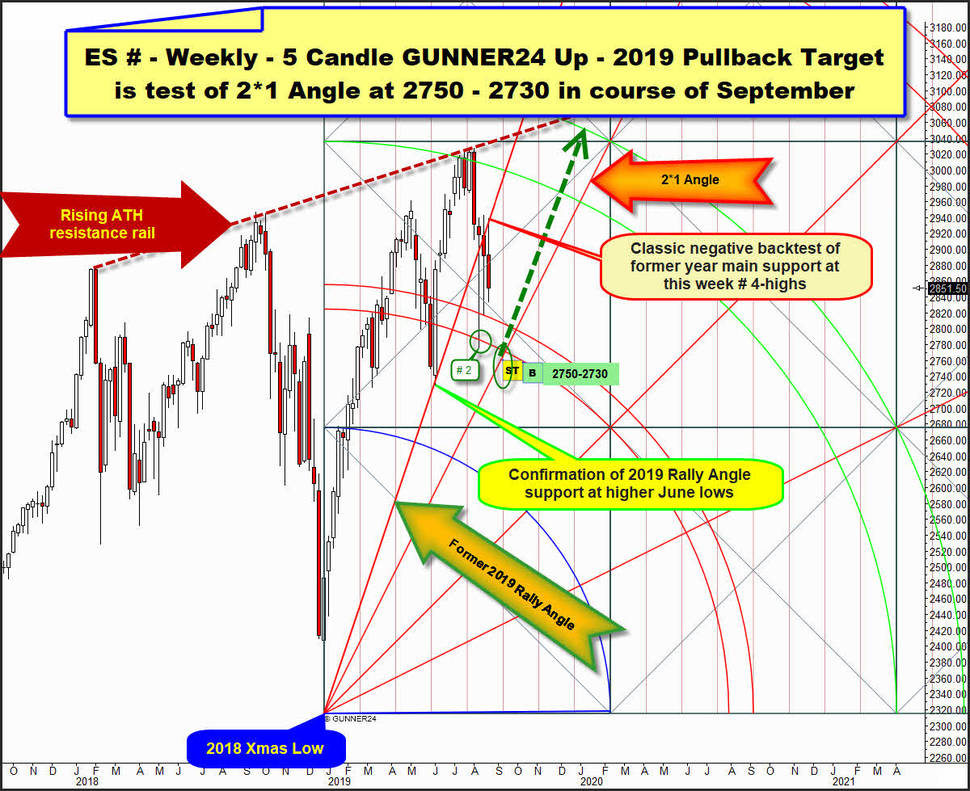 Since the beginning of 2019 we mainly work with above shown weekly 5 Candle up, starting at 2018 Xmas Low that is next higher important bull market low and the spring board magnet for the anticipated 2019 uptrend year.
A 5 to 15 week candles pullback cycle caused by 3035 pts/late-July-early-August MAJOR resistance magnet had quite normal first downtarget of within setup naturally anchorable 2019 Rally Angle, former 2019 main support Gann Angle, now strong main resistance Gann Angle.
Former 2019 Rally Angle support at 2900 pts was worked-off and exeptionally deeply violated in course of pullback week # 2. The first important pullback low seen at bearish extreme of # 2 formed as initial very bullish spike low which tested natural GUNNER24 Arc Support of lower line of 1st double arc from above and this allows that the ENTIRE pullback cycle found it`s lowest price after a just 2 week candles lasting wave at 2775.75 pts/# 2-low.
However, and this is clearly the signature of an ongoing pullback and lower pullback lows to come, first the 2019 Rally Angle support was broken on weekly closing base at # 3-close, followed by past week # 4-highs which have tested the Former 2019 Rally Angle from below in an unusual bearish fashion.
And as important consequences of the final loss of the previous main support of the 2019 Rally cycle and afterwards noticed "Kiss of Death" of this main support at # 4-highs we should recon with:
A) the imminent re-test of the confirmed lower line of 1st double arc support = strongest pullback support.
B) The now probably mandatory first test of the 2*1 Angle which is now the next most important support on annual base below the current quotation.
GUNNER24 Method suggest that this pullback cycle ( 5 to 15 week candles) needs the very first test of 2*1 Angle out of important final low of 2018!
Also because the usual seasonal aspects were fully respected in this trading year so far. Where the months August & September usually should always be a quite weak period cause the market makers spend their summer holidays during that time. August to September usually always is the weakest period of the entire year!
==> Important time factors (yearly seasonality & 116-year Pre-Election Year cycle & GUNNER24 2*1 Angle down magnet) signal the pullback continuation into September.
Price factor points to a test of 2750 to 2730 pts within running pullback cycle. At this MEGA support area lower line of 1st double arc support and 2*1 Gann Angle out of higher 2018 bull market low unite for the coming first September candles.
In the daily chart the E-mini S&P 500 future contract could therefore develop something like this according price and time: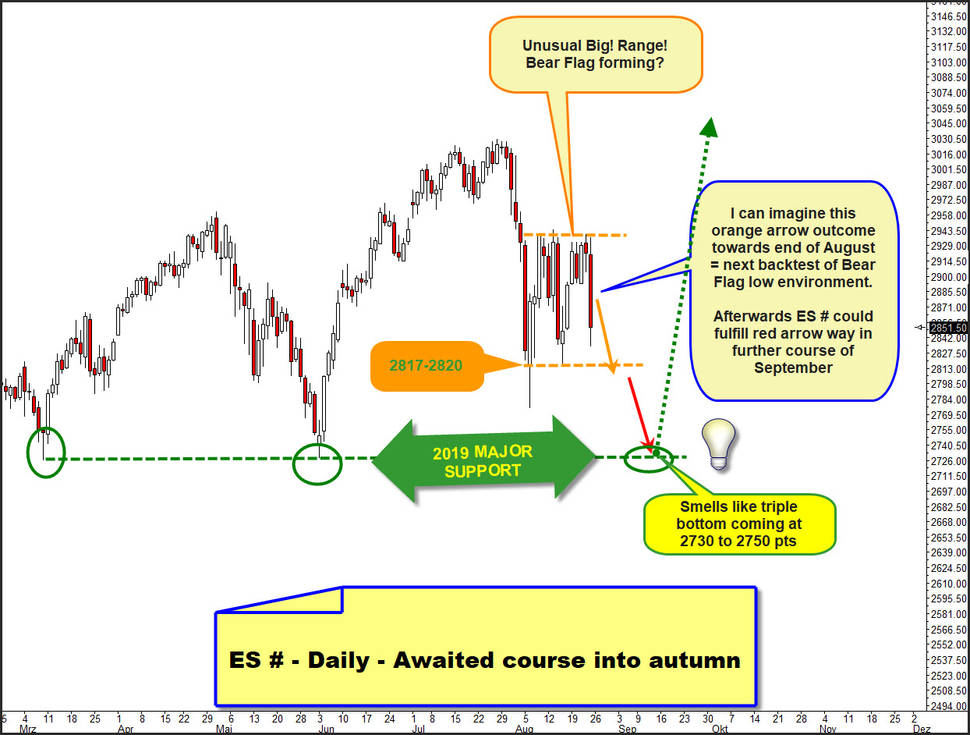 So far, we recognize a rather broad consolidation pattern in pullback cycle which forms above printed early-August 2775.75 spike low (pullback week # 2-low).
ES # obviously forms a daily Bear Flag which is unusually wide due to the huge volatility of the past few weeks. After the ugly Friday sell day which at highs again found daily Bear Flag resistance and much more important seems to be a "Kiss of Death" high printed precisely at former yearly main support, now major resistance, I think that the S&P 500 will test the lower orange-dotted Bear Flag support at about 2820 in course of the next 1 to 3 trading days and afterwards is able to defend that Bear Flag support area until the end of August.
After that – with a relative high odd!! - the red arrow path should unfold with market down for the third test of the 2019 MAJOR SUPPORT horizontal near 2730-2750 pts and due for about mid-September, followed by the next multi-month running bull market upward cycle? which usually should be able to print some higher alltime-highs in course of autumn... let's see.
2019 Rally year forecast/outcome with higher highs to expect just should be pulped IF ES # prints a monthly close below 2700 pts until September 2019!
Be prepared!
Eduard Altmann