Correction cycles often are tricky to count, to measure and to forecast according price and time, cause they are always just counter swings within a bigger trend. Bulls are always lurking and hoping for the main trend continuation, bears battle for short-term oriented gains cause they know market is in corrective mode until proven otherwise.
Gold will now once again attack its MAIN resistance of this correction, which has now been running for 18 months.
At the beginning of this issue, let us recall the 2 most important constants of this gold correction, which began at the August 2020 alltime-high at 2089.2$.
They are both well-known.
For a long, long time.
First, this rising support rules.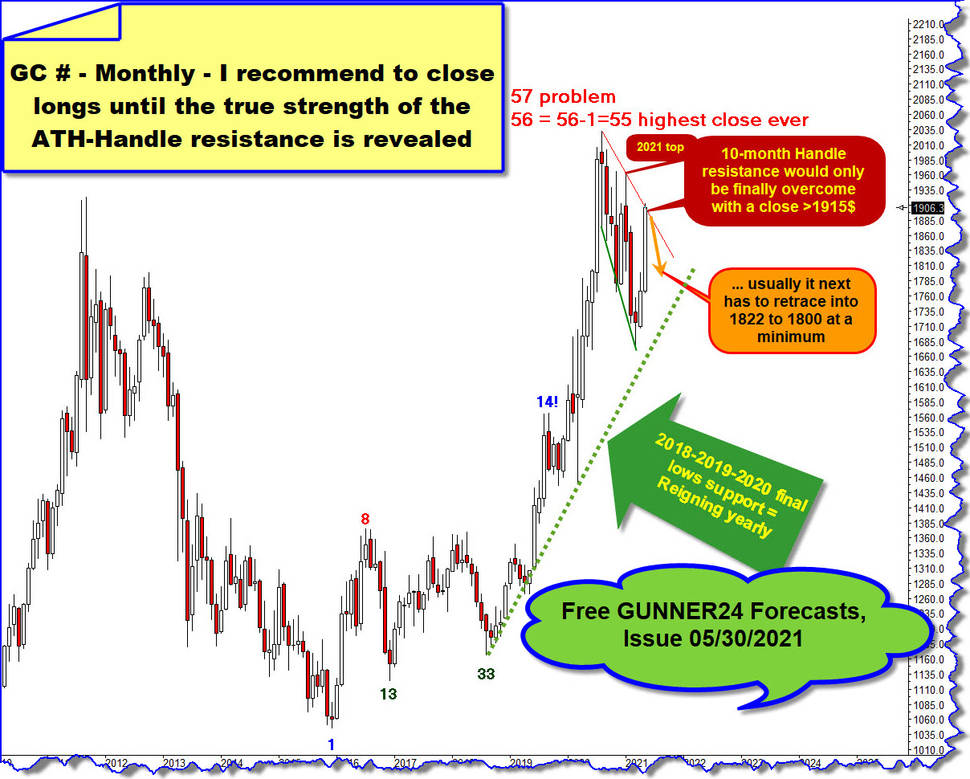 It`s all about the dark-green dotted support rail that emerges from the final low of 2018 (at the No. 33 above). Which then triggered the higher bull market lows of 2019 and 2020, and thus the final lows of 2019 and 2020. So this ruling yearly support magnet triggers a series of higher bull market cycle lows.
And there is this slightly falling main resistance. It helped to release the alltime-high. It not only helped releasing the corrective cycle, but has been influencing it most of all for over a year now.
It released a loooong-lasting corrective cycle. The last time we analysed gold on a monthly base, it had already been confirmed above average = often & accurately, so that we could use it for probable future gold developments & swings as well as important due signals.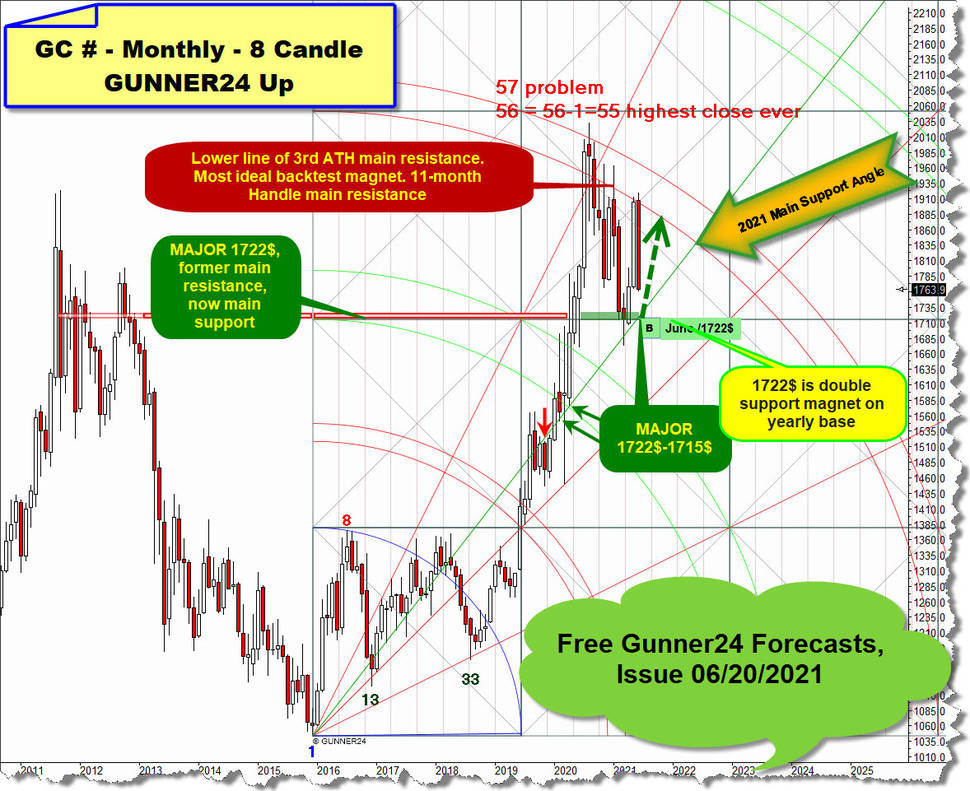 It`s all about the lower line of 3rd double arc within the for long-time working monthly 8 Candle GUNNER24 Up (GUNNER24 Newsletter, Issues 07/26/2020 and 06/20/2021), starting at final bear market low of 2015.
This downward oriented lower line of 3rd double arc is the most reigning MAIN resistance rail of the ongoing gold correction. At the same time it acts as most important backtest upmagnet for gold. It is combined resistance on alltime-high base and also on a yearly base as the years 2020 and 2021 were not able to close above it. Lower line of 3rd is also a DECADE and CENTURY and MILLENIUM resistance and backtest magnet, of course ...
But for the current trading/investing and its important signals, it is probably much more important that in the meantime this lower line of 3rd double arc mutated into a well-confirmed falling resistance on monthly closing base.
Observe this existing condition for the current chrunch time situation on the current gold chart below. In this monthly chart, you can now see at a glance how the determining dark-green dotted yearly main support, the ruling main resistance of the lower line of 3rd and the corrective cycle acted together, or are directly related: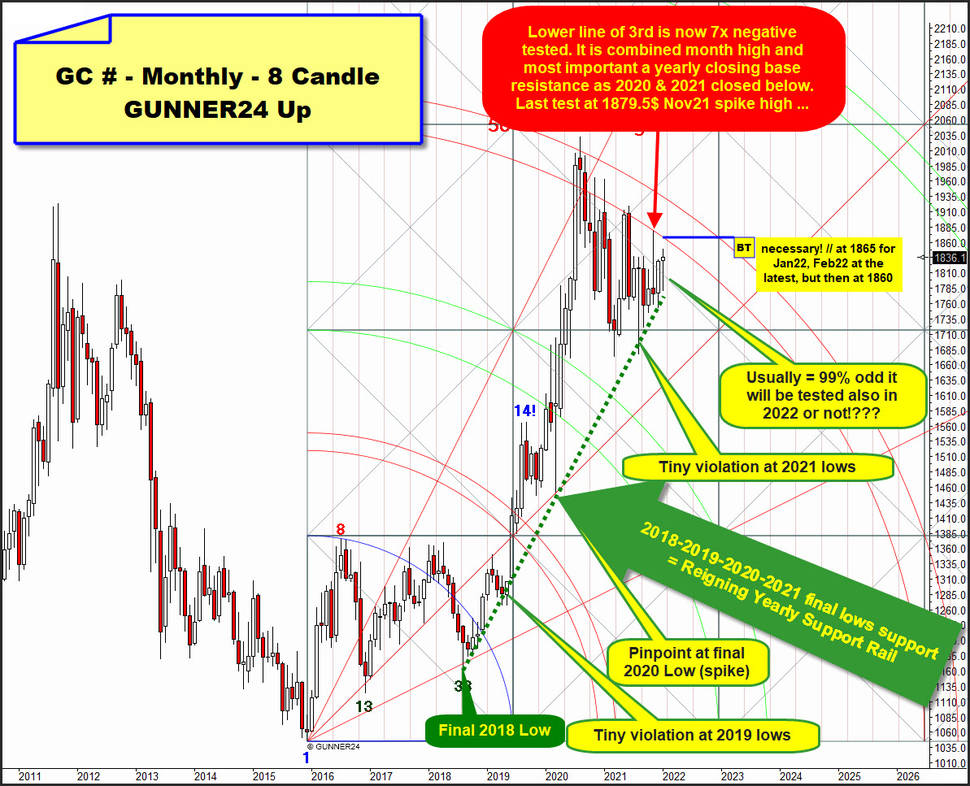 In the meantime, the rising reigning green-dotted yearly support rail is responsible for printing the HIGHER final lows of 2018, 2019, 2020 and 2021! The last most importat successful backtest of "Reigning Yearly Support Rail" happened at final August 2021 lows.
==> So it may well be the outcome that the gold correction was classically oriented to the 1-year-cycle. August 2020 ATH => August 2021 lows!
With this brutally strong series of higher final yearly lows, we can say with all our hearts that this rail is the reigning support of this bull market, right?
Think, the very last successful test of the "Reigning Yearly Support Rail" from above has happened at final low of December 2021. And this last successful test of rising yearly support now leads to the gold retesting its reigning main resistance with 99.99%-probability!
In the meantime, the upper line of 3rd has been tested very negatively 7 times. Most recently, this arc was tested back with pinpoint accuracy at the spike high of November 2021.
As only the monthly closing price of July 2020 came in above the lower line of 3rd, it is not only the most powerful falling resistance on a yearly & alltime-high basis but also a month high and monthly closing base resistance magnet. All at the same time. So the arc is a really powerful resistance, and well, you can see at a glance that the current January 2022 candle is already trading very close to the arc.
==> Such sharp-confirmed hard resistances like the lower line of 3rd double arc above tend to break finally only at third, fourth or even fifth attempt regarding the rule of 3 and 4. Thus, with the 8th attempt now due, it is again quite possible that the arc will have to be finally taken upwards at this next test.
And this is a reason why the Gold Bulls should now prepare to go strong long for the FINAL & likely SUCCESSFUL overcoming of the entire 3rd double arc main resistance environment, IF gold will be strong enough to fire one of these closings ...
For current January 2022 the resistance arc runs at 1865$, For coming February 2022 candle the arc is exactly 5$ lower at 1860$. The 1865$/1860$ should be very important and, above all, should also mean quite exact resistances for the individual months, since the last test of the arc occurred so precisely at the November 2022 spike high.
An equally important and still reigning resistance on a yearly basis is the 1872$ GUNNER24 Horizontal, which is now just shy above the lower line of 3rd!
If we now include these 3 resistances, existing for January until the end of February, we get these buy signals for gold:
A January 2022 close above 1865$ is a weaker monthly long signal. In this case, we should assume that the main support will be retested again within a few months and maybe until end of June 2022.
IF January 2022 closes below 1865$, but February 2022 closes above 1860$ this means also a weaker monthly long signal. In this case, we should assume that the main support will be retested again within a few months and maybe until end of June 2022.
If one of the months of January or February is strong above to close above the 1872$ an official buy signal on combined monthly & yearly base would be fired. In this case, we should assume that the main support will be retested again sometime in the second half of 2022.
But also 2!! consecutive weekly closing prices above the 1872$ UNTIL END OF FEBRUARY mean a strong buy-signal on yearly base!
A monthly close above the 1922$ yearly GUNNER24 Horizontal Magnet until end of April 2022 would be another combined monthly & yearly long signal IMHO, as this positive would have overcome the 3rd double arc main resistance by large!
==> If none of the long signals described above will be triggered, the correction has some nice odd to continue for several more months - perhaps until July 2022 candle!?!? - because only then the ruling yearly main support and ruling yearly main resistance of 3rd double arc unite then at the equally important 1822$ yearly GUNNER24 Horizontal Magnet.
Be prepared!
Eduard Altmann