GUNNER24 Trade of the Day 05/24/2017
The 1:3 Trade: Sell XLE ETF at 68.35 / Next Trade of the Day on Friday
Dear GUNNER24 Traders,
The 1:3 Trade: Sell XLE ETF at 68.35
Our 1:3 trades are A) adjusted to a longer term, having a spacious stop-loss for the development not to be endangered and B) have to show a risk-reward ratio of more than 1:3.
The Energy Select Sector SPDR ETF (XLE) seeks to provide investment results that correspond generally to the price and yield performance of publicly traded equity securities of companies in the Energy Select Sector Index. The index includes securities of companies from the following industries: oil, gas and consumable fuels; and energy equipment and services.
XLE is in orderly downtrend in daily, weekly and monthly time frames. Downtrend has begun at final 2016 high (78.45$), that arrived in course of December 2016. Downtrend is now at week # 23 and is expected to continue for some more weeks, probably bottoming at near fib number week 34!
See how accurate the lower line of 1st double arc acts as major XLE-resistance since January 2017: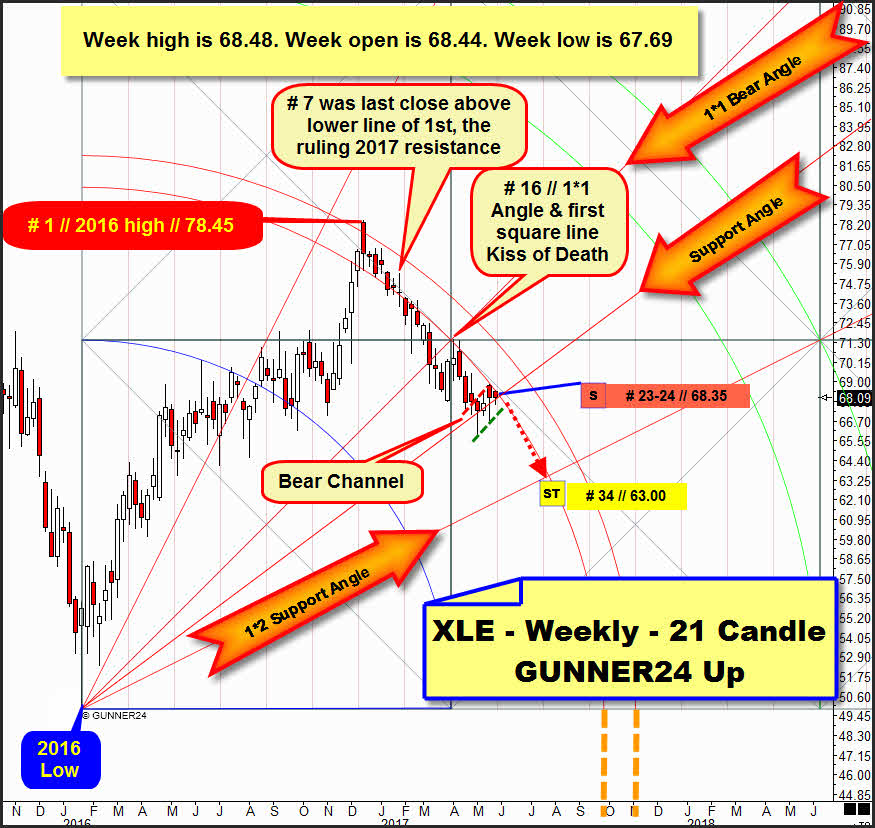 The valid weekly up setup starts at final 2016 Low and the "textbook" Fib number 21 initial impulse out of 2016 low forecasted natural resistance at 1st double arc. The 2016 high slightly dented the upper line of 1st, since downtrend is oriented to the lower line of 1st which is very strong week closing base resistance since January 2017 but also well-defined week high resistance for months. Past week candle # 22 as this week candle # 23 once again show their highs at lower line of 1st which forces XLE lower and lower over the time.
According W.D Gann`s angle rules current downtrend should at least continue till 1*2 Support Angle is tested, reached and worked off! This important natural angle support out of 2016 Low - 1*2 Support Angle is yearly support threshold - is activated Gann Angle target after downtrend week # 16 has kissed 1*1 Bear Angle from below at its top. The # 16-top (as # 17-high) additionally has tested first square line negative from below. Such 1*1 Angle kiss of death event usually points to the outcome that next lower important Gann Angle below the 1*1, means 1*2, is a major trend target.
==> For downtrend week # 34 the 1*2 Support Angle resides at round about 63$! ==> 63.00$ is shortterm downtarget for the XLE trade setup!
Cause downwards sloping 1st double arc is a resistance environment in the weekly as in yearly time frame, just a first clear weekly close above the 1st is first and very strong signal for that downtrend has bottomed before.
Influence of 1st is over according time end of September till mid-November 2017 (see orange dotted verticals), so perhaps downtrend wants to continue further into that important turn date!
Past 4 candles are supported on week closing base by highlighted "Support Angle". Since 4 weeks XLE trades within an upwards rising channel. A bear channel. And I expect a downwards break of that bear channel!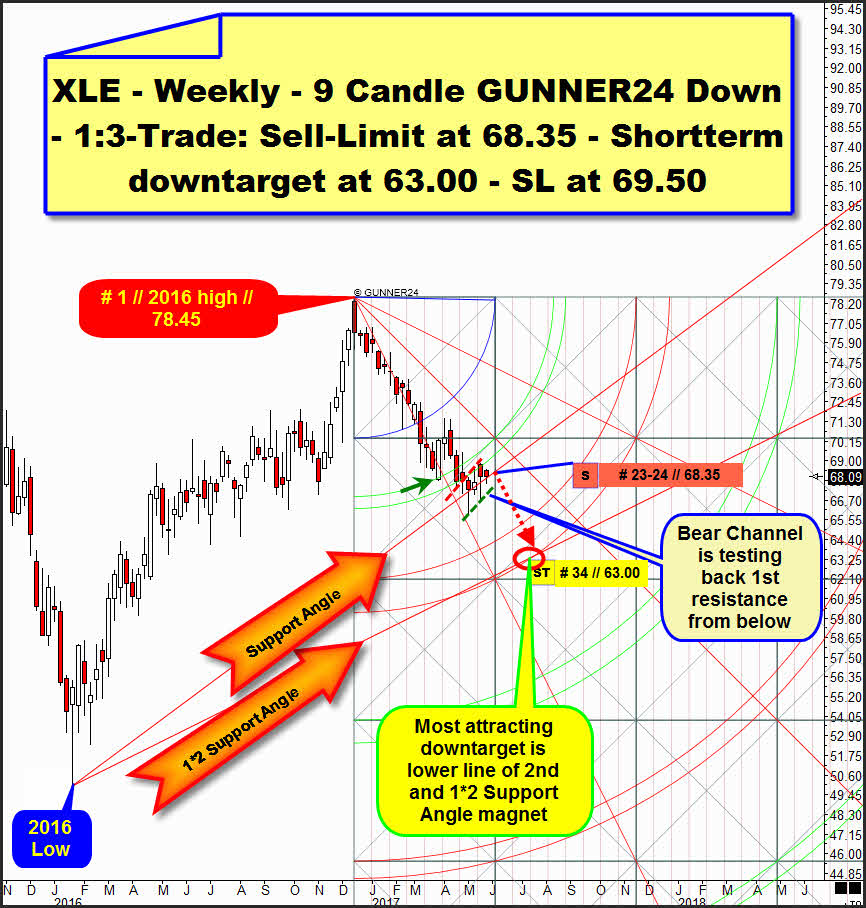 Above is the valid weekly down setup that starts at final 2016 high, and we observe that the bear channel has formed below the former downwards broken 1st double arc support environment (very important downtrend low at upper line of 1st = green arrow). Actually XLE shows a backtest of that former support area from below. Cause main trend is strong down and such channel is usually a countertrend pattern which currently is testing 2 two individual double arc resistances, overall trend should start to resume within days!
==> Please place a 1:3-Sell-Short limit at 68.35$. 68.35$ entry is valid till next week Friday, June 2nd.
Last but not least once again check the future stand of the rising 1*2 Support Angle. The activated downtarget magnet is intersecting the lower line of 2nd double arc environment for summer, forming very attractive weekly down magnet together with lower line of 2nd support.
==> 63.00$ shortterm price target is a natural weekly down magnet, recognizable for a 34 Fib number downtrend time target.
==> Please place the SL for the XLE-short attempt at 69.50$!
Risk = 1.15$. Potential reward = 5.35$. Risk-reward ratio 1.15/5.35 or 1:4.65
GUNNER24 Trade of the Day orders for 05/24/2017:
Market: Energy Select Sector SPDR ETF (XLE)
Orders: Sell-Limit at 68.35. Stop-Loss (SL) at 69.50. Shortterm downtarget is 63.00. Sell-Limit order valid till 06/02/2017.
Next Trade of the Day on Friday
Tomorrow we celebrate Ascension Day in Europe = Father´s Day in GERMANY! Next Trade of the Day will be sent out Friday, 05/26/2017.
Eduard
========================================
Markets, Money Management and Trade Size
I will merely analyze the market. There are so many instruments in the world outside our GUNNNER24 Traders use to trade, and hundreds of popular ones among them, often depending on a trader's time horizons... I don't consider me able to adjust the market recommendations to all the popular ETFs, different CFD or futures contracts. All I'll analyze is pure market action - the index, stock or most current contract and forex!
The trade size you should use depends.
A) On your account size:
I usually follow the rule of thumb which says, never bet more than 1% of your account size for each trade. So I avoid overtrading...
Let's say you have got a 30.000US$ account granting you a nominal buying power of 300.000US$ up to 500.000USUS$ and even more, depending on your broker and instrument. In that case your trade size shouldn't be more than 3.000US$-5.000US$ taking into account your buying power.
Another - more conservative - method is taking into account the available margin. Usually, 30.000US$ account value equals 30.000US$ available for margin trading. So the trade size is 300US$ taking into account the margin.
Within Trade of the Day I ask you not to bet more than this 1% per any trade.
The other point to consider for determining the trade size is:
B) if your trading style is rather active, supposing you regularly have 30-50 open trades, just as I have - CFD/ETF, here some stocks, there a future contract. So I often trade risky somehow, but I split the money/bets. Even in such a nice trend as the stocks are showing currently, I never ever trade too risky. I never load the boat with 70% let 90% of my account size. 50% is the maximum.
I trade for my living and for my kids and wife as well. A regular income is important. The big-bang bet isn't! The market would win such a big-bang bet for sure!!
When I have a lot of open trades, maybe up to this 50% of my account size/available margin I avoid trading more. So if you are an active trader having a lot of trades running at rev limiter (50% account size) please avoid trading even though we/I give you some fresh recommendations, because this would rise YOUR risk!... During the test phase that happened frequently. We had 3-5 open trades sometimes and that's why it's elementary important that we/you have to use tight SL. Order management is absolutely crucial for Trade of the Day.
You'll have to place really each and every order accordingly, you know. Forgetting only one time the SL would make this trade getting worse and worse…
========================================
Based on the George Douglas Taylor Trading Technique that I've been studied and originally traded for years transferring it onto the modern markets by constant observation a five day pattern of the single days of the week has resulted.
The crux is not so much that the entire week has to work perfectly. Perhaps it does just at a 50% because the day patterns may shift by one or two days. In the strong upwards trends sometimes you see 4 buy days and only 1 sell day. It's important to recognize that the day proceeds ideally-typically and to trade accordingly.
My personal trading style has always been the contrary to that of the crowds because the crowds always loose. Especially in gold and silver trading I like to buy the corrections Monday to Wednesday and on Friday if the day patterns correspond with some important GUNNER24 Signals.
I use to go short intraday just on Thursday when the week high is sold off AND provided that the corresponding GUNNER24 Setups signal so covering the shorts when the cycle is resumed.
The ideal five day pattern in an upwards trend – precious metals and US stock market – Do use those patterns for your intraday and swing activities!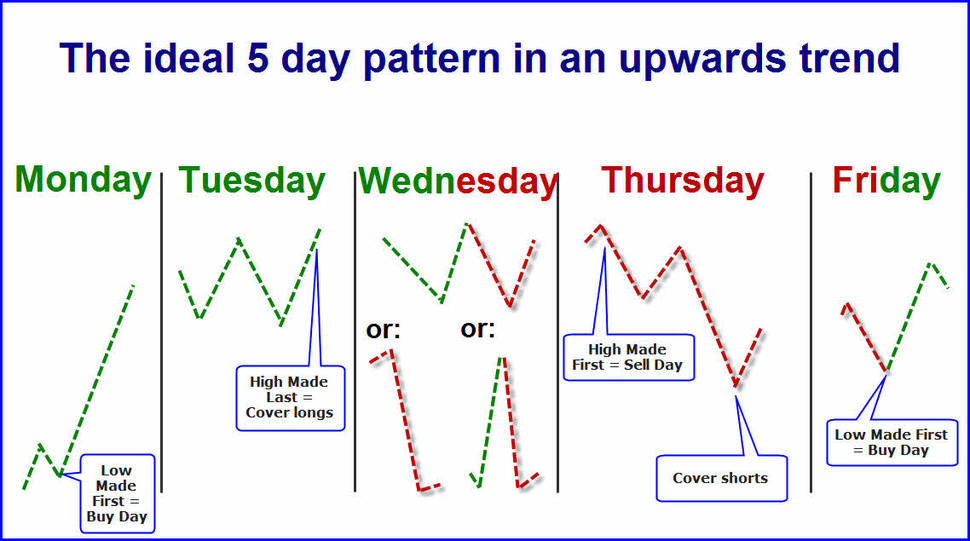 Monday: Buy day. Strong up-day. Low established first. It often ends at the day high. Unthinkingly you may buy all the intraday corrections because the week high comes later in the course of the week.
Tuesday: Buy day. Weaker up-day. A higher high is produced. As early as now the crowds ponder whether the prices mightn't run too high partially going short already. For me it's the day when I can cover my Friday and Monday longs. In intraday I try to go long in case of corrections until the Comex opening.
Wednesday: Sell day. Actually the day for covering the longs and for the first short entry. It's got some different forms. It closes at the same level as it had opened. Frequently at first the high is established because more and more traders short the market. Here the longs fight against the shorts. You recognize that if many teeth, many nicks, many spike candles are to be seen in the chart. On Wednesday I use to do nothing. Only at a 20 to 30% the shorter hearts are pleased because during the whole day there's only sell-off.
Thursday: The classical sell short day. Because the Wednesdays often close as they had opened the market participants have to cover their shorts because in the beginning the market runs quickly upwards…! And frequently they turn their positions into the high direction being caught on the wrong trail again. Then the market often lays down a beautiful sell-off. In the evening mostly a strong rally follows. That's where we cover the shorts.
Friday: Classical buy day in the upwards trend. It's nothing for weak hands. Here's where you buy the positions near the Thursday lows which you cover again next Tuesday/Wednesday. If you discover that the prices have steadied or even are rising a little bit by closing the five day cycle should continue in the following week.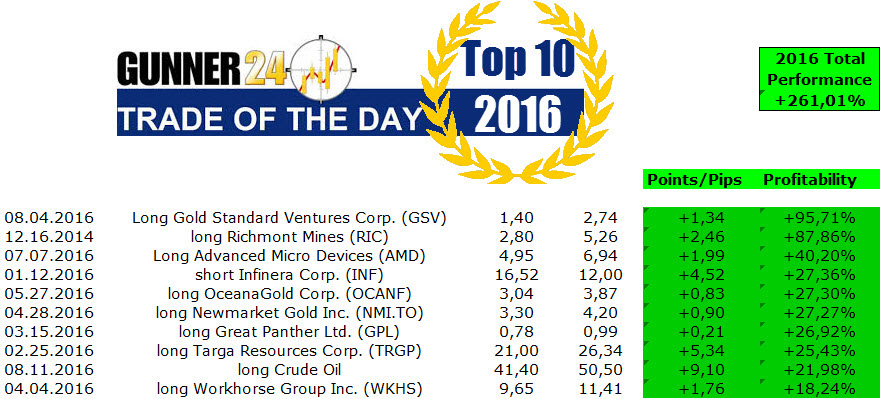 In the charts we work with the following symbols: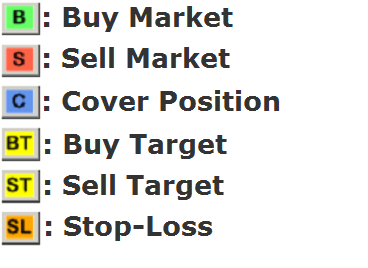 ========================================