Since year lows, which have been cemented in June at 176$, the shares of Tesla electric sports car manufactor (TSLA) have doubled and have outperformed most other US Stock Market Leaders.
They posted surprising positive figures for the 3Q, contrary to expectations. Among other things, the company benefited from lower costs.
As the current TSLA bull market cycle is still characterized by extraordinary inner strength and with the help of the current positive market environment the old 390$ alltime-high area seems to be the next important upmagnet, I took a very close look at this new old superstar from Wall Street Financiers today.
And there is something else too. Something is boiling up in the monthly life-time chart of TSLA as far as the inertia of chart patterns is concerned = the memory of the markets: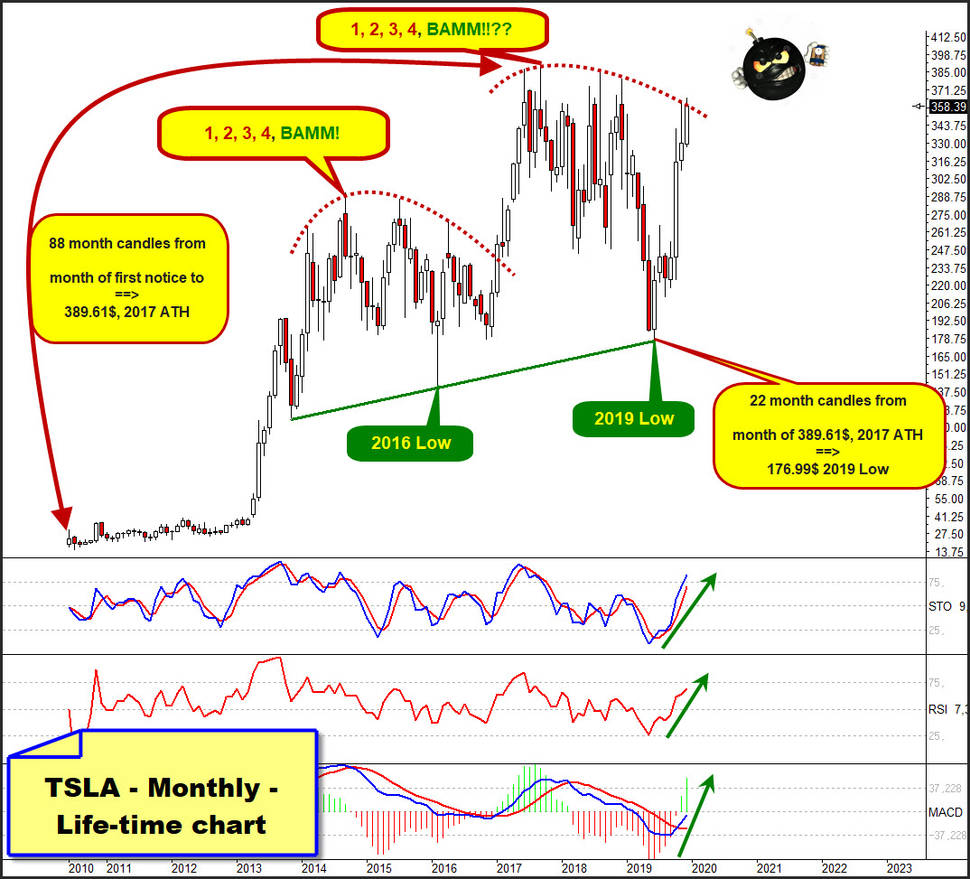 With the 4 important highs from 2017 to 2018 - all these 4 printed around 380$ to 390$ - a classic rounded top has formed again. Just like it was the case at the 4 most important highs from 2014 to 2016 time window. I highlighted the two year-long rounded tops in dark red-dotted.

And if the story repeats itself - which we have to assume strongly because of the bullish momentum readings - TSLA succeeds right now and again at the 5th attempt to break through a tough mega important rounded top on yearly base.
First consequence would be the serious test or next backtest of the 390$ alltime-high. And this is my first call ==> TSLA will at least test and work off 385$ until end of January.
The time factor in the monthly chart also appears uber bullish. So, TSLA should continue to rock`n roll far into 2020! Let`s count it together:
From month of first notice to achieved alltime-high we all in all count 88 month candles. Means, this very first upleg of the overall bull market is oriented to the high important 89 Fib number.
This time changer triggered the bull market correction cycle into final 2019 Low, that accurately is printed at life-time bull market support line. This year-long bull market correction cycle lasted all in all 22 month candles. A leg oriented to the 21 Fib turn number. And well, at final low of 2019 a next multi-year long bull market cycle is triggered.
And this above is my second call!
Which – of course – first will be able to overcome 2017-2018 rounded top resistance course. In course of these days, at latest finially within weeks...
Overcoming the long-lasting 2017-2018 rounded top resistance – of course – triggers a MAJOR, and I mean indeed a "MAJOR bull market continuation signal". The 380$-390$ alltime-highs therefore have to be reached/tested quite, quite soon, but usually overrun with vigor.
Before we continue with the monthly chart and some telling GUNNER24 Setups and signals first a look at the alltime-candlestick chart on yearly base.
This helps us best to recognize what is actually going on with Tesla and, above all, how to proceed with this disruptive technology, led by one of the Greatest Visionary of our time. A person who not only waffles about the future developments, but realizes it, and that darn good too. Forward this chart with the following analysis to VW, Ford, Daimler, Toyota etc. so that they can sniff what they have to expect in the course of the next DECADE:
This is also an illustration of how Tesla performed in its very first DECADE of trading. And the consequences from the past for the next DECADE.
Higher lows, higher highs. Practically from the very first day of existence, it just went higher. 9 of the 10 year closings made higher highs.
This year 2019 close, the last one of the entire 2010-2019 DECADE, will for sure be the highest year close printed ever. So, TSLA for 2010-2019 DECADE shows an unusual strong DECADE rally pattern with alltime-low made early and highs of the DECADE are made last.
==> TSLA fires a DECADE BUY SIGNAL. And this means first that sometimes 2020-2029 higher alltime-highs will come true and second that the first part of 2020-2029 should be further supported by bullish forces. This is my third call.
See, year 2019 close will be highest yearly close ever...
This is also the next bull market buy signal on yearly base. As a consequence 390$ ATH resp. Blue Arc/391$ first square line DECADE upmagnet resistance magnet will be getting tested soon. Very, very soon...! Please remember the underway breakout through 2017-2018 rounded top thereshold!
On yearly base a classic 8 Fib number GUNNER24 Up Setup has developed and price obviously is heading for the combined Blue Arc/first square line resistance upmagnet what is a combined resistance on DECADE base.
And well, usually such strong resistance will not be overcome easily. Usually...
But IF the price succeeds in overcoming the 391$ first square line on monthly closing base – a very first monthly close above 400$ should be good enough, IMHO -, the share price practically should explode, so that the next higher important mathematical DECADE upward goal, which results from this setup, should actually be reached and processed very quickly. And as always, that's the lower line of 1st double arc, which runs from 2020 to 2021 at around 550$.
And this is my fourth hard call: TSLA at a minimum has to test 550$ until end of 2021.
We have to keep in mind that if the combined Blue Arc/391$ first square line DECADE resistance magnet is finally & confirmed overcome - according to our experience from many millions of GUNNER24 Setups -, a doubling in price would be the most normal outcome. As a result, the price is likely to double at some point over the next few years. So rather a 800$ sometime between 2020-2029 as just only a 550$!
Above I`ve especially highlighted the most determining support of TSLA shares what is the within setup naturally anchorable "DECADE Support Angle". Watch it. This angle is responsible support for printing the recent most important higher lows of the DECADE which A) is final low of 2016 and B) the just hammered final low of 2019. There, where very, very likely the next year-long bull market cycle is triggered.
Now let's hop back to the monthly chart analysis and let's see how the GUNNER24 Method rates the individual bull cycles starting at these two important DECADE lows. This resulted in a classic 3 Fib number monthly up setup each.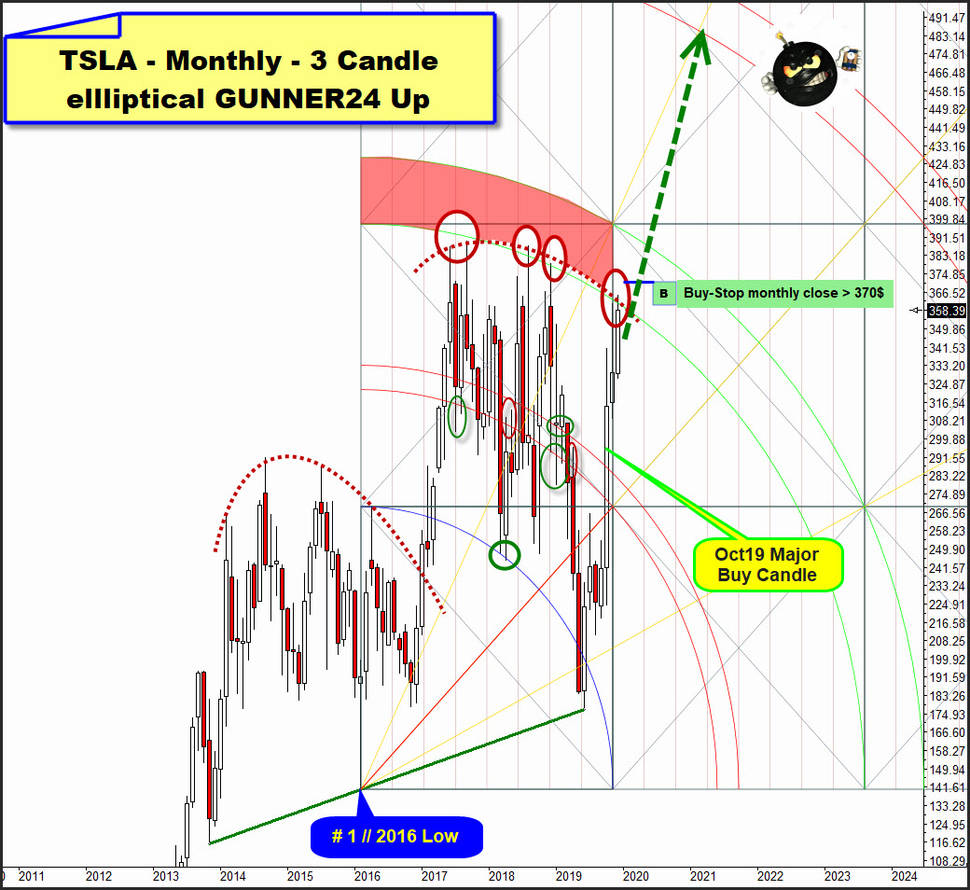 We best should watch the bull market starting at the low of 2016 through the elliptical GUNNER24 Setup Lens. This technique offers that the price in the past pretty nicely was oriented to the individual elliptical arcs of this setup. I don't want to go deep into that. I highlighted the price matches (tests/backtests) with the arcs with the red and green ovals.
Most telling is that the price for long-term is braked by the lower line of 2nd double arc bull market risistance. Elliptical lower line of 2nd represents, month & year & DECADE highs resistance line.
And the next – likely soon fired – monthly buy signal is the very first month close above the lower line of 2nd. And I expect that this month of December, resp. this year 2019 will close above the lower line of 2nd double arc combined main resistance. At latest the January 2020 should be able to close above 361$, where the lower line of 2nd double arc main resistance is located for the next few month candles.
And this will be indeed the next strong bullish signal on monthly and on yearly base. Soon coming MAJOR bull market continuation signal! Consequently ATH test resp. 385$ next and first, followed by an usually rapid coming 550$ etc.
Risk-averse longterm oriented investors wait for the final confirmation for that fresh alltime-high usually are due in course of 2020 and beyond. This might be the first monthly close above elliptical lower line of 2nd bull market continuation trigger at about 370$ or the first close above 380$ what is the bull market continuation trigger of this below monthly 3 Candle GUNNER24 Up, starting at final low of 2019, what likely is next higher important overall bull market low and the springboard for a 450$, what looks like the first important imminent uptarget of 2020: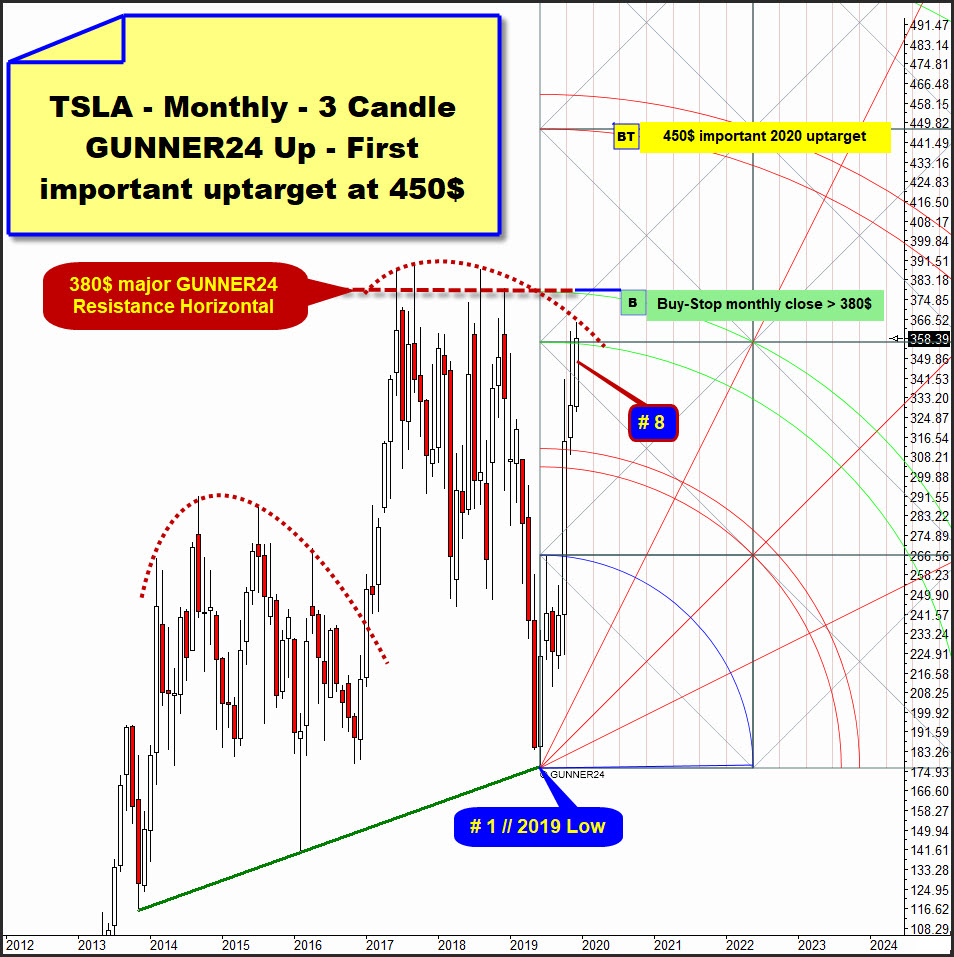 The monthly upcycle starting at # 1 // 2019 Low is now at month candle # 8-Fib number. You recognize that the price is lurking to overcome lower line of 2nd double arc, resp. is testing that natural arc uptarget resistance out of first up impulse.
The bull cycle is at 8 Fib number, possible trend turn number, so it might be that an important top is due for this # 8-December 2019. A next possible important month high close to the year-long defended ATH rail & worked out DECADE resistance and 2017-2018 rounded top environment?!
And such # 8-Fib number top usually would mean another pullback/correction month-long downer perhaps for a re-test of the round 300$ downmagnet comes next.
However, current existing bullish monthly momentum together with all the above analyzed bullish features of this actual running bull cycle prohibits this outcome! Usually...!
Instead, a December close here at a 358$ and thus just shy above the lower line of 2nd double arc would be another important bullish brick for an upcycle continuation, because the very first monthly closing above the lower line of 2nd natural resistance, no matter how small it will be, would represent the next monthly GUNNER24 Buy Signal.
So far, highest month close ever made stands 361.61$/Jun17. IF entire 2019 is able to close above this DECADE rail, we would have received a next buy signal on yearly base, perhaps this even is the next DECADE buy signal.
Unusual risk-averse investors shout wait for the very first month close above the 380$ horizontal to long TSLA heavily. Such a month close above the major 380$ GUNNER24 Resistance Horizontal and upper line of 2nd double arc resistance rail should be the very last prove for that TSLA shares should explode in course of 2020. Such very first close above upper line of 2nd double arc activates the rally into 450$ important September 2020 uptarget, represented by lower line of 3rd upmagnet target within 3 Candle GUNNER24 Up Setup, starting at # 1 // 2019 Low.
Be prepared!
Eduard Altmann