The Miners formed a bullish reversal on Tuesday after a fresh 2-month correction low and started a countertrend swing which might continue for another 9 trading days. In the bigger picture the Gold and Silver Miners as the entire precious-metal sector is supposed to remain confusing and uncomfortable till year-end, maybe through the first trading weeks of 2020, thus the extremely favorable chances are clearly at the downside towards the end of the year.
However, a reasonable risk/reward pullback setup has now developed in the Miners Sector, but for this you have to pay attention to the SL recommended below, and it`s probably best to play this market and bounce with the NUGT ETF – being a 3x leveraged Bull ETF, designed to move three times the price movement of its target index, the NYSE Arca Gold Miners Index (GDM).
Tuesday was day # 20 for the daily Miner cycle, placing the Miners in the early part of its timing band for a daily cycle low, what perhaps was triggered by the 21 Fibonacci turn number.
Monthly chart through GUNNER24 Lens ALLOWS or OFFERS that seen bullish reversal not only potentially marks the daily cycle low, it also potentially marks the intermediate cycle low. IF THIS becomes more confirmed the Miners could widen their bouncing cycle to the turn of the year.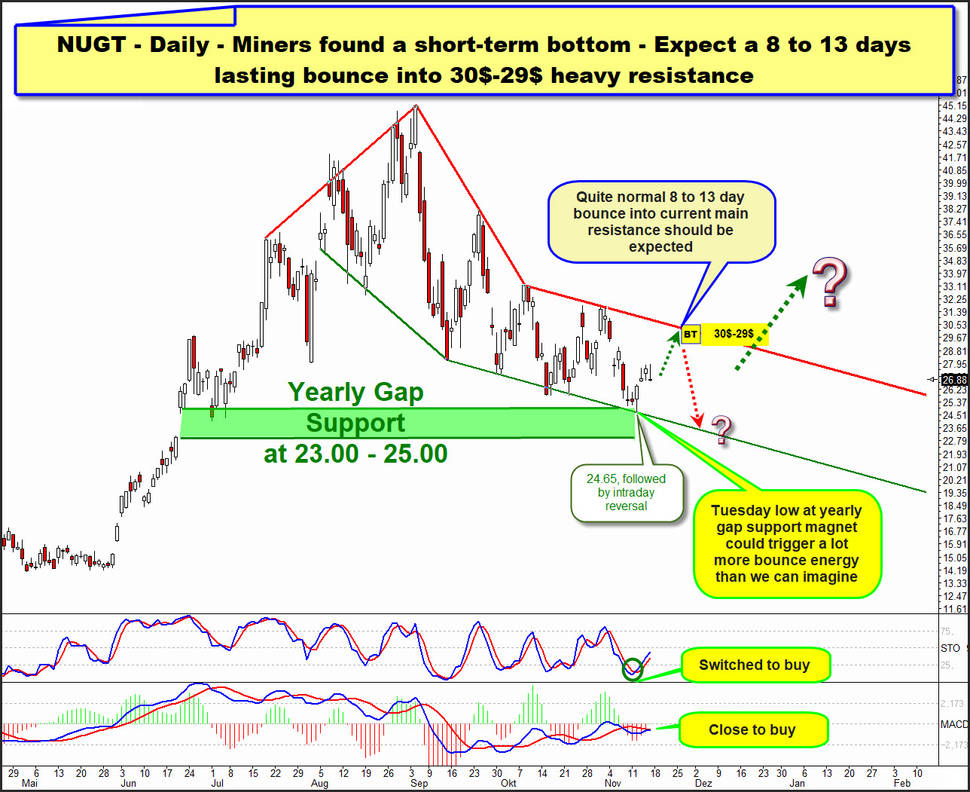 The NUGT ETF in the daily technical chart at Tuesday low turned for an impressive intraday reversal at somehow for anybody visible gap support area, which runs 23$ to 25$. At same time at 24.65$ low the current daily main support was tested for the 7th time, so a combined support was hit to the T and this magnet triggered A) a daily reversal candle on Tuesday and B) the first Slow Stokes buy cross since weeks. Hmm, ...
... this test of YEARLY 23$-25$ gap support area is natural correction stuff. It is a natural support attraction on yearly base. And maybe this BIG gap area is exactly the support that can or has to finish the entire correction cycle that started after this year highs.
Because the combined DAILY turn signaling according price & time & momentum is looking very solid now and started at a yearly support, market at least should bounce for 8 days minimum to perhaps 13 Fib trading days and usually the current daily downtrend main resistance at around 29$ to 30$ will be tested back within this forecasted bouncing window.
As mentioned above, the ENTIRE! downtrend may have ended at this week lows. The chance for this outcome is currently only about 30%. But at least. For this, following monthly 2 Candle GUNNER24 Up Setup provides some evidence.
It starts at NUGT # 1 // Bear Market Low of the year 2018 and depicts 2 months of uptrend as initial up impulse. And thus, the highs of 2019 are nailed at the end of the setup according to price.
At the end of setup resistance according price the uptrend topped pretty perfect in it`s final 1-year-cycle-high, or important intermediate cycle highs after 13 Fib number month candles, followed by the downtrend which at this week lows touched a natural monthly support and an ideal correction backtest target what is the support of upper line of 2nd double arc.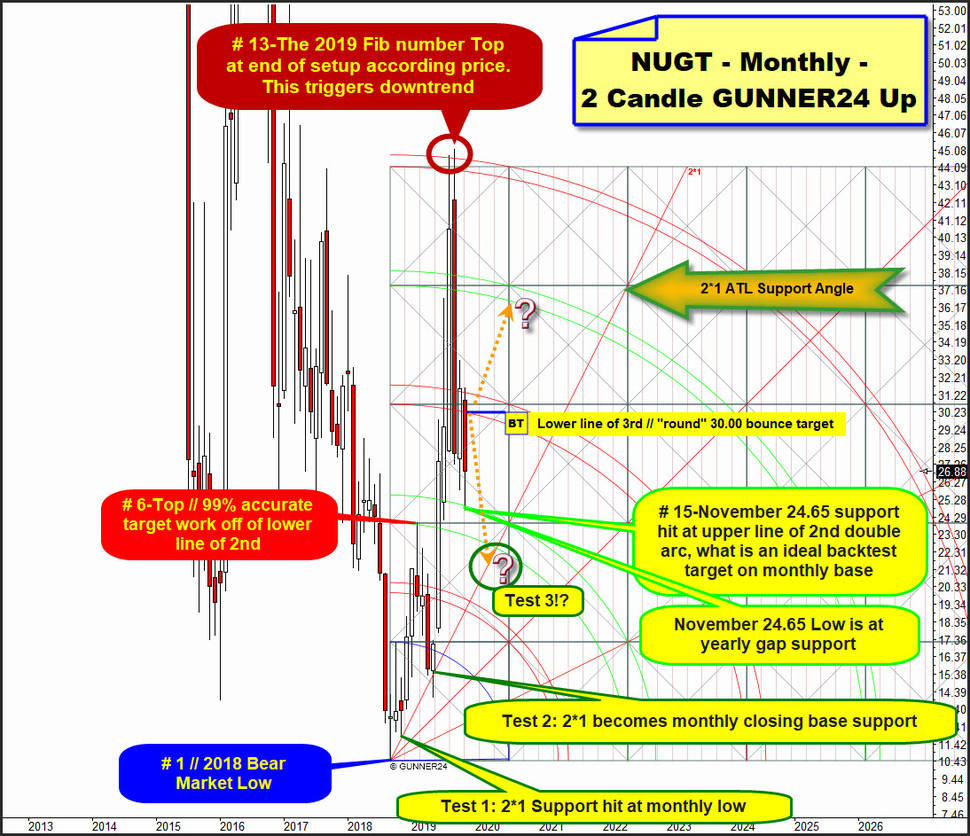 Or, cause correction with the current Nov19 candle is at month candle Fib No. 3 and Tuesday`s low bounced ideally from natural monthly GUNNER24 Arc Backtest Support and at same time additionally yearly gap support area kicked in at lows, the NUGT ETF next might bounce back into lower line of 3rd double arc upmagnet = important monthly uptarget what is in full sync with the round 30$ W.D. Gann number upward attraction.
==> Think, NUGT next has to test back 30.00$ upmagnet, what is major resistance for the days and weeks to come!
==> Re-test of finally downward broken 3rd double arc resistance environment might be the main uptarget for this bounce. This 3rd area is main resistance for the rest of 2019 and entire 2020 and just the very first monthly close above this 3rd double arc resistance area will be a main signal that entire downtrend has ended before.
A visible monthly close above the upper line of 3rd double arc ( >32$ or so) officially triggers the backtest of lower line of 4th in countertrend direction.
30$ is ideal backtest target because it is a combined weekly and monthly future uptarget magnet resistance. For this combined bounce target watch this next beauty!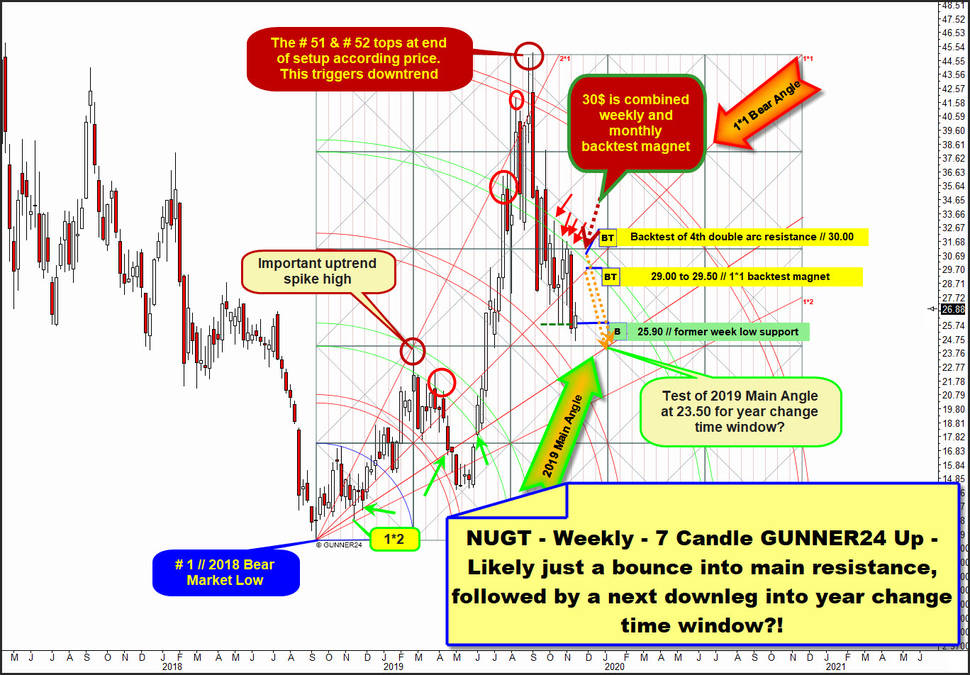 Above you recognize a weekly 7 Candle up that also starts at most important low of the entire DECADE what is the # 1 // 2018 Bear Market Low.
The uptrend weeks # 51 and # 52 topped finally into natural important uptarget of end of setup according price and this major GUNNER24 time/price target triggered the downtrend what is a stronger one because natural strong support of 4th double arc was finally broken to the downside some weeks ago.
Additionally the 1*1 Gann Angle, initial strongest natural bull market support out of # 1 // 2018 Bear Market Low, became finally broken at past week candle close. Thus, most important yearly support was finally broken and that means a next, usually very sustainable sell signal was fired.
That allows this:
First the 1*1 Bear Angle and/or secondly the 4 times negative tested 4th double arc resistance are now the most important fresh activated bounce uptargets.
For the next 2 week candles the ideal 1*1 Backtest Resistance Angle runs at 29.00$ to 29.50$.
Most ideal weekly bounce uptarget however could be the next serious backtest of still strong braking lower line of 4th double arc, located at the round 30$ for the coming 2-3 week candles.
30$ is major attractive upmagnet resistance for this bounce! 30$ bounce uptarget might be tested at end of November 2019 to early-December 2019 time window.
I recommend to open a NUGT ETF long position at 25.90$ until Friday as this horizontal rail now should represent nearest, quite strong support on weekly base.
Try to hold longs for a 30$ bounce target with SL shy below this week lows (24.65$). 30$ is future combined weekly and monthly upmagnet, very attractive bounce target, and at same time usually very hard to crack future resistance.
Once this daily bounce has finally topped the Miners are projected to continue to trade lower into early 2020 in order to print lower downtrend lows. This outcome has a 70% probability.
Be prepared!
Eduard Altmann