The 1:3 Trade: Buy IWM ETF at 156.00
Dear GUNNER24 Traders,
Our 1:3 trades are A) adjusted to a longer term, having a spacious stop-loss for the development not to be endangered and B) have to show a risk-reward ratio of more than 1:3.
IWM ETF (iShares Russell 2000 Index Fund) corresponds to the performance of the small-cap Russell 2000 Index = RUT.
True they have been under performing since the Russell 2000 index of small cap stocks hit its all-time high over a year ago on August 31, 2018. But this changed dramatically after early-October lows as analyzed within Trade of the Day 10/18/2019 and now it looks like that this 2-year Diamond, best seen in the weekly chart, is finally resolved to the upside and as a consequence the small caps should continue to outperform the Dow Jones and S&P 500: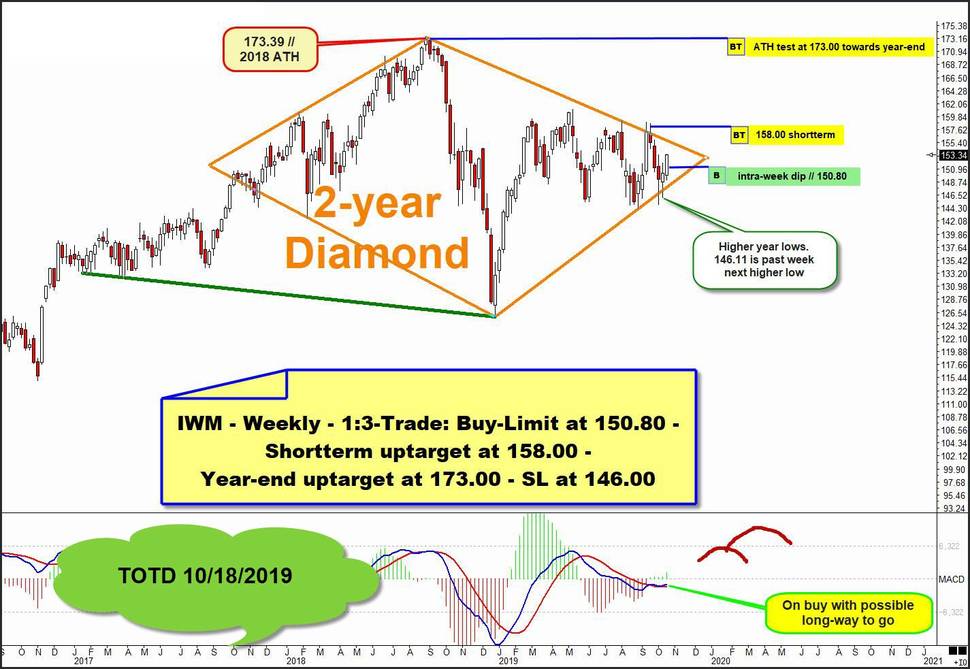 Within TOTD 10/18/2019 we`ve identified this 2-yearlong pattern, unfolding "just shy" below 10-year secular bull market highs. Already at the time of this issue, we strongly suspected that this BIG BASING PATTERN likely will resolve upward. That's why we planned to long at 150.80$ for the 173$ year-end uptarget. However, unfortunately such dip never happen because this bull market again takes no prisoners anymore: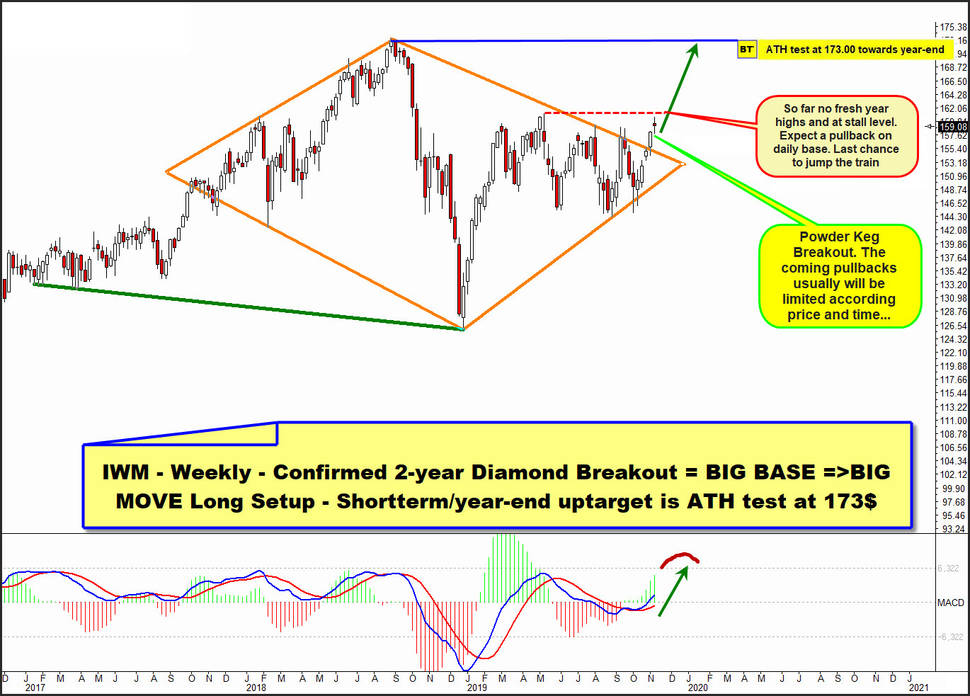 The month of October as 2 consecutive week candles closed far above the 2-year Diamond Resistance, thus finally confirming that 173$ alltime-high (ATH) backtest run is underway. A 173$ into year-end is the still pending GUNNER24 Uptarget on monthly base!
The October close above the 2-year Diamond Resistance is a major buy signal what triggers these cycles and cycle goals resp. waypoints:
IWM ETF should uptrend for 55 Fib number weeks and 13 month candles at a minimum. To complete a 1-year full cycle at a minimum. The starting point of this counting is the famous 2018 Xmas Low.
The year of 2019 will be print a classic "Rally Year" pattern (total gain is >12%) with lows made early and first and highs likely made very-late in the 2019 time window.
IWM = small caps – and all the other western Stock Markets – could print their individual year highs A) of course exactly on Christmas, or even B) on the very last trading day of this year.
IWM ETF sometimes in course of 2020 should print higher highs as in 2019.
BIG BASE ==> BIG MOVE setup. IWM should extend it`s secular Bull Market cycle for 6 to 8 more months at a minimum.
Powder Keg Long setup on weekly base: quick test run of 173$ all-time highs is more and more confirmed. MACD still strongly supports this outcome.
==> Shortterm uptarget, a monthly GUNNER24 Uptarget and the year-end uptarget is the 173.00$.
==> Next, let's look at the developments on a daily basis. This may help to find the best, cause most riskless pullback entry.
Cause bulls have the edge with no end in sight, & the daily as well as the weekly as the monthly trend together point higher and the case that a major buy signal was fired just a few days ago all the pullbacks until 173$ target work-off should be limited and weak according time and price: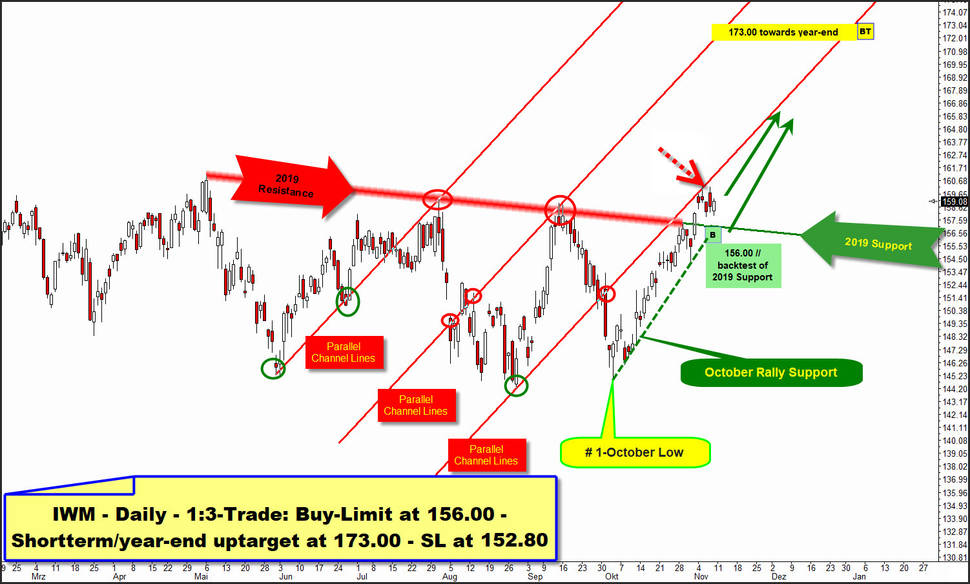 Since the # 1-October Low, there has been a 1–3 day pullback after every 3–5 days. The week highs have been stopped at prior confirmed Parallel Channel Line Resistance (fat red-dotted arrow) und this triggered a next credible pullback on the daily chart and for sure the bulls will look to buy it, like they did with all of the prior pullbacks since this weekly upcycle began at # 1-October Low.
And that's exactly what we have to do! This pullback has one important target. It`s obvious is the the classic backtest of the former 2019 Resistance, now sligthly downward oriented 2019 Support Line.
And such outcome we have to buy with both hands. For the week the 2019 Support/ideal natural strong pullback support runs near 156.00$!
Lets try some dip-buying for the likely necessary 173$ and order IWM ETF longs as follows:
==> Please place a 1:3-Trade-IWM Buy-Limit order at 156.00$. You can buy with low risk at 156$ until Friday, November 15th.
==> Shorttterm uptarget and year-end uptarget at 173.00$.
==> Please place the SL for this possible IWM long position at 152.80$!
Risk = 3.20$. Potential reward = 16.00$. Risk-reward ratio 3.20/16.00 or 1:5.00
IWM ETF: Buy-Limit at 156.00. Stop-Loss (SL) at 152.80. Shortterm uptarget/year-end uptarget at 173.00.
Eduard
========================
Be a part of our exclusive sworn GUNNER24 Trader Community – now... I try to make you rich!
Be prepared!
Eduard Altmann