Warren Buffett's Berkshire Hathaway has amassed a significant stake in the on NYSE listed Occidental Petroleum Corp. (OXY). Newest figures show that Occidental Petroleum is now its 7th largest investment.
OXY stock, which has outperformed the broader market by a wide margin this year, settled Friday`s session +1.54% and 73.27$, within sight of a recent 52-week peak of 77.13$ touched on Aug. 9, which itself was the stock`s highest level since October 2018. Year to date, shares have soared a whopping +152.7%.
On the daily chart, however, it now smells like a next small pullback swing is in the making, which we should definitely buy with both hands at the main support, existing on the monthly chart.
The OXY-rally cycle that started at the beginning of 2022 is mega-bullish because it is an exceptionally steep one, as this monthly picture proves in relation to the valid GUNNER24 Up Setup. Setup starts bull market upward measurement at # 1-final low of 2020. Setup is oriented to the Fib number 13, as 14-1 gives the 13-time reversal signal: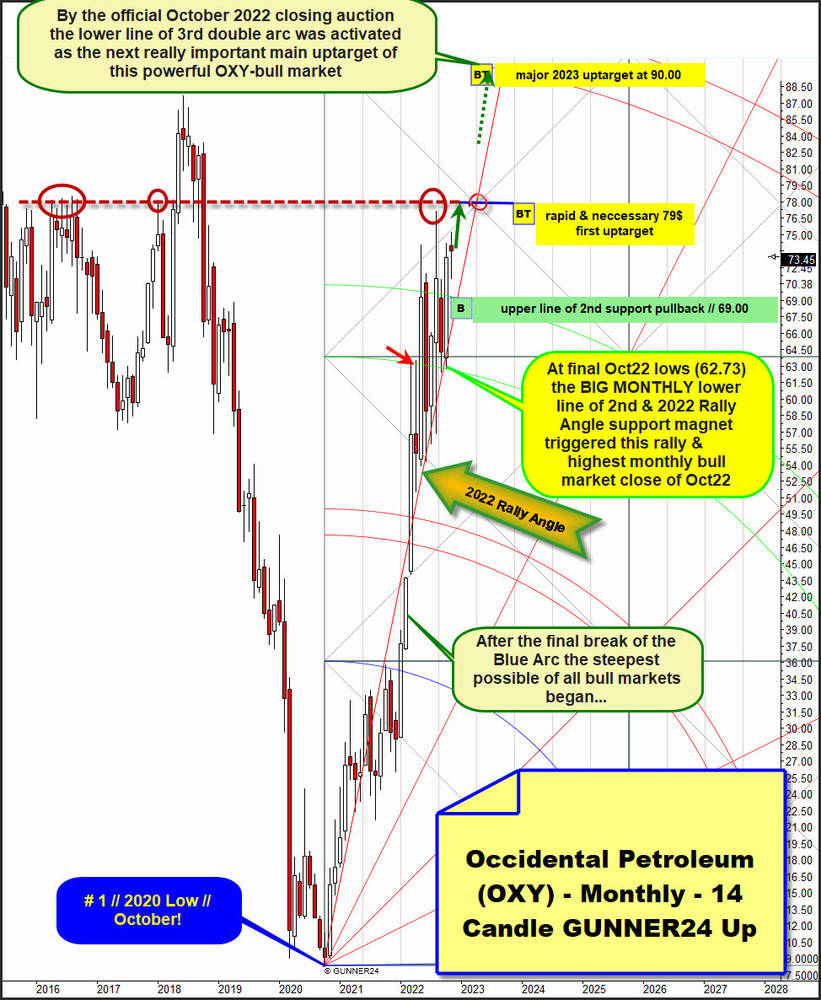 First please watch carefully, that the former main resistance of the Blue Arc was finally overcome at the beginning of 2022 and this first thrust of the rally that has been underway since ended at the natural resistance and/or natural upside target of the 2nd double arc, where the price began a consolidation phase lasting several months.
Or, this 2nd double arc magnet above forced price into a many months lasting consolidation at THE BULL MARKET HIGHS, which inherently always means a bullish sign. Also we are able to recognize that the final lows of October 2022 candle found big, big monthly support magnet as they have – very successfully – tested the steeply running 2022 Rally Angle and the lower line of 2nd double arc from above. At the same time ...
This combined monthly support triggered the October 2022 upward leg resp. the October 2022 bull market candle which A) is highest monthly bull market close and B) which closed faaar above the upper line of 2nd (former long trigger), by this signaling new bull market highs should come true in course of the next few weeks and likely the natural G24 Horizontal Resistance out of the middle of currently passed GUNNER24 Square will be finally met and re-tested again at the 79$/80$
OXY shares show rapid & necessary uptarget at 79$-80$. This is a fresh activated monthly uptarget and the 79$-80$ work off within weeks would also mean higher bull market highs are necessary with a 95% likelihood or so!
Additionally the October 2022 closing auction above the upper line of 2nd activated the lower line of 3rd arc rail as the next really important rally main target of this powerful OXY-bull market. The lower line of 3rd double arc bull market uptarget should be worked off within next 6 month candles at latest!
==> The lower line of 3rd double arc is a natural major uptarget of the OXY-bull market and if worked off within 6 months likely at the 90$ this 2023 resistance upmagnet could release another long consolidation or a multimonth-correction which could test back the 70$ to 60$ surroundings in course of 2023!
==> OXY shares show activated monthly GUNNER24 Major 2023 Uptarget of 90$!
In the meantime the upper line of 2nd double arc should have morphed to nearest monthly support. For November 2022 this arc support runs at 69$ and is thus somewhat equivalent to this rising dark-green dotted Parallel Channel Support we are able to identify on the daily chart.
Almost the entire rise in 2022 adheres to this Rising Parallel Channel: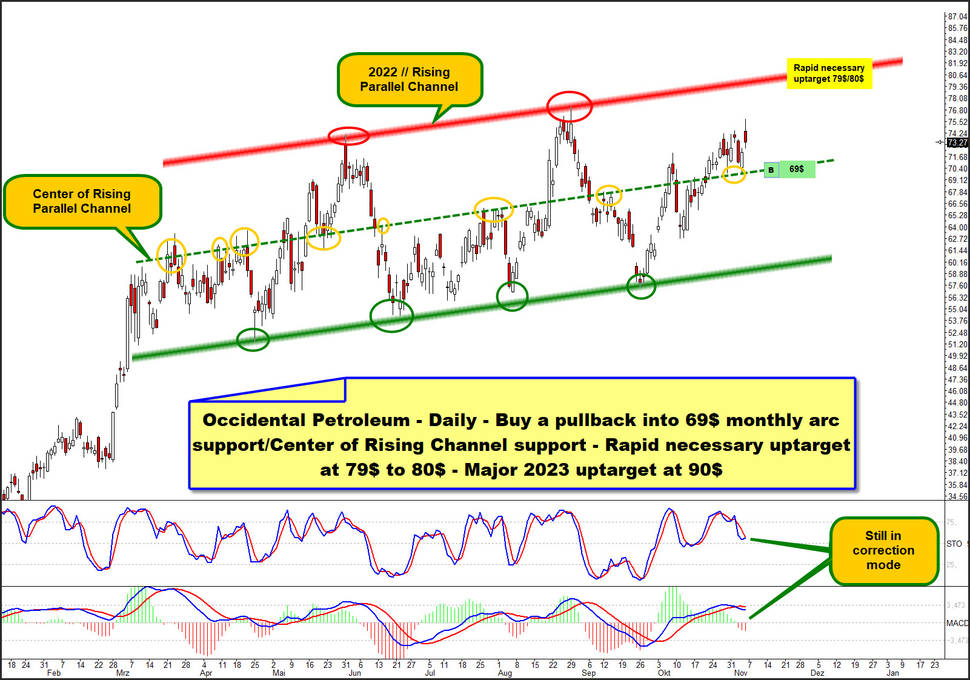 Channel Resistance is 2x negative, Channel Support is 4x positive tested. The dark-green dotted center of the Rising Parallel Channel is abount 20 times tested magnet.
This rising dark-green rail runs at the monthly 69$ support magnet for the coming days, and well, if price now or next needs a pullback for the next test/backtest of the Center Rail of Channel resp. 69$ you should buy with both hands at this combined future daily & monthly support magnet.
A pullback swing into 69$ support magnet could have started at Friday highs cause both, daily Slow Stokes & daily MACD, look somewhat tired and this allows an usually short-lived pause in combined daily & weekly upcycle which began at the final lows of October 2022!
Be prepared!
Eduard Altmann