Also still the coming 4-6 months the US stock markets could tend mostly sideways, which should only please the very experienced day and swing traders. For the larger rest of my readers my advice is therefore: wait and see and have some cups of tea!
Now it is time to reduce the risk and raise cash, work on your patience and avoid perhaps costly mistakes until a new downtrend respective a next bull market upcycle is confirmed.
VERY likely a next multi-month lasting sideways trend within STILL underway some DECADES-long secular bull market just has begun!
For today`s forecasts, I only deal with the Dow Jones E-mini continuous future contract (YM #) in the monthly time frame, as well as with the currently most important monthly GUNNER24 Up Setups whose signaling give some ideas where the most important zones are located we have to track for the coming weeks in order not to miss the next up or down cycle.
We place this 35 Candle monthly GUNNER24 Up Setup at the huge-important final low of the year 2015...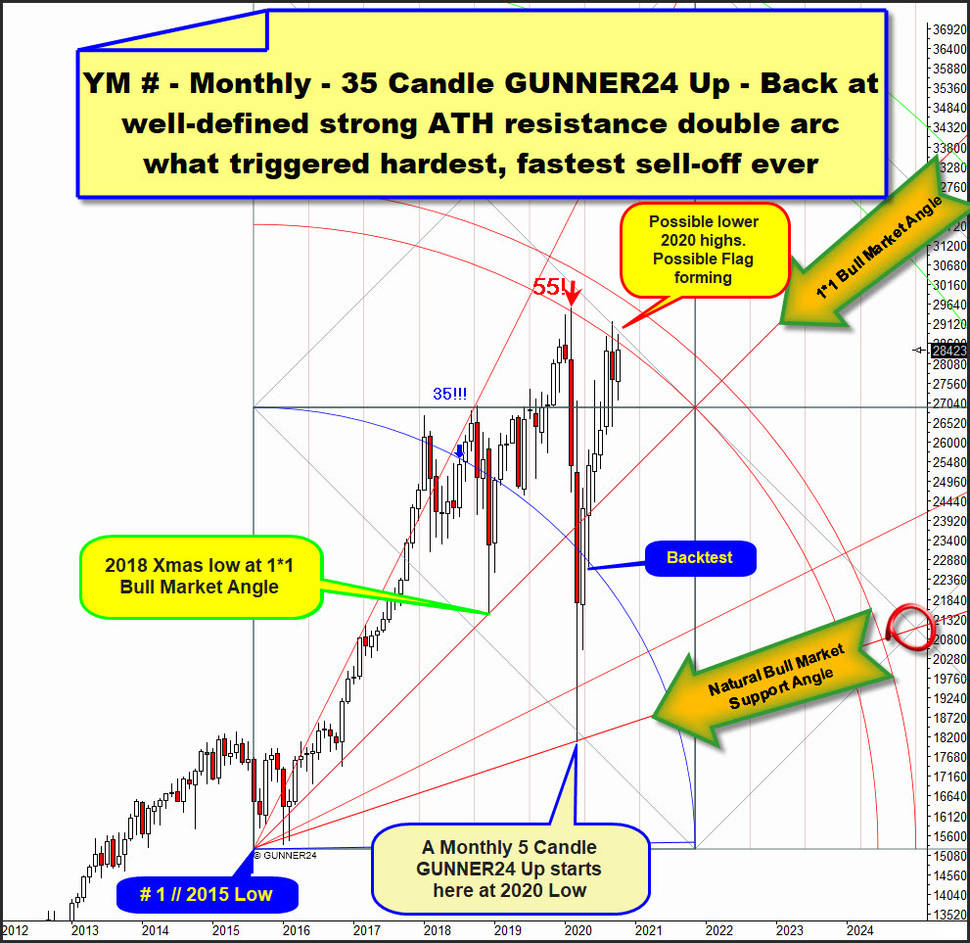 The most important setup in the monthly time frame. It's most important regarding the signaling and YM # resistances/supports (price factor) etc. because it measures up the complete first up impulse from the important higher # 1 // 2015 bull market low. It is oriented to the high Fib number 34 as 35 - 1 = 34.
At 2018 Xmas low, the final low of 2018 the 1*1 Bull Market Angle was defended to the T. 2020 Low has arrived at another important natural support of this DECADES-long bull market what is the within setup naturally anchorable "Natural Bull Market Support Angle".
The 2 rallies starting at 1*1 Bull Market Angle & 2018 Xmas low and Natural Bull Market Support Angle & 2020 Low have finally topped at lower line of 1st main resistance arc.
This lower line main resistance is especially strong main resistance because there the so far alltime-high (ATH) was printed in course of February 2020. It is downward sloping major future resistance rail because this arc-threshold has never allowed the price to deliver a monthly closing above it.
Obviously at the very first test of the lower line of 1st and the ATH the end of a very important bull market cycle on yearly base can be counted, as February 2020 marks the 55 month candle of the bull market cycle, which started at the # 1 // 2015 Low (time factor).
The index additionally follows and considers the natural resistance of the lower line of the 1st double arc at the August-October 2020 highs. Thus, the next important buy signal on monthly closing base is to be evaluated easily: If now a candle closes up above the lower line of 1st some higher uptargets of this DECADES-long bull market will be activated on monthly base.
Before this happens, however, a lot of time may pass!!
After all, the entire 1st double arc radiates future alltime-high resistance zone on monthly closing base and monthly top base and the most important pattern in play at the moment shows that the highs from August-October 2020 are clearly lower than the so far printed ATH!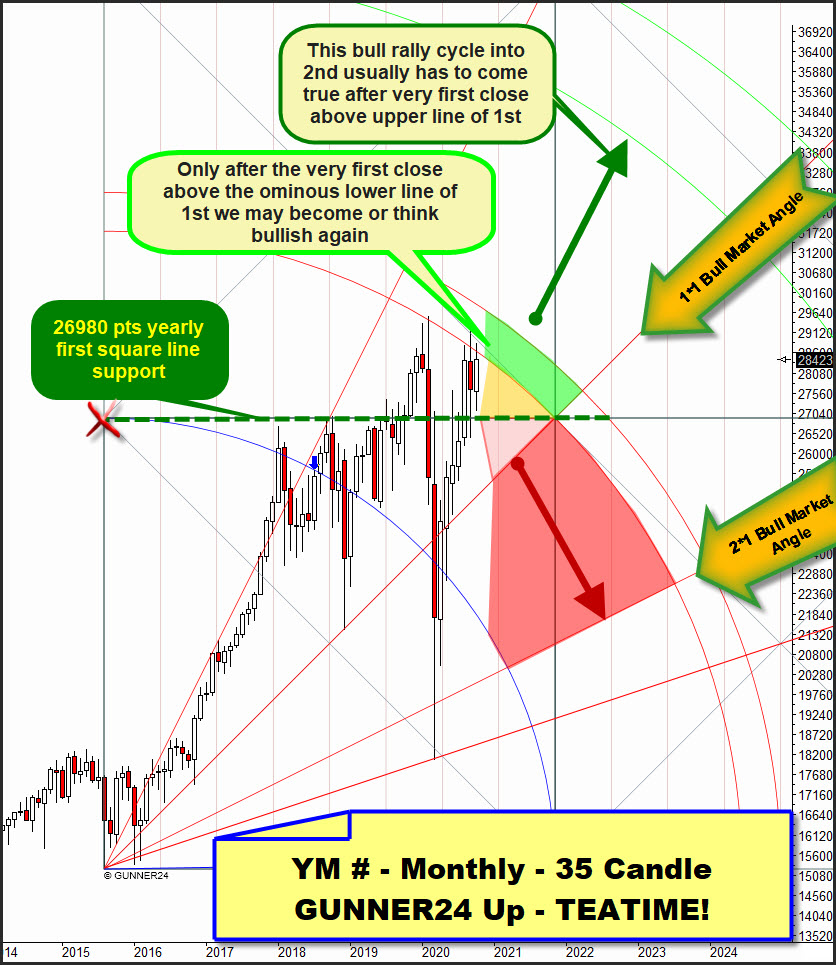 Due to this signaling and the confirmed ATH resistance of the 1st, the market may be held back for months by negative 1st double arc energy.
Only after the very first close above the ominuous lower line of 1st we may become or think bullish again! Cause this is the harbinger that a next multi-months long bull market cycle is triggered which usually should target the lower line of 2nd double arc in DECADES-long bull market trend direction.
Strong long, however, can only announced after the very first clear month close above the upper line of 1st double arc. Then the phat dark-green price/time forecast arrow should come true.
In my opinion, the given constellation allows at best a sideways consolidation at high levels for the coming months. I can well imagine that the index is now forming a 4-6 month candles Bull Flag or a Pennant, which is slowed down from the lower line of 1st and is heavily supported from below by the yearly 26980 pts first square line. This is the yellow tint outcome drawn above.
As the first square line, after its recapture in the course of the 2020 rally leg, now normally represents very important = strong future support on yearly base ANY future month close slightly below the 26980 pts triggers the very quick backtest of the always strongest bull market support rail what in GUNNER24 Ups is always the 1*1 Gann Angle.
And well, if YM # in course of 2021 prints a monthly close below the 1*1 Bull Market Angle it should be toast as prices within dark-red tint signal the outcome that at least the 2*1 Bull Market Angle has to be tested back in further course and in (then) downtrend direction.
At the monent, we shouldn`t expect the two red, bearish scenarios to pan out. They have a very low probability to come true as a new multi-year long bull market cycle must have begun at printed 2020 lows, which, by the way, has already been confirmed by both the S&P 500 and the US tech indices, as these were able to achieve higher alltime-highs in their 2020 rally cycles and at their September 2020 highs.
So rather a quite bullish working consolidation near below the August-October cycle highs. Which is actually already running. And it may well last for a few more months. This state of affairs is made visible by the monthly 8 Candle GUNNER24 Up of the YM #: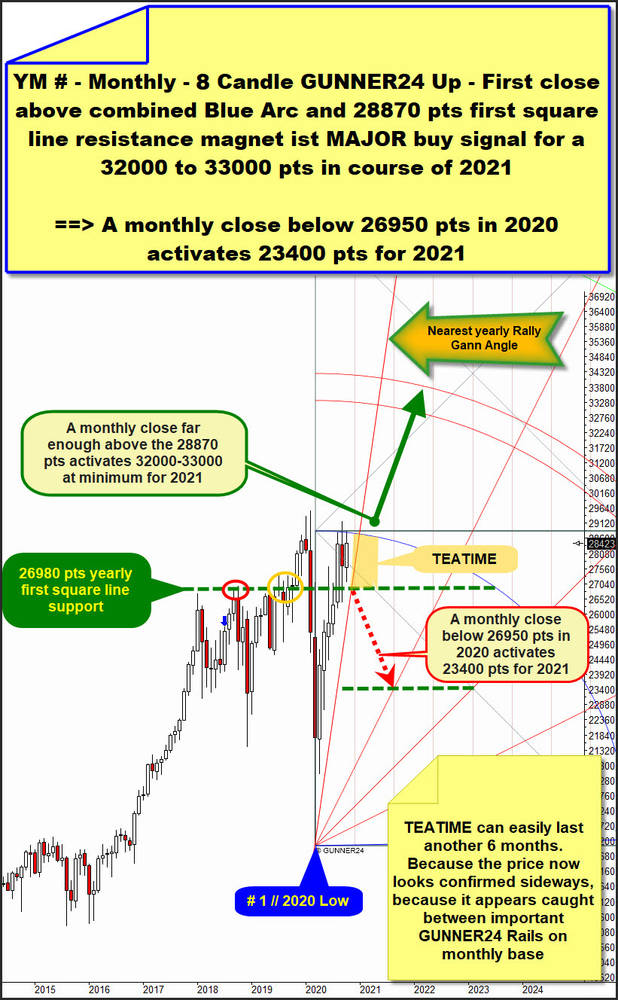 So far very classic 8 Fib number Candle up starting at # 1 // 2020 Low. Blue Arc brakes at # 6-August top. # 8-October 2020 highs are at same time at Blue Arc and first square line resistances what always indicates or allows that the # 8-high marks an intermediate top or important cycle top!
In fact, the setup above already signals that the market has been in a sideways trend for about 2 months now because nothing of importance is happening since.
And now, what else should I say. Also this 2020 rally setup, starting at the important low of this year, indicates it nicely: After a high oriented to or triggered by a Fibonacci number, there is usually a longer pause. TEATIME! A possible sideways where the market tries to find new orientations. A possible sideways = yellow area which also has the main task of beheading traders and investors the money they previously earned in the strong trendmove.
2 valid GUNNER24 Up Setups at same time indicate that a some months long sideways trend is getting started!
For coming trading and investing signals this monthly 8 Candle should work best because it is based on the recent past and especially because the Blue Arc, as well as the 28870 pts first square line, have only recently been confirmed. But also because this first square line is a sharper defined trigger on monthly closing base as the lower line of 1st within monthly 35 candle up whose location shifts down month after month.
==> There is major monthly closing base horizontal resistance at 28870.
==> There is major monthly closing base horizontal support at 26980.
In between the YM # could trade the next 4 to 6 month candles!
This also leads to these two very important trading signals:
==> Usually ANY first monthly close above 28870 pts first square line – big future resistance magnet – is a MAJOR buy signal for a the 1st double arc/32000 – 33000 pts towards end of 2021!
Whereby I have to note a very important limitation. Of course, even if the upcoming October 2020 closing were to be above 28870 yearly resistance magnet, it could be a false signal or bull trap the Big Boys would like to manage, whereby the important US presidential election date = news event could be taken as an excuse.
In general, the trading days before and after November 3 are likely to be volatile and full of false trading signals. This in turn would be typical behaviour for a sideways trend!
==> A month close below 26950 in further course of 2020 activates the 23400 pts surroundings until maybe May/June 2021. For this watch the red-dotted time/price arrow option. 23400 pts horizontal represents natural future main support as this is the 50% correction of the 8 month initial up impulse.
Be prepared!
Eduard Altmann