It begins the time window, or is the quarter, when the US Tech Markets represented by the NASDAQ Composite and the NASDAQ-100, should heavily outperform all the other major stock market indices.
Since the average October seasonality despite known extremely high volatility ...
jeffhirsch.tumblr.com/post/188132621088/october-most-volatile-month-of-the-year
... has quitely and surprisingly evolved into one of the most bullish months of the year.
The Rocktober is in fact – at 21-year-sight - the very best bull month for Tech Stocks:
jeffhirsch.tumblr.com/post/188051067443/typical-october-trading-greatly-improved-recently
And the bullish prospects/signs that the NASDAQ-100 fired the past 5 trading days are now increasingly point to that this October (Oct19) should surprise again positively. There are even important signs that the final Oct19 Low is in very early, which may mean that the final high of the Oc19-month is due late.
The NASDAQ-100 whose components are a subset of the NASDAQ Composite's, accounts for over 90% of the NASDAQ Composite's movement. The following analysis is based on the NQ #, which is NASDAQ-100 e-mini continuous futures contract: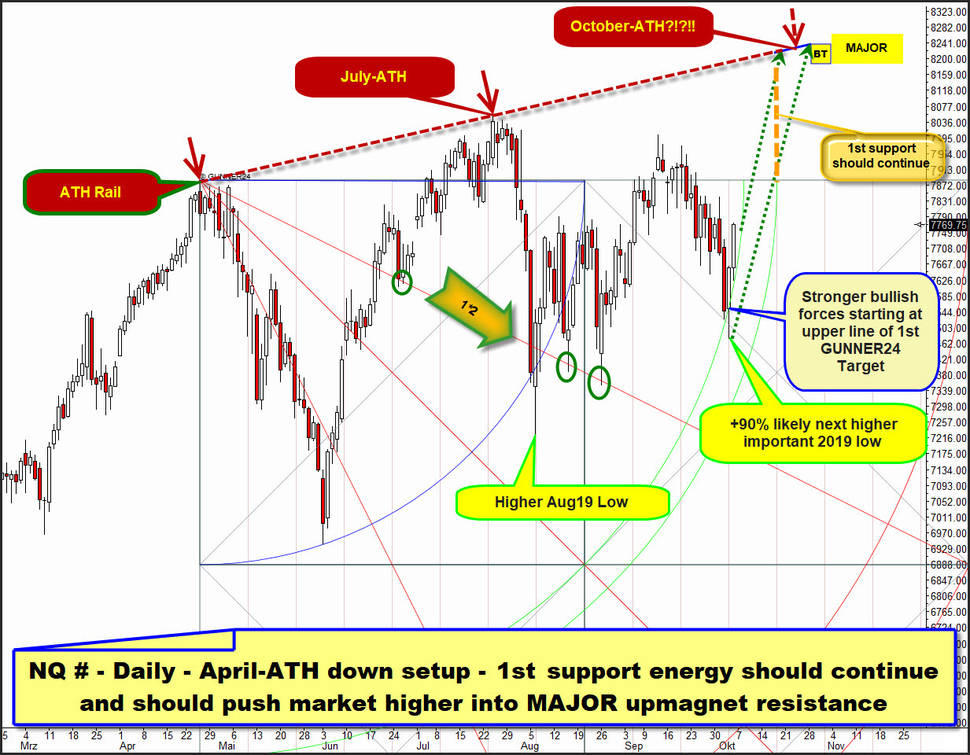 This above anchored is a down setup that measures the deepest and longest correction of the year to the donwside.
That downcycle began at the April 2019 alltime-high (ATH), there where most attractive future main resistance, very attractive upmagnet, is located I`ve named "ATH Rail". ATH Rail is rising upmagnet resistance on yearly and of course on life-time base. So, it`s a major attractive for the rest of 2019 and beyond. ATH Rail is well-confirmed future stuff. There the current high of 2019 was brought in, or July-ATH.
The correction that began at July-ATH was stopped by the natural support of Blue Arc and this Blue Arc triggered most important the Higher Aug19 Low which is next higher important low of Rally Year 2019. Secondly bullish was that Blue Arc triggered a next sustainable multi-week uptrend cycle, which was able to reach a higher 2019 high compared to April-ATH.
This looks like a Hit & Run Low...
Now the price at Thursday lows, which printed the current Oct19 lows, for the very first time hit the natural support of the upper line of 1st double arc from above. And we see and know it. Bullish reversal starting at upper line of 1st support and up she went into a higher week close compared to the penultimate week.
Observe closely that Thursday as higher Friday close was supported by rising upper line of 1st double arc support and this is very bullish outcome. Upper line of 1st is now rising daily closing base support.
==> stronger bullish forces starting at natural support out of April-ATH. This support is entire 1st double arc area, which actually is a steeper upward sloping rail which upward energy might continue until influence of 1st double arc end officially which is mid-Oct19 (orange-dotted time vertical).
Below is a next interesting looking down setup on daily base that adds strongly to the outcome that the Thursday Low has a very high odd to be the final low of entire Oct19, but there and then at least a stronger daily upycle should have been released: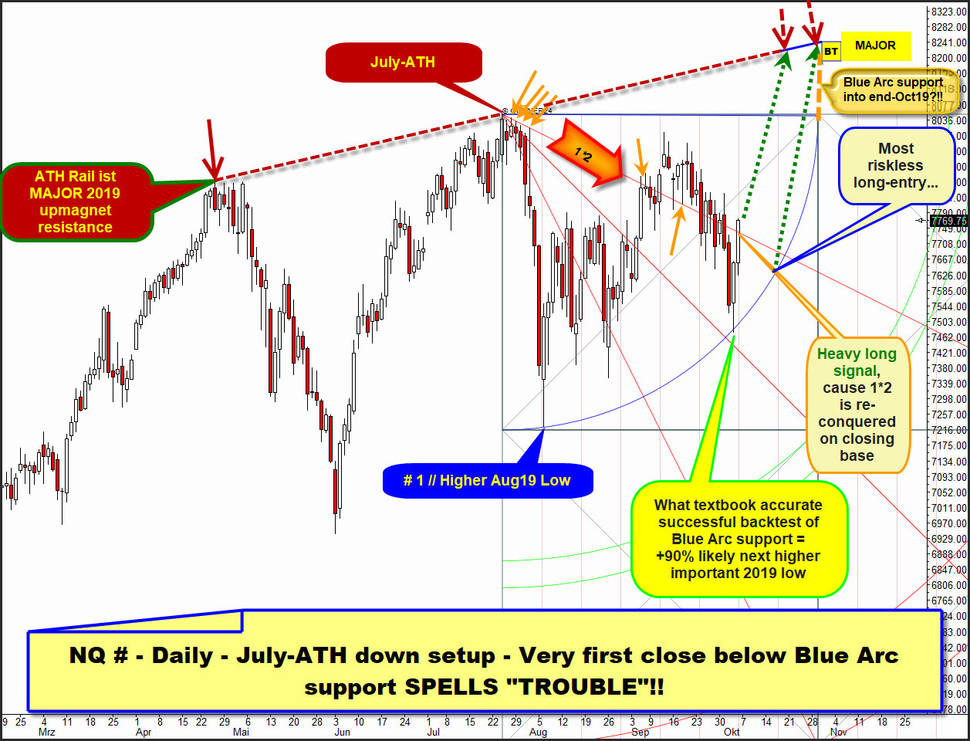 Starting at current ATH we measure down into last intermediate higher 2019 Low, that is bearish Aug19 extreme.
So, we measure up 2 extremes important for 2019, or important ones on yearly base.
Thursday Oct19 Low with a 98% accuracy found heavy support at Blue Arc = natural strong arc support out of ATH, follwed by an impressive bullish reversal that was able to re-conquer natural 1*2 Resistance Angle on daily and also on weekly closing base.
==> This is unusual bullish behaviour and sign that the tide should have turned. Or, the near-term trend switched from short/corrective to upward.
Cause Blue Arc above is now 1x confirmed support it should continue to radiate rising support on yearly and on life-time base for the short-term future. This support energy is projected to last towards end of Oct19, just then the Blue Arc runs out according time = orange-dotted vertical time/cycle trigger. Up to day Blue Arc radiates day low support and usually will offer rising strong daily closing base support until proven otherwise.
This upward oriented Blue Arc support could be the reason for that NASDAQ-100 must print a strong rally into end of Oct19 and it may be the reason why it can come to the re-test of the ATH Rail at Oct19 highs.
This week close above 1*2 Angle, a former well-confirmed ATH Support Angle, most recently former ATH Resistance Angle, can have triggered enormous bull forces, so that the market runs almost without further daily correction/pullback phases up to the MAJOR ATH Rail uptarget/upmagnet.
==> But if it comes to a re-test (third test) of the yearly Blue Arc support within the next 3 to 6 trading days, which seems quite likely if we take the consistently high October volatility into account, this looks of course the best, because most-riskless long-entry in the now-possibly underway October-rally cycle.
However, and this should confirm a still ongoing correction cycle in the weekly chart, the very first daily closing price well-below this Blue Arc within the next 3 to 6 trading days usually is a very serious bear signal. Such break of yearly arc support SPELLS TROUBLE for the bulls, cause than official triggered next target = important Oct19 downtarget magnet is the # 1 // Aug19 Low, seen at 7224.50 pts.
However, and that's my bullish call, Thursday low at 7474.25 now has a +90% odd to be A) the final low of entire Oct19 and B) with same probability is next important higher intermediate low of the 2019 Rally Year Pattern!
The likelihood of this arrival is so unusually high because this third valid daily GUNNER24 Setup gives us more security. Up setup is a 6 Candle up, starting at # 1 // Higher Aug19 Low = natural future support on yearly base.
This is also the third proof of a Hit & Run Low, made on Thursday!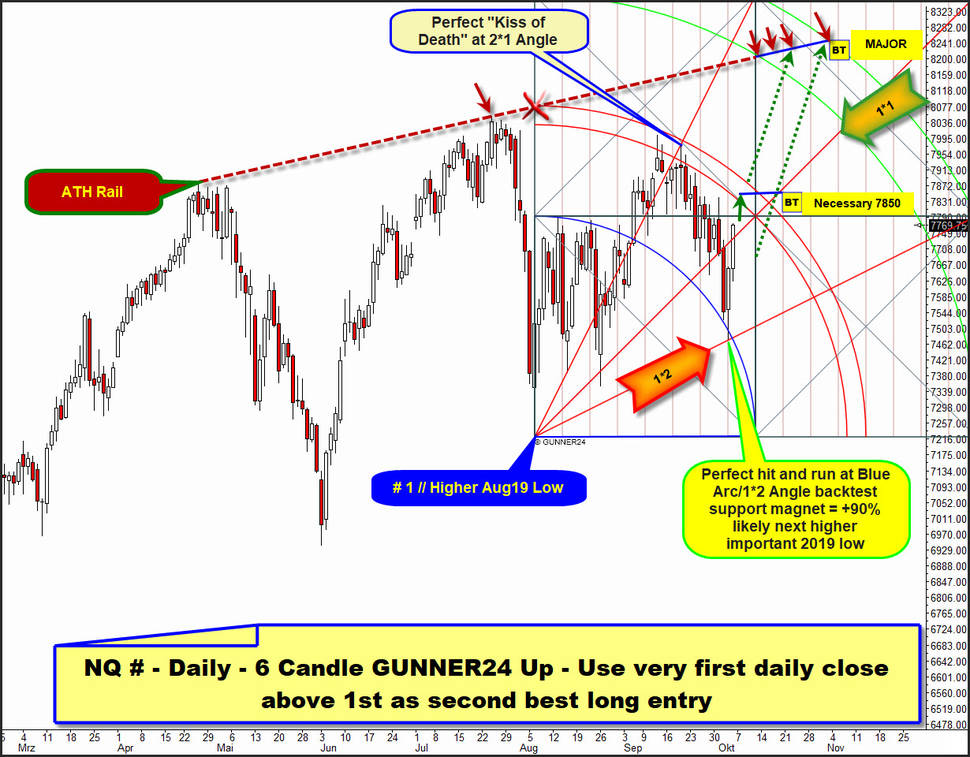 Ok, daily 6 Candles up impulse starting at # 1 // Higher Aug19 Low. This initial up impulse range projected future work off of lower line of 1st natural upmagnet/up-resistance. First test of lower line of 1st resistance triggered the downtrend. At day of target work off price additionally kissed 2*1 Angle from below to the T. Double resistance magnet triggered the correcton.
ENTIRE correction cycle shows no single daily close above lower line of 1st double arc, but all in all 4 negative tests of target at daily highs. Entire 1st is strong future resistance. Especially lower line of 1st is very-well = very strong confirmed falling resistance on daily base. So far, so good and business as usual.
Correction low is PERFECT HIT of 1*2 Angle support and Blue Arc support from above. Means, Thursday extreme was accurate backtest of a combined support magnet out of an important low on yearly base, and that support magnet triggered a heavy 2-day bounce/rally, obviously...
A nearly perfect double magnet work off triggered the correction. Thursday found double magnet = likely support magnet and this circumstance and again textbook looking downtarget work off A) likely changed the tide!, and B) makes the re-newed and above all the very quick test the lower line of 1st upmagnet resistance necessary!
==> Monday and/or Tuesday NQ # should test or reach and work off 7850 shy above lower line of 1st!
==> If we can record the first day close above the lower line of 1st then everything is fine and everything stays bullish for the MAJOR uptarget, which is perfect harmony with the possibly coming upper line of 2nd double arc upmagnet. And at the end of Oct19!
Big confirming bull signal that a rally cycle for the MAJOR uptarget work off indeed has started is very first daily close ABOVE UPPER LINE of 1st!
==> The 1st double arc environment within daily 6 Candle up setup is confirmed-stronger downtrend rail and this offers that also it`s next test will trigger bear forces and a daily down wave – what could re-test (third test) the yearly Blue Arc support within July ATH down setup within the next 3 to 6 trading days - which seems quite likely if we take the consistently high October volatility into account ...
Be a part of our exclusive sworn GUNNER24 Trader Community – now... I try to make you rich!
Be prepared!
Eduard Altmann