The DAX/FDAX has survived its always weak 5-month period relatively unscathed and delivered on a monthly base "JUST" a mixed pullback or weak correction in the still healthy-behaving overall bull market. Tomorrow starts its strongest 7-month period and this - as usual for decades - should again be bought with both hands this year.
The GUNNER24 Method predicts around 1000 points upwards potential by the end of the year!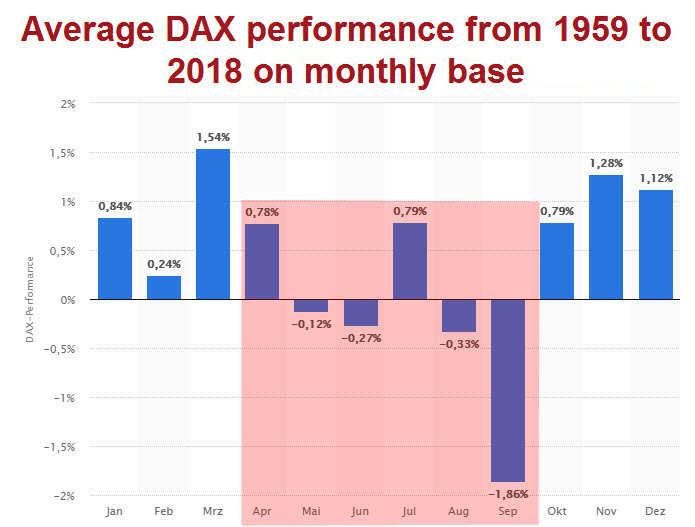 DAX/FDAX has a very secured history of delivering important seasonal lows in the course of September, only to uptrend thereafter ALWAYS!! into year end... and beyond...
Like always, for my DAX analysis, I refer to charts of the DAX future contract FDAX.
With regard to this year, I had calculated in the GUNNER24 Newsletter Edition of April 22nd (DAX course as always? - Think so!!) that:
1. the FDAX MOST LIKELY has to test its strongest bull market support within the usually until September lasting bear cycle!
2. It should pullback or correct at least down to a 11950 pts first downtarget with an 85% probability. The 11950 pts were thus first monthly downtarget until September 2018.
3. In extreme cases, the FDAX could have fallen to 11650 pts by September 2018 according to the April forecast. The 11650 pts were thus second monthly downtarget until September 2018. The processing probability of the second downtarget until September 2018 was at about 55%.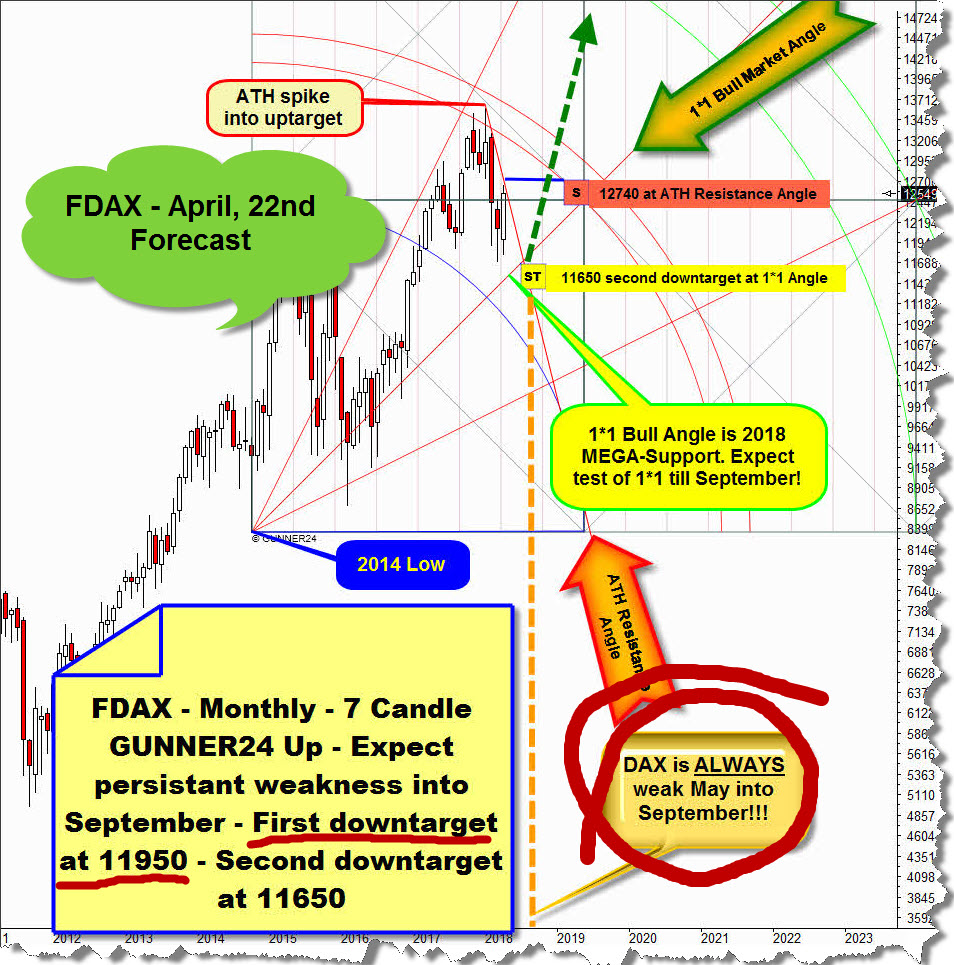 At the beginning of September, the first downtarget was reached and processed in a corrective looking weekly down swing. After that, it went not much lower than the 11950 pts first monthly downtarget.
The market has reached its lowest bearish cycle low at 11859 pts on September 16.
Because on this day at 11859 the most strongest bull market support was almost exactly achieved resp. worked off and immediately afterwards a stronger upswing in the daily chart was triggered, we now simply have to assume that:
==> on time (during the month of September = time factor) and quite precisely at the usually very strongest bull market support (price factor) an important and final cyclical low was reached.
As a result, DAX/FDAX should now rise again for the next few months...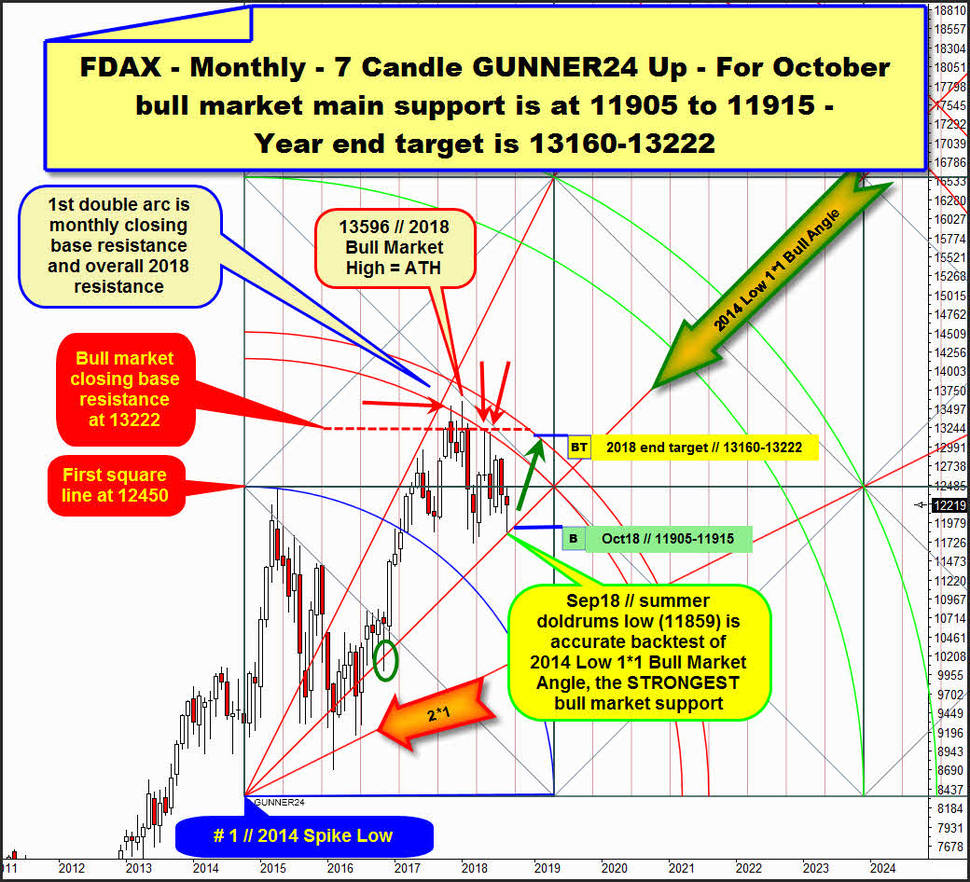 Last we used the monthly 7 Candle FDAX eye opener in "DAX course as always? - Think so!!" for the possible future development of the market. Above you can see it for the just delivered September closing price.
By and large, we see that all year 2018 trades below the 1st double arc, prior activated natural bull market target out of very important # 1-year 2014 Spike Low which was higher bull market low.
1st double arc is slightly downwards sloping year 2018 main resistance area. A resistance area which is responsible for making the year`s high = alltime-high at 13596 pts.
==> 1st double arc is at same time several times negative tested monthly closing base and monthly high resistance.
Thus, the 1st is a very-confimed, strong resistance double arc or double arc resistance on yearly base. Because of this status, it is very questionable whether the 1st and/or the 13222 pts monthly closing base horizontal can still be overcome in the course of this year! Probably not!
But highly likely the FDAX is able to trade in or at the area of the 1st double arc at the end of the year, because this 1st double arc is also a very important magnet = backtest magnet = backtest target for the FDAX this year.
Most natural strongest bull market support is the 1*1 Angle (natural summer doldrums downtarget!!) that springs from # 1 // 2014 Spike Low. That "2014 Low 1*1 Bull Angle" was nearly precisely tested at September 16 cycle low (11859) and FDAX rebounded to settle at 12219.
The bounce from longterm 2014 Low 1*1 Bull Market Angle support is perhaps the most noteworthy event in world equities this month because this leader has successfully tested a 4-year bull market rail in order to establish a very important cyclical next higher bull market low. So, my forecast!
The equity bears have nothing to tout unless a monthly close under the 2014 Low 1*1 Bull Angle which is at 11905 to 11915 for October 2018 (Oct18). As the next bullish 7-month cycle starts now, the market should be able to run up to the 1st double arc within the next 3 months with ease. The 1st is most important upward magnet for 2018, remember? Therefore, the market should trade close to year high environment at a minimum when 2018 ends.
Think FDAX heads to the 13160 - 13222 upmagnet resistance area until December 2018. ==> 2018 end uptarget is the 13160-13222 area. Whereby the 13222 is the existing monthly closing base resistance upmagnet and the 13160 corresponds to the upper line of 1st double arc upmagnet for the 12/2018 candle.
The rising 2014 Low 1*1 Bull Angle represents strongest W.D. Gann bull market support for 2018 and beyond. That's why he has the strongest attraction resp. magnetic effect for the next bullish 7-month period October 2018 to Apil 2019. IF the FDAX wants another 2014 Low 1*1 Bull Angle test in course of October 2018, I recommend strongly to buy there and then:
==> Buy at 11905-11915 until end of October 2018! SL trigger for a long engagement starting at 11905-11915 is September 16th low at 11859 pts!
The German bulls should be able to reach about 14500 points in the course of the year 2019! At least!: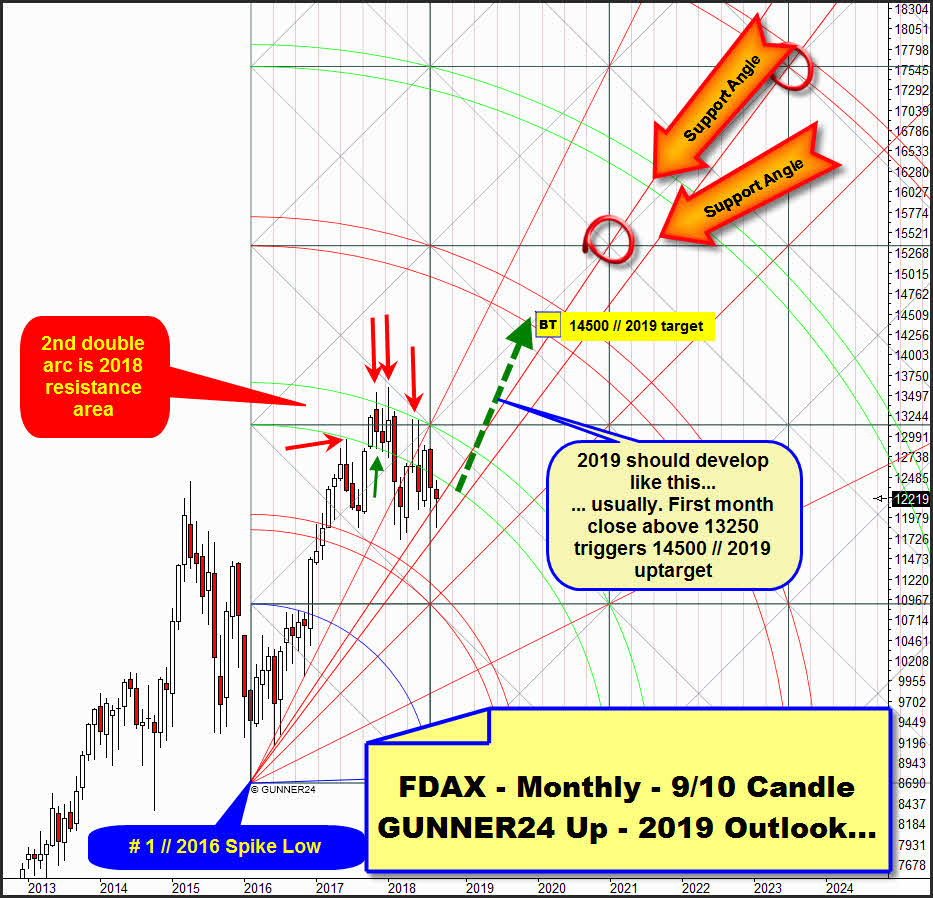 For the 2019 forecast we can also use this monthly up setup. It is a 9/10 Candle up which starts measuring upwards at # 1 // 2016 Spike Low, that is another important higher bull market low on yearly base. 8 Fib number + 1 = 9.
The setup reveals that also the extension of the initial up impulse which has developed out of the bearish 2016 extreme is fighting with overcoming a natural GUNNER24 Double Arc. Within 9/10 Candle up the 2nd double arc uptarget resistance is nicely confirmed and strong braking main rail for the year 2018 up to day!
Thus, in 2018, the market is struggling to overcome a combined GUNNER24 Double Arc resistance area (the 1st in the 7 Candle up and the 2nd in the 9/10 Candle up). This combined monthly resp. yearly GUNNER24 Double Arc resistance area is the main reason for the so far choppy = corrective year 2018.
Now, I think that it will be possible to overcome this monster hurdle on monthly closing base sometime in the beginning of the new 2019!
==> The very first monthly close above 13250 pts within the usually bullish October 2018-April 2019 cycle triggers a 14500 pts GUNNER24 Uptarget for 2019!
Be prepared!
Eduard Altmann