For the most part of 2022, regarding main trend and important extrema and turns the US stock markets have been following the average midterm-election year course of the US presidential cycle.
Thus, one could quite boldly claim that the stock market year 2022 is actually quite normal stuff and only again works off its typical annual seasonality with regard to the US presidential cycle.
And now, with the fresh annual lows reached just in time in the time window specified by this seasonality - towards the end of September to the beginning of October -, the next MAJOR stock market rule is already hitting the floor:
" .., but remember to come back in September!"
Because typically on October 1, the traditionally strongest 7-month stock market period begins.
A first look on the following pure daily chart of the Tesla, Inc. (TSLA) shares shows that the price is looking for an explosive upmove IF price and bulls are strong enough to defend a Double Low within formed Handle at the lower dashed orange-dotted support horizontal: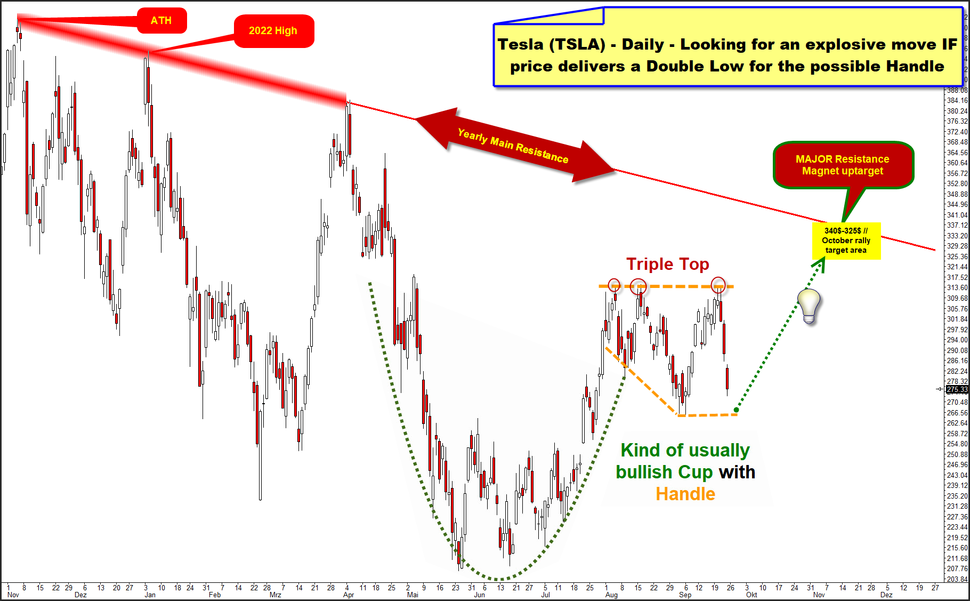 That currently most important horizontal probably represents the lower limit of a meanwhile about 40-days long Handle pattern.
The possible orange-dotted Handle could be part of a very classic bullish Cup with Handle pattern, what perhaps forms since most recent important lower high of 2022.
Possible orange-dotted Handle above must be interpreted as quite bullish development as it is visually developing just "shy below" the reached monthly highs.
Additionally, the dimensions of the possible orange-dotted Handle compared to the dark-green dotted dimensions of the Cup fit almost textbook-like to a - normally very bullish - classic Cup with Handle bottoming formation.
Next, I will show you the currently top-working daily GUNNER24 Up Setup what signals that a rally up to 325$-340$ or so and into perfectly pre-defined decling Yearly Main Resistance (lower year highs!!) seems imminent IF a Double Low pattern forms at Handle support horizontal surroundings within the time window where the US stock markets would typically have to deliver their annual lows: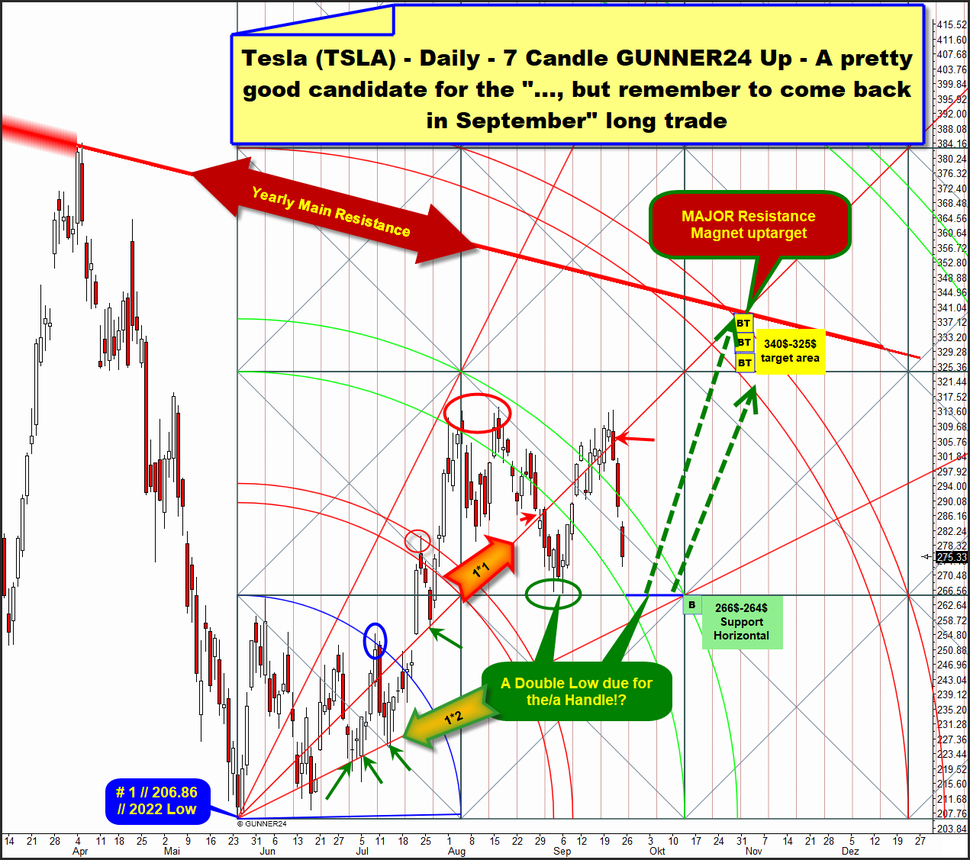 For this we place a daily 7 Candle up at reached the # 1 // 206.86$ price/time event, that seems to be the 90%-likely FINAL LOW of 2022! Q: why this high probability that the low for the year was there? A: Quite simply, I don`t see any other major stock, showing such a usually bullish Cup with Handle bottoming formation. And that is an exceptionally positive divergence, TSLA shares delivering actuall!
Setup is a nearly perfect working one. At small red oval the 1st uptarget forced price into a tiny correction. At dark-green support oval we recognize nearly 100% accurate successful backtest of first square line => then horizontal support ==> now future main support horizontal of the Handle. Current upcycle highs arrived textbook-like at natural 2nd double arc uptarget zone.
Negative 2nd double arc energy has set the daily Triple Top pattern. Triple Top marks overhead Handle resistance horizonal.
Chosen scaling is confirmed by all the nice working tests of 1*2 and 1*1, highlighted by red resistance and dark-green support arrows.
Look now, how the 40-day Handle fought its way tenaciously and slowly but determinedly through the natural resistance zone that represents the 2nd double arc environment.
We now recognize some daily closing prices above this influencing resistance area = resistance magnet area. Therefore, TSLA some days ago, fired a perhaps longer-lasting GUNNER24 Buy Signal and by this the activated official daily GUNNER24 Uptarget is the work off of the lower line of 3rd double arc in overall (up-) trend direction.
Therefore: => the chances are quite nice and on the rise that the unfolding Handle formation has to resolve to the upside and as a consequence price has to work off the future main resistance magnet formed by falling Yearly Main Resistance and the activated daily 3rd double arc uptarget, at 325$ to 340$ surroundings!
==> MAJOR shortterm uptarget for TSLA shares seem to be the 325$ to 340$-concrete upmagnet MAIN RESISTANCE within the course of next few weeks and probably until end of October!
Risky traders can long the almost certain SOON next test of the first square line main support = Handle support horizontal at 264$ to 266$. Risk-averse traders can buy the first daily long signal after a finalized "Handle Double Low" at 264$ to 266$. Please work with a narrow SL in each case to avoid a bearish surprise!