Now it will be super exciting again with the gold! Either, we receive the signal for the official end of the now 23 weeks lasting downtrend cycle. 55% odd. Or - almost equally possible - gold sends a next weekly signal for the very serious backtest of the current year low environment only to possibly undercut this and therefore continue the 2018 downtrend cycle towards the end of 2018.
The future first week close below 1169$ signals that the downtrend in gold likely will continue well into the end of the year, possibly testing a 1122$.
As forecasted, the gold tested the strongest support or attraction price respective important Gann Angle in the downtrend that derives from the most important low of the entire DECADE which is 2015 Bear Market Low. Within weekly chart below I named this obvious downtrend target "2015 Low 1*2 Support Angle" because he is direct mathematical price-time support out of the very important bear market low made close to the end of 2015.
2015 Low 1*2 Support Angle was reached and finally worked off in course of August, exactly during the trading week the actual year low was made. 2018 Low is at 1167.10$. Exactly in course of that trading week, it also came to the very first backtest of the well-known 1172$ GUNNER24 Support Horizontal which can be deduced directly from the all-time high of the year 2011.
As we all know, the 1172$ horizontal support is existing in the year time frame. Add 50$ to 1172$ = 1222$ and that results in the most important horizontal resistance above current quotations. 1222$ is a yearly GUNNER24 Resistance Horizontal...
That's it from my side regarding important updates of known, important and currently relevant magnets and supports or resistances. That's why we continue with a deep analysis of the 2018 downtrend cycle and the most important developments that took place after the year's low: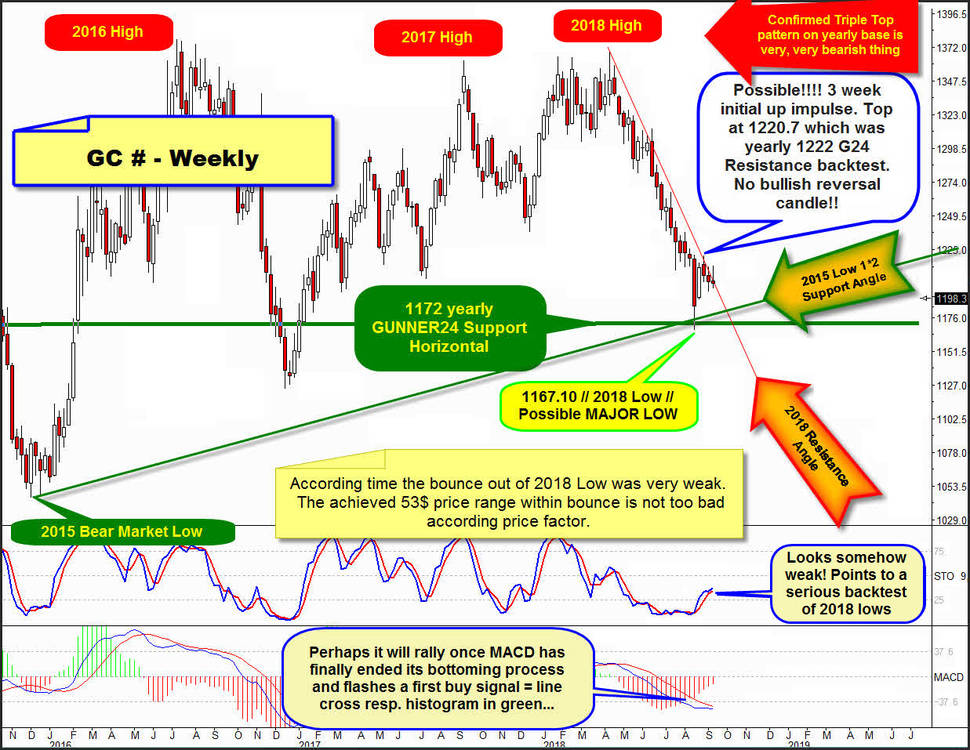 An important fact must be known to all Gold Bugs. Gold has dissolved a so-called triple top pattern on yearly base to the downside. That`s heavy bearish stuff and cause of this sustainable 2016-2017-2018 topping pattern the 2018 downtrend cycle is A) so damn persistent and B) the gold still trades close to the year low environment and C) above all, is not yet over. At least as far as the GUNNER24 Signaling is concerned.
D) Gold has the option to drop further the coming weeks, to fire lower year lows and to reach much lower bear market lows in the course of 2019.
However! and that's quite bullish view ... the 2018 low price reached so far is officially a "POSSIBLE!!" major low cause gold at the same time worked off and defended A) important support directly out of the 2015 Bear Market extreme - which is 2015 Low 1*2 Support Angle - as well as B) important support that derives directly from the 2011 all-time high - which is the well-noticed 1172$ horizontal.
==> 2018 Low successfully tested cross support existing in the yearly and in the DECADE time frames.... we observe a "POSSIBLE!!" major low made in course of August.
Or: ==> the possible final low of entire 2018! ==> the time has met price at 2018 lows, thus according W.D. Gann: "A change in trend is imminent"!
After 2018 Low, a respectful 53$ bounce has developed as reaction. This counter move according price to such an extremely important yearly/DECADE cross support is already ok in my opinion to indirectly confirm a Major Low.
However...
According the time factor, the bounce was very weak. Overall, the mentioned bounce was only 3 week candles long. This is actually too short to expect a very sustainable (according price and time) possible new weekly upcycle. If, yes, if ever, a new weekly upcycle started at the 2018 Low. The possibility that a new weekly upcycle or sustainable weekly uptrend started at 2018 Low in my opinion is already held in abeyance.
What I or we know and see is that the market is still officially caught in the 2018 downtrend cycle.
A) The 3 week bounce out of 2018 just was able to test back the 1222$ GUNNER24 Horizontal Resistance in a negative way. This is a negative backtest of a yearly horizontal resistance.
B) Downtrend still respects 2018 Resistance Angle. ==> since beginning of the 2018 downtrend cycle NOT A SINGLE candle in the weekly chart was strong enough to finish or close above the 2018 Resistance Angle. Oh boy, we have to state that this angle is extremely stubborn and resilient and still exerts enormous pressure on the price. He is currently not only acting as angle resistance in the weekly chart! He must also be resistance in the annual chart. Fact.
And only the very first weekly close above the 2018 Resistance Angle may be the signal for us to switch officially to the long side. Period!
Only then we have to note that at current 2018 Low a 3 week initial up impulse was triggered. Which we can then use later to forecast the entire countertrend...
==> Trend is down. 2018 downtrend cycle rules up to day. Trend is Gold Bears very best friend. Until proven otherwise.
Well, at the top of the introduction I wrote that I expect the soon resolution of the Gold-Stalemate.
This resolution promises the most recently here - "For the final gold strike, these technical obstacles must now be overcome" - presented and analyzed weekly 5 Candle GUNNER24 Down Setup: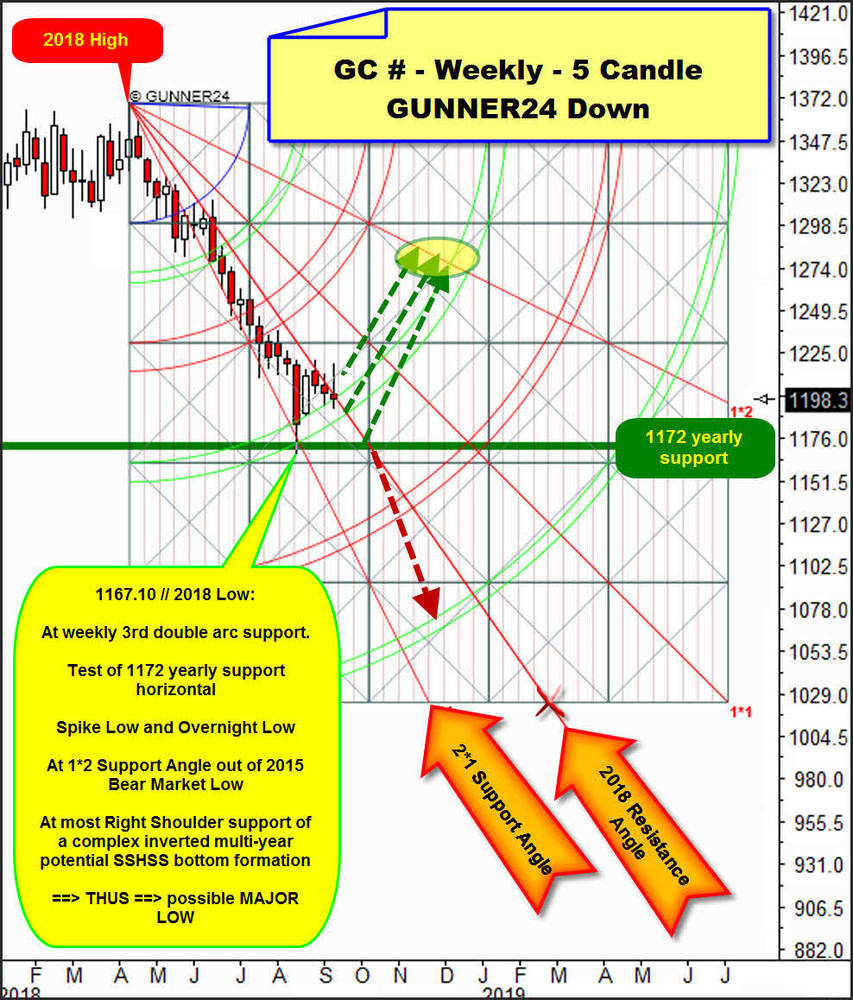 Wonderfully accurate this week candle has wedged between actually most important weekly support and actually most important weekly resistance, thus signaling a GUNNER24 Breakout Mode for the next week/next 5 trading days and the final resolution of the current bull-bear stalemate:
Week accurately closed at upper line of 2nd double arc support that is now rising 3! times successfully tested bounce support on weekly closing base. Week open was one more time precisely at falling 2018 Resistance Angle which is main resistance on weekly closing base for the bounce. This was all in all the third! consecutive opening auction exactly made at falling yearly resistance angle!
==> One of these two actually most important rails will probably have fallen or have given way when the next week candle finally is printed!!!
This week low is at 1192.70$, thus a next week close below 1193$ should signal that gold will be underway to test back 2018 low environment in a very, very serious way.
The high of the week high is printed at 1218.00$ and thus was a lot higher than it would be necessary for the final upwards break of the 2018 Resistance Angle and I think IF next week is able to close above 1215$ we have very first confirmation that such a close confirms that a weekly countertrend has started at 2018 Low which might persist into end of November or early December 2018.
A future week close above 1222$ until end of October signals that gold officially has ended 2018 downtrend cycle and should test back the 1250$ up to 1280$ = 1272$ (1222 + 50) next higher MAJOR UPMAGNET in further course within a 12 to 14 weeks running countertrend cycle ==> into end of 2018.
At the moment, I give this bullish outcome a 55% probability, because we` ve received all lot of important technical signals of a Major Low is finally made. See my big note within chart above with all the bullish chart and GUNNER24 Stuff I recognize. Additionally, the very oversold momentum readings in the monthly chart resp. the for Gold Bugs very bullish COT-data point to generally up towards the end of 2018.
I have 45% odd that gold will downtrend further into late 2018 resp. early-2019. This outcome should happen with some certainty as soon as gold delivers one, maybe two consecutive weekly closings prices below 1172$ OR!! or a final September 2018 close below 1172$-1167.10$ area. Then activated next most important downtrend magnet would be 1122$ yearly GUNNER24 Horizontal Downmagnet (1172 - 50).
You best register with our GUNNER24 Gold Trader now. That's where we oversee the optimal entries and exits for you. Especially in the difficult market situations where many factors have to be considered the Gold Trader is backed by the additional GUNNER24 Signals based on the combined 1, 4 and 8 hour setups to catch the optimum entries and exits.
The GUNNER24 Gold Trader will provide you with the critical knowledge you need to forecast and analyse the precious metals with the GUNNER24 Forecasting Method. All the GUNNER24 Trading Signals you receive real-time are based on the actual Gold and Silver Future. The NEW GUNNER24 Gold Trader is a must for every actively working investor and trader who wants to trade successfully in everyday trading. The insights you receive from the head trader Eduard Altmann (and discoverer of the GUNNER24 Forecasting Method) are truly amazing sometimes. I promise!
Click the button below and order the GUNNER24 Gold Trader - $39.90 US a month. For 201 members and up - $49.90 US a month.
Be prepared!
Eduard Altmann