We knew in advance that US equity markets should be extremely bullishly supported until at least August 31 because:
Due to continued strong bullish US stock market GUNNER24 Signals (re-read "The bull is feeding on itself" issue) and then Tesla und Apple (re-read "Apple`s stock split 4 for 1 checkmates bears & a NEXT huge S&P 500 Buy Signal!" issue) execute their stock splits.
On Wednesday, there was also the note that important stock adjustments in the Dow Jones Index become effective on August 31. Salesforce, Amgen and Honeywell will replace ExxonMobile, Pfizer and Raytheon. This and stellar Salesforce earnings powered S&P 500 and Tech Indexes to new alltime-highs with some of the 2nd tier Tech Leaders gearing up into berserk mode as a lot of fresh money fueled these places.
All this and many more bull stuff now fulfilled the GUNNER24 Forecast Call of June 7th (re-read "Just playing long ball, ma`am" issue) that the S&P 500 MANDATORY and UNDENIABLE has to deliver new alltime-highs in course of August to September, at about 3500 pts.
==> BUT NOW THE RED FLAGS ARE RAISED.
==> The plot thickens as time meets price and there is a danger of the next MAJOR US stock market highs over the next 10 days.
Red Flag 1 – the well-recognized Megaphone Pattern of the S&P 500 markets, which has been forming over several years (Price Component):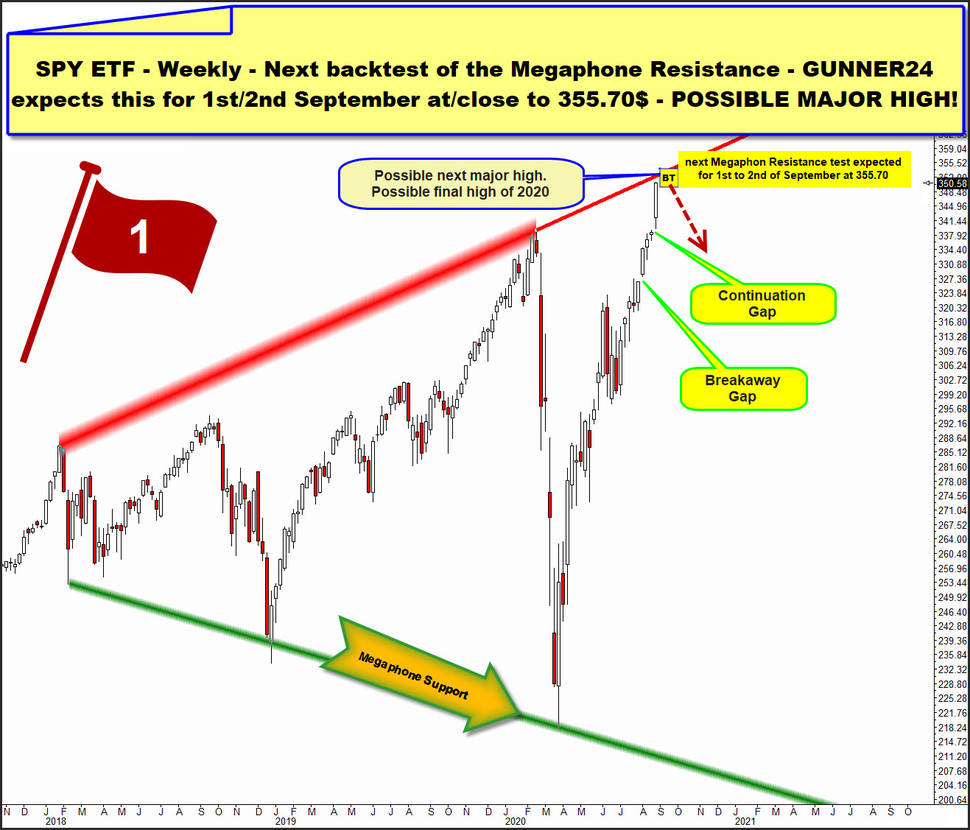 This call only applies for the S&P 500 & S&P500 emini & the SPY ETF: the next test of the Megaphone Resistance Upmagnet outlined above and best visible on the weekly charts is due next and soon.
SPY ETF should test it`s yearlong Megaphone Resistance Upmagnet close to the 355.70$. A given daily time signal is that the 355.70$ has to be worked off/reached/tested on September 1 to 2!
OF COURSE this Megaphon Resistance acts as major future resistance on yearly base and this is why S&P 500 & S&P500 emini & the SPY ETF could find next MAJOR TOP and maybe FINAL YEAR HIGHS here at or close to the Megaphon Resistance Threshold once threshold is reached.
But at least a serious pause in rally – a some weeks long brake...! - should be expected after major resistance upmagnet work off.
Red Flag 2 – The current monthly counts of the NASDAQ-100 (Time Component):
We are mainly also time traders. And as such, the concept is extremely important to us, that when the price factor and time unite, extremely important turns may occur with some safety after a possibly imminent price extreme.
For the NASDAQ-100 emini (NQ #), SOME!!! price/time constellations are emerging which together indicate that the next MAJOR bull market top may be coming up very, very soon. Namely in the course of the coming September 2020!
Within above shown monthly NQ # candlestick chart we recognize the most important upleg counts of this NQ # secular bull market what started at the 2008 Bear Market Low. The first long and relatively flat major upleg of this secular bull market lasted 88 month candles and this obviously repected the 89 Fib number.
This wave found major important higher bull market low at final low of 2016, what is the starting point of the now underway second, steep major upleg what with the next month September 2020 is at month candle # 56 what is of course 56 - 1 = 55 Fibonacci number.
==> As markets have inertia and know about the Fib numbers – especially the Algos ... – it may well be that considerable time resistance is due now, which could soon lead to a major trend change!
The major upleg 2016 Low to 2020 High splits into a first 35 = 34 Fib number + 1 months lasting wave which finally bottomed at famous 2018 Xmas next higher major important bull market low and ...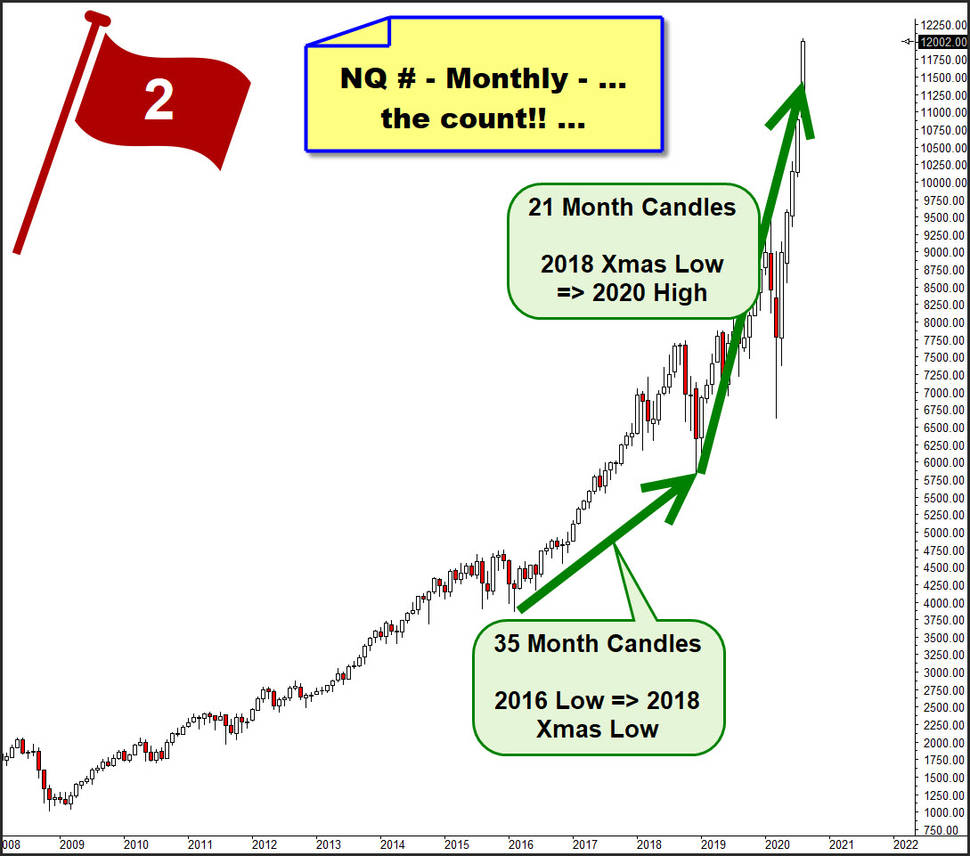 ... the now running upwave from 2018 Xmas Low into current August 2020 alltime-high. For this upwave the count stands at 21 month candles and for the coming September 2020 will be at 22 - 1 = 21 Fib number, next due possible major trend change signaler.
Whereby the individual waves from 2016 Low into 2020 August alltime-high take place in such a way: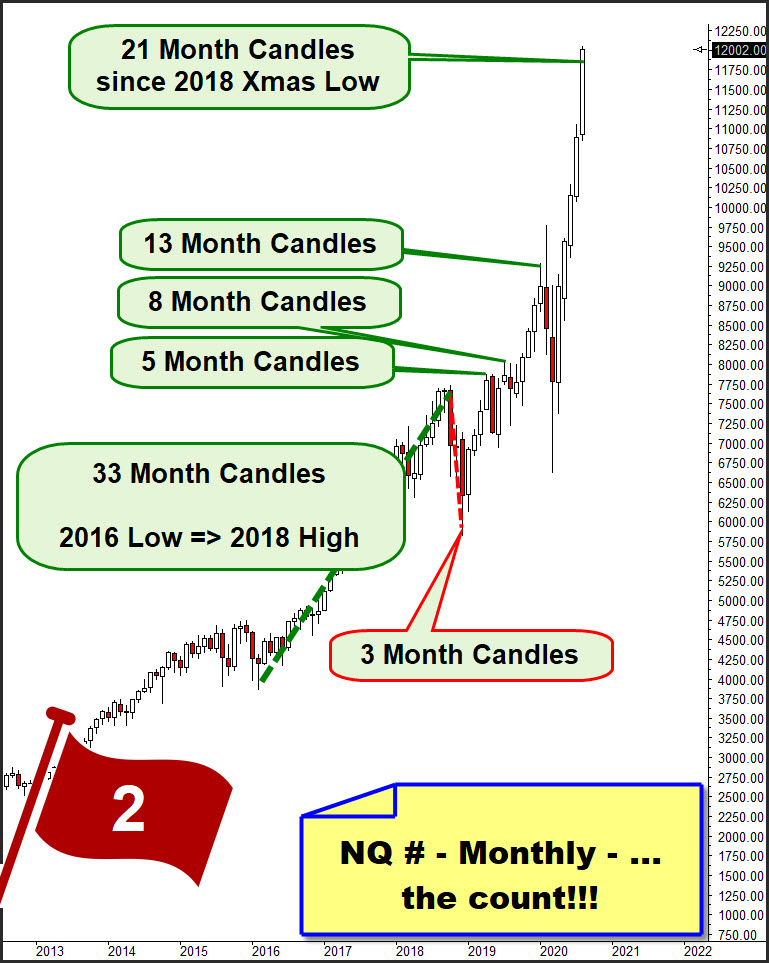 The wave from final low of 2016 into final high of 2018 lasted 33 month candles. This wave is oriented to the 34 Fib number, followed by an extraordinarily rare series which is also very closely based to the natural Fibonacci trend turn or trend extreme numbers.
Downwave final 2018 High to 2018 Xmas Low, the final low of 2018, is a 3 Fib numbers long. Wave 2018 Xmas Low into Alltime-high is the 21, as counted before & above. Within this wave the tops of candles 5 & 8 have printed intermediate highs, each followed by a 2 months long sideways. Fib number 13 was harbinger for the 14 - 1 = 13 Fib number top what is the pre-corona February 2020 alltime-high what triggered the deepest, fastest sell-off ever into final lows of 2020 which have been printed March 2020.
==> I think, this Red Flag 2 warning makes it clear that when it comes to important, even major, but also less significant trend reversals and intermediate highs and lows, the Fibonacci numbers play an extremely important role!
Red Flag 3 – The possibly due KISS OF DEATH and possible MAJOR bull market high setup of the NASDAQ-100 (Time meets Price):
And as the September 2020 candle will be the 56th month candle of bull market that started at # 1 // 2016 important higher bull market low ...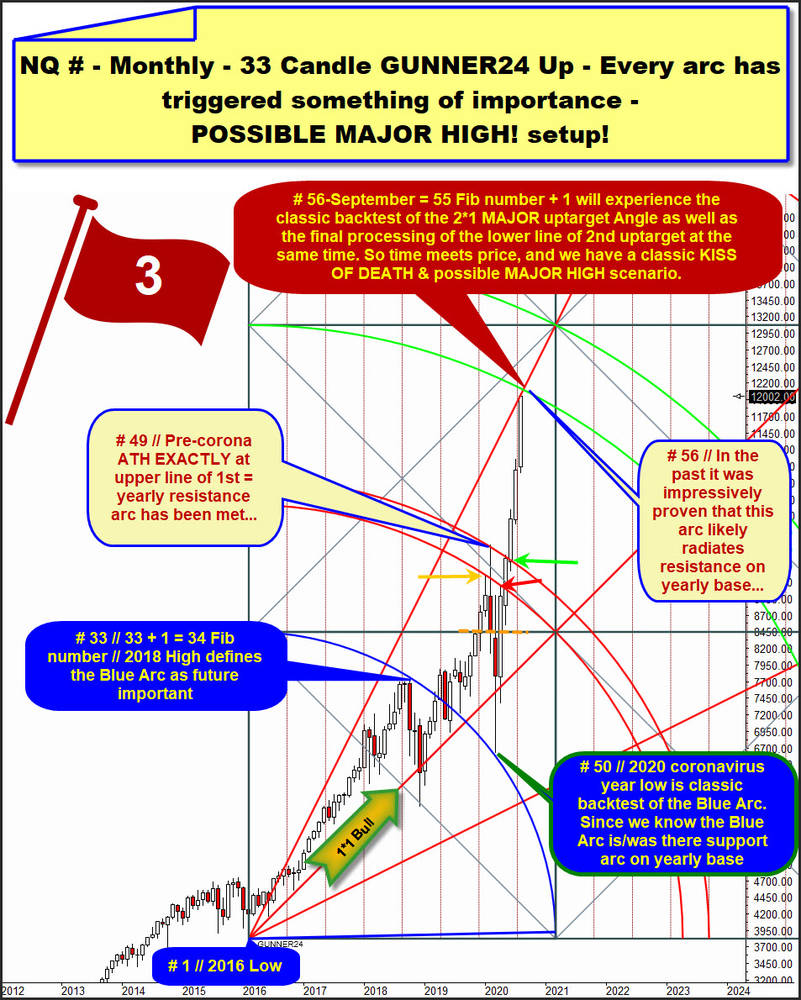 ... it is now 1000% plausible that the NQ # again in course of the coming September 2020 necessarily has to test and work off the 2*1 Backtest Upmagnet Main Resistance Angle that springs from major important # 1 // next important higher year 2016 bull market low. Already the current August 2020 top/alltime-high exactly is at 2*1 Backtest Upmagnet Main Resistance Angle from below.
This BIG BACKTEST event likely will come true in course of the next 5 trading days, but for sure during the September as then also the yearly resistance of the lower line of 2nd double arc attracts the price massively. The big problem for the bulls will be that this lower line of 2nd should radiate MAJOR RESISTANCE energy, namely an energy thrust on yearly base, as every arc reached in the monthly 33 Candle up setup so far did before.
For this watch the # 50-low what is final low of 2020 and what was 99% accurate successful backtest of the Blue Arc which can be anchored at final high of 2018. Lower line of 1st resistance energy 100% accurately kicked in January 2020 high. The January 2020 close then meant highest monthly close ever. This is why lower line of 1st radiated yearly resistance energy.
Most prominent evidence that the arcs within this setup have a major importance to the price and can trigger major trend changes and major bull market highs and bull market lows is the # 49-pre-corona alltime-high what with an 99% accuracy came in at upper line of 1st uptarget resistance. Followed by deepest, fastest sell-off ever...
For the month of September 2020 – the time factor as 56 - 1 is the major important 55 Fibonacci number – unites with the lower line of 2nd natural, possible yearly resistance arc (price) and the MAJOR 2*1 Backtest Upmagnet Main Resistance Angle (price and time) and Boy, oh Boy this is a classic KISS OF DEATH setup and next MAJOR BULL MARKET HIGH scenario at the same time!
Red Flag 4 – The Average Seasonality of an US Presidential Election Year: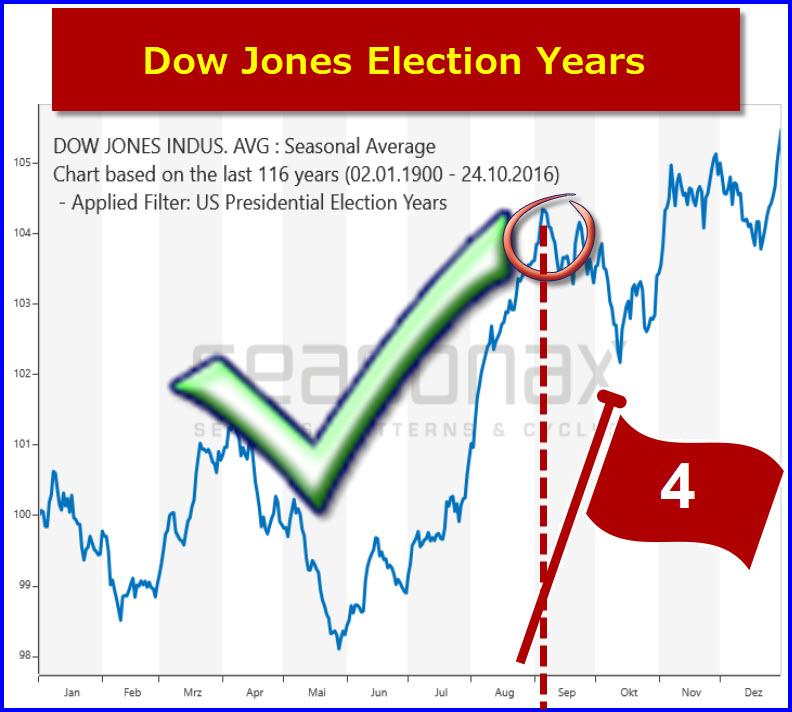 Our last look at the average course of an US Presidential Election Year delivers that it is now possible and permitted that the "not so unsual" strong rally cycle of the past few months will finally come to a swift and final end as the average Election Year forms a major/an intermediate top for early-September!
Conclusion:
The risk is to the downside right now as the time together with the price factor projects next MAJOR US stock market highs are imminent in course of September 2020. MAJOR highs could be printed in course of the next 10 trading days!
There is a good chance that the September 2020 highs could also be the final highs of this year!
First tender short attemps with tight SL are now reasonable and appropriate.
Be prepared!
Eduard Altmann