The last time I analyzed the broad S&P 500 with the help of the S&P 500 e-mini futures chart was in the April 8 issue when I presented several trigger marks and the resulting consequences to the US markets. For example, the market - trading at 2605 pts at that time - should normally bounce to at least a 2800 until June 2018 just to test back there and then it`s main resistance: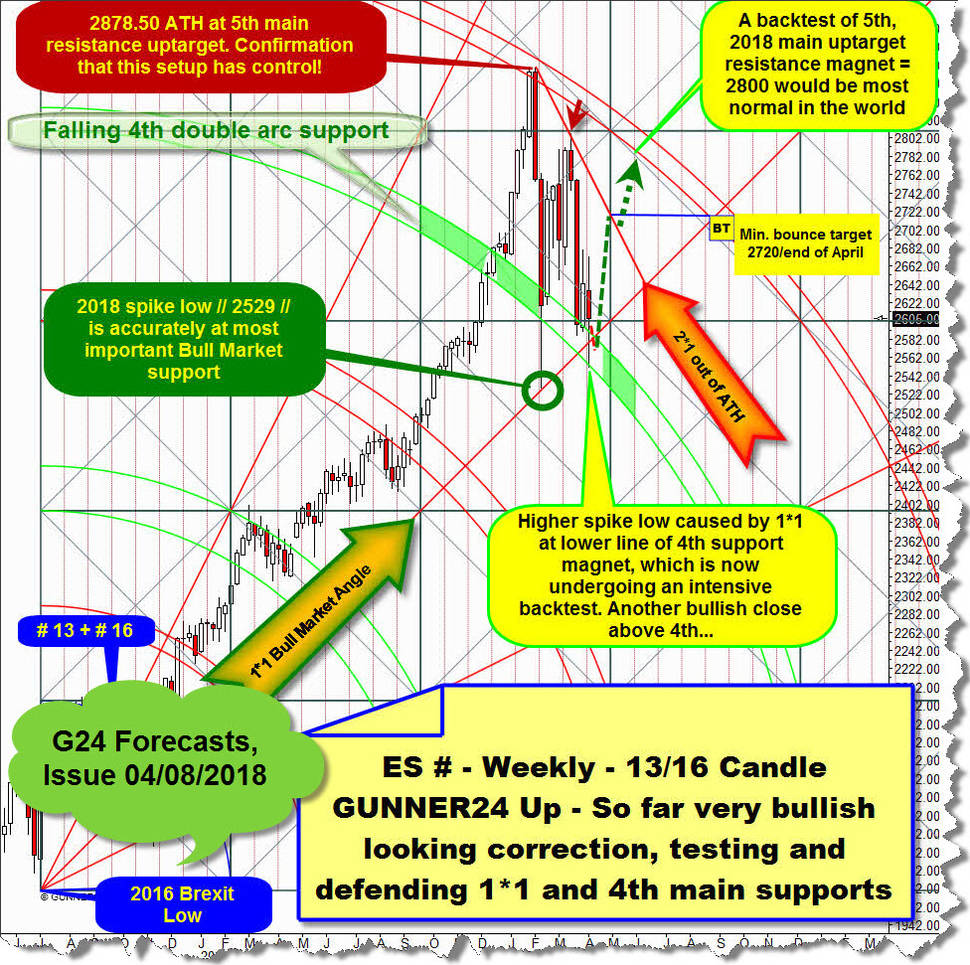 Furthermore – as to my assessment at that time – a weekly close above 2800 increases most dramatically the probability for the US markets to have seen their final year lows at the February lows.
6 weeks ago, with a weekly close of 2803.25 first the important 2800 succeeded in being finally overcome. The 2800 had been important 5th double arc resistance within above shown weekly 13/16 Candle GUNNER24 Up Setup, important combined weekly and yearly resistance for the entire year 2018. Thus, some more upwards potential was triggered. Now the S&P 500 future is on its way to test back current alltime-high (ATH) at 2878.50 pts.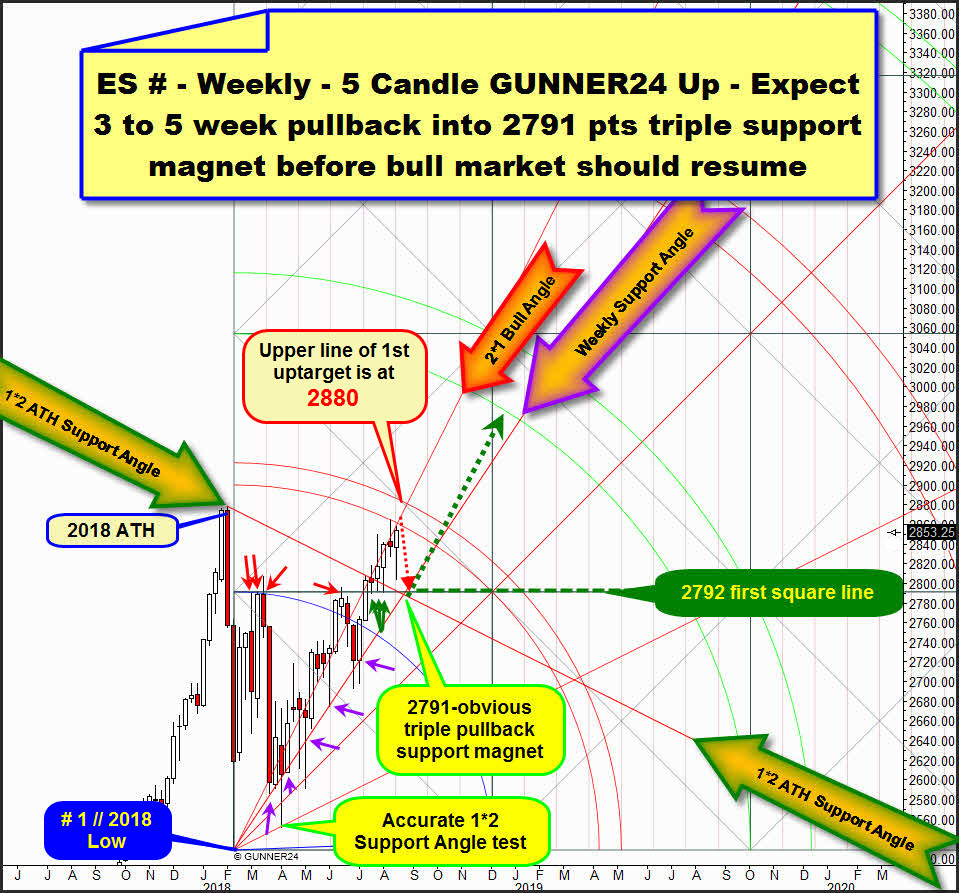 The market closed at 2853.25 on Friday, only 25 points or around 1% below 2018 ATH.
Especially since March (lowest purple arrow) the "Weekly Support Angle" seems to be the main driver for the 2018 bull cycle which began a 99.99% likely final # 1 // 2018 Low, pulling up the index again and again. For about 5 months the market has been using "Weekly Support Angle" as week low but also as closing base support and this upwards pressing rising bullish support was reason for why the 2800 bull/bear trigger was finally overcome 6 weeks ago on weekly closing base.
The above weekly 5 Candle GUNNER24 Up Setup arranges that what happened after the final overcoming of the combined weekly and yearly 2800 resistance magnet or resp. 2792 pts horizontal now most correctly, in my opinion.
Overcoming 2800 triggered next important bull market leg and activated target of lower line of 1st double arc which was pinpoint tested at current cycle highs, achieved at the top (2863.75) of the penultimate trading week. Means top of the penultimate week reached and worked off natural bull market out of 2018 Low. Thus, there was a pause in the uptrend on daily base caused by lower line of 1st double arc resistance but not on weekly base cause Friday close was strong enough to deliver second highest week close ever. And this is next mild bull signal on weekly base which should lead to - 95% probability - that over the next 5 trading days the 2018 ATH (2878.50) will be seriously tested back.
This awaited 2018 ATH test should reach at least 2867 pts, since there runs the 2*1 Bull Angle for the next 5 trading days, which since 2 weeks candles acts again as weekly closing base resistance. 2*1 Bull Angle is still very attractive for the price = upmagnet, though the weekly closings are now below that bull rail. Proof is that last week high exactly was at 2*1 Bull Angle, temporary important weekly threshold. So, there should still be 1 push higher above current upcycle high!
Well, because past week close is next mild bullish signal on weekly base and a next higher upcycle high very likely in front we have to prepare for a very serious test of 2878.50 ATH price, even for a small higher ATH in course of the next 5 trading days. Perhaps market is able to test the upper line of 1st double arc at 2880, next higher natural bull market uptarget above lower line of 1st resistance.
But there at the latest at 2880 (give -2/+2 pts) within next 5 trading days (give -1/+1 day) the weekly upwards cycle should have found its final high, because with the two consecutive weekly closings below 2*1 Bull Market Angle, following the W.D. Gann`s important Gann Angle trading rules a very serious and usually sustainable weekly Gann Angle sell signal was triggered. ==> This points to the outcome that this first test of the 2018 ATH should fail in the end caused by overall 1st double arc resistance environment and afterwards a 3 to 5 weeks lasting pullback cycle is necessary or due!
==> GUNNER24 Method points to important cycle highs made between 2880 and 2867 within 5 days, followed by a 3 to 5 weeks lasting "mild" pullback cycle which should test back and work off - minimum - 2791 pts triple pullback support magnet formed by 2792 pts first square line, "Weekly Support Angle" and 1*2 ATH Support Angle that is actually most important backtest target of underway 2018 bull run.
Such existing triple magnets are always main attraction time/price magnets for a market and this 2791 one looks like it will/could act as big, strong support for the 2018 uptrend, accordingly it`s a Gentleman`s long entry for a bull market continuation into weekly 2nd double arc uptarget within 5 Candle up setup above and 3000 pts which is expected to be reached and tested November to December 2018.
If the market avoids a pullback cycle into 2791 pts MAJOR SUPPORT till September 2018, instead showing a FIRST week close above 2888 until end of September, use such first and very bullish weekly close above 2888 pts for the uptrend continuation into awaited "Big Round" 3000 bull market uptarget!
Be prepared!
Eduard Altmann