In order to trade or invest profitably with the highest consistency, you need to be well equipped to recognize the greatest probability event for the upcoming trend in whatever market you choose to trade. GUNNER24 Price/time analysis, when done precisely, will provide you with remarkable trade setups of what Mr. Market should do next.
As far as the latest price-time forecasts are concerned, GUNNER24 beats the market by far =>
G24 Forecasts 1 vs Mr. Market 0
I sent you this General Electric short recommendation on May 8. In the free GUNNER24 Newsletter "Stock markets in the crosshairs of the bears - and it is likely to get worse", which you can view again here if you click on the blue link or on the chart below.
General Electric should reach and work off an obvious downtarget at 65.10$ within weeks.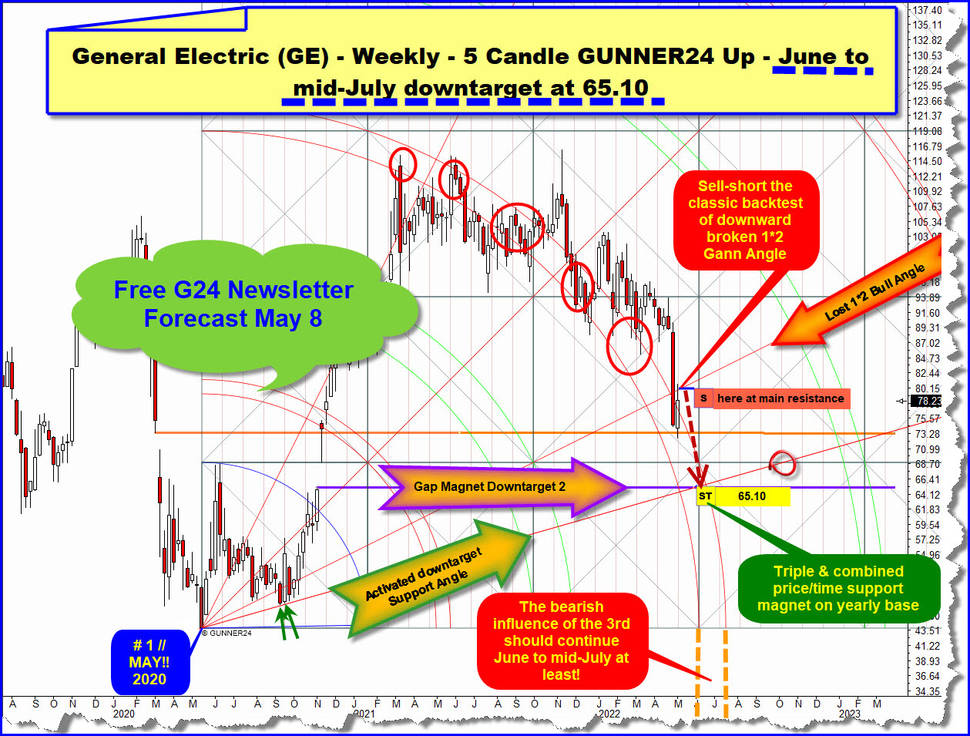 The 65.10$ sell-short downtarget formed by a triple support magnet on yearly base was finally worked off on June 16. GE share also reached 60$ at the low for the year. In the meantime, the shares have recovered to 68.19$.
G24 Forecasts 2 vs Mr. Market 0
On May 15 (GUNNER24 Newsletter 05/15/2022: "AUDUSD is finishing a MAJOR Top") for the AUDUSD forex pair the rapid sell-off continuation into a rising yearly Gann Angle support was identified and e-mailed to your. The work off of the 1*2 Downtarget Main Support Angle was, so to speak, a compelling necessity that would have to be achieved in the course of this summer: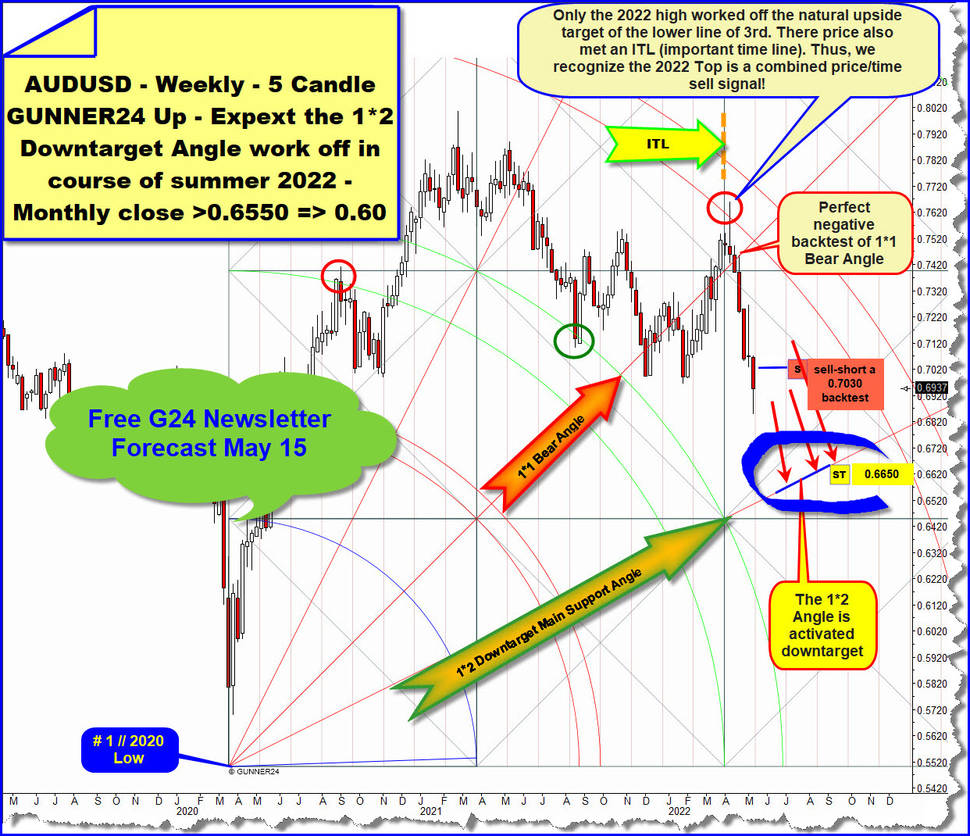 The obvious yearly downtarget was reached exactly on July 14 and from there Mr. Market bounced already 8 consecutive trading days.
G24 Forecasts 3 vs Mr. Market 0
On June 12 I told you extremely urgently to sell-short the US Airlines and especially American Airlines (AAL), cause:
"Higher energy prices arent` going to help the Airlines, uuh?!!"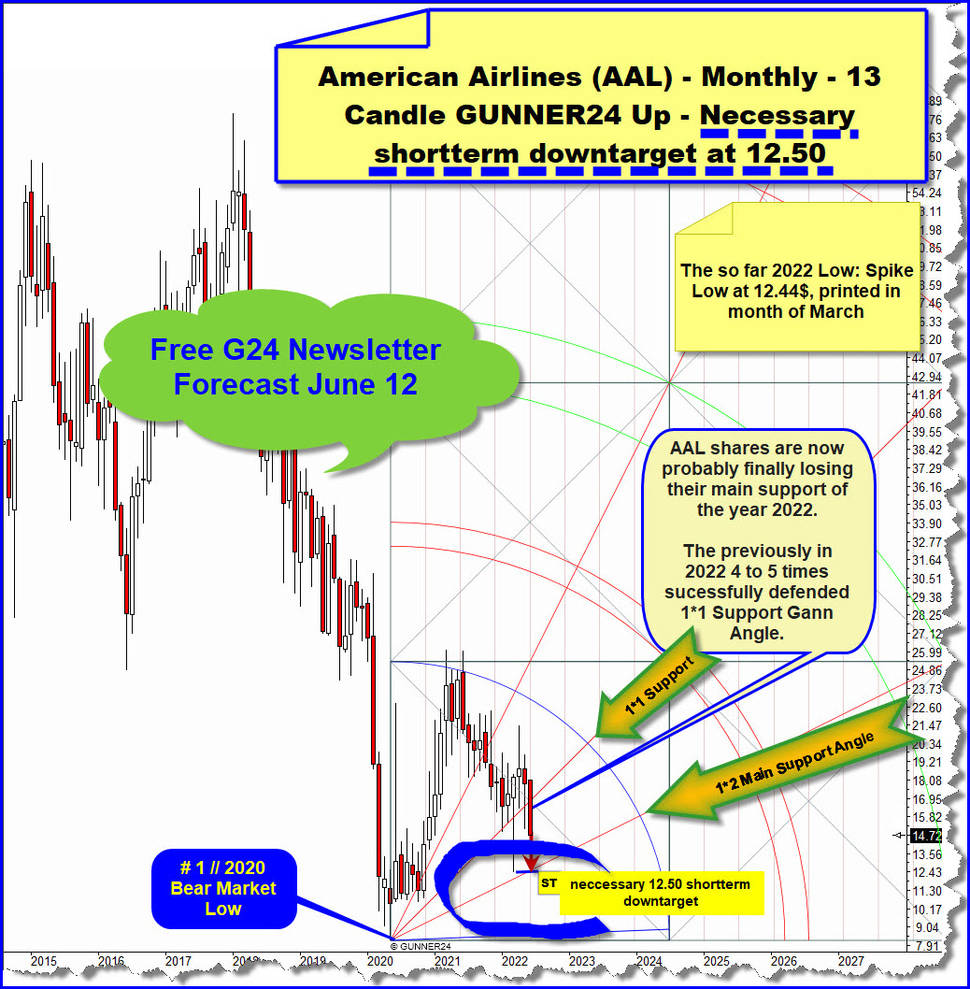 The forecast was that AAL shares HAVE TO TRADE at a 12.50$. Just 4 trading days later, the time had come. The 12.50$ were worked off. From there, a 1-month countermovement began, which bounced in the top to 15.42$. Missed to make some money?
G24 Forecasts 4 vs Mr. Market 0
Two weeks later - GUNNER24 Newsletter 06/26/2022: "Welcome the Bears, dear Copper Miners" -, the Global X Copper Miners ETF (COPX) produced another strong sell-short signal that GUNNER24 recognized immediately. It was another massive sell signal in the already ongoing Copper Miners sell-off cycle. The bearish consequence was that the COPX ETF should reach a price/time downside target of 26$.
I warned beforehand that the achievement of this important YEARLY SUPPORT DOWNTARGET would have to take place within just a few weeks.
GUNNER24 was phenomenally accurate in predicting this crash continuation: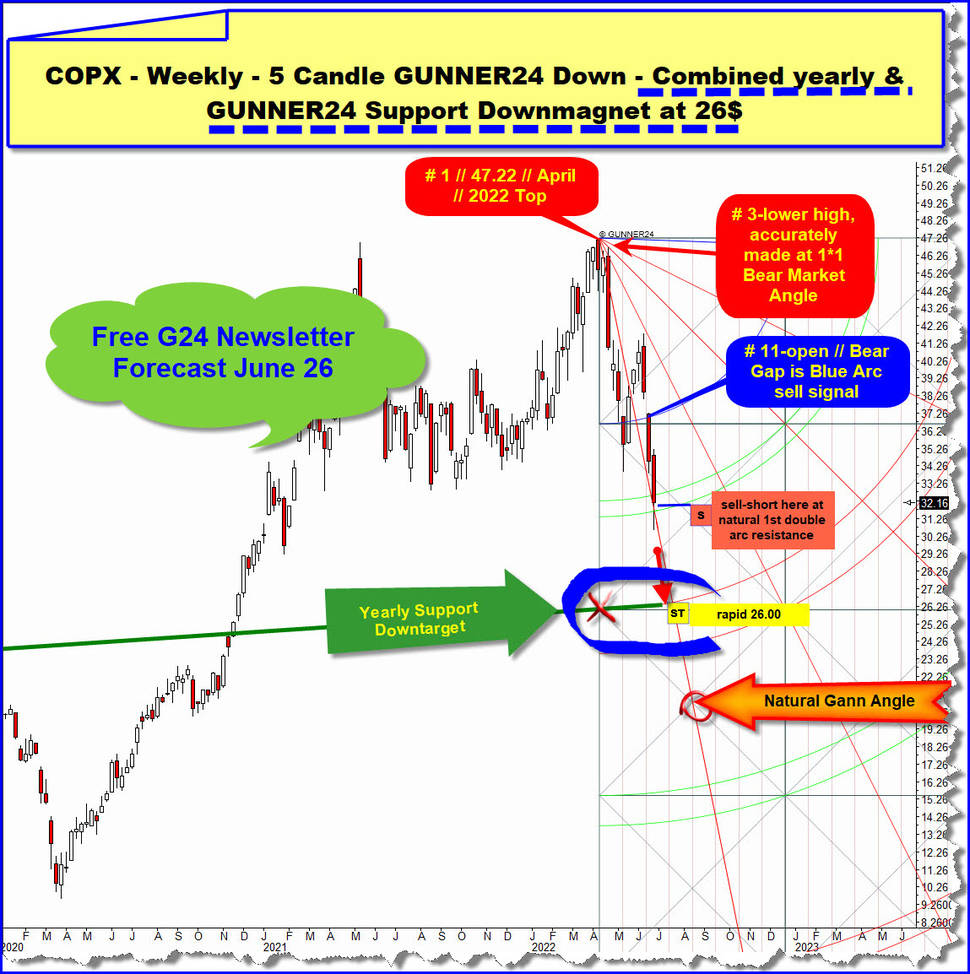 The GUNNER24 Forecasting Method could predict the preliminary bear market low accurate to 1 cent, as the market turned at 26.01$ on July 14 and started a weaker bounce, closing at 27.94$ on Friday!
I don't think you'll find it that accurate anywhere else.
G24 Forecasts 5 vs Mr. Market 0
The bulls on Monday decided to breakout from the daily 12150 pts NQ # (NASDAQ-100 continuous futures contract) resistance horizontal, which has held them back since the June 27th high.
The prior highs from 7/7-7/9 were also taken out, consequently the NQ # was expected to reach and test it`s ideal & natural & obviousbacktest target as first time presented within free GUNNER24 Newsletter "Profit from this NASDAQ correction cycle - all the time and price magnet rails".
Please click here on blue link to re-read this NEXT PERFECT call and for the general construction of this still nearly perfect working monthly 5 Candle GUNNER24 Up Setup: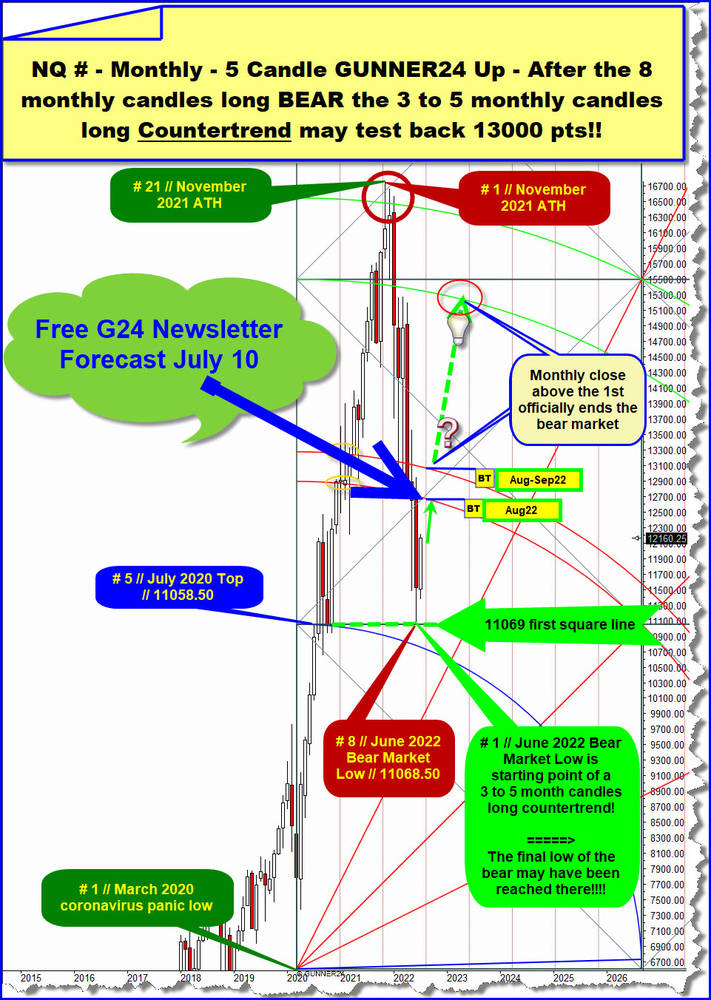 The lower line of 1st double arc uptarget main resistance is now finally worked off and marks the absolute high of the countertrend move which started at June 2022 Bear Market Low.
It was reached and finally worked off on Friday with the NQ # highs at 12698.50 pts. And already we see its resistance force, as on Friday Mr. Market closed significantly below the countertrends high: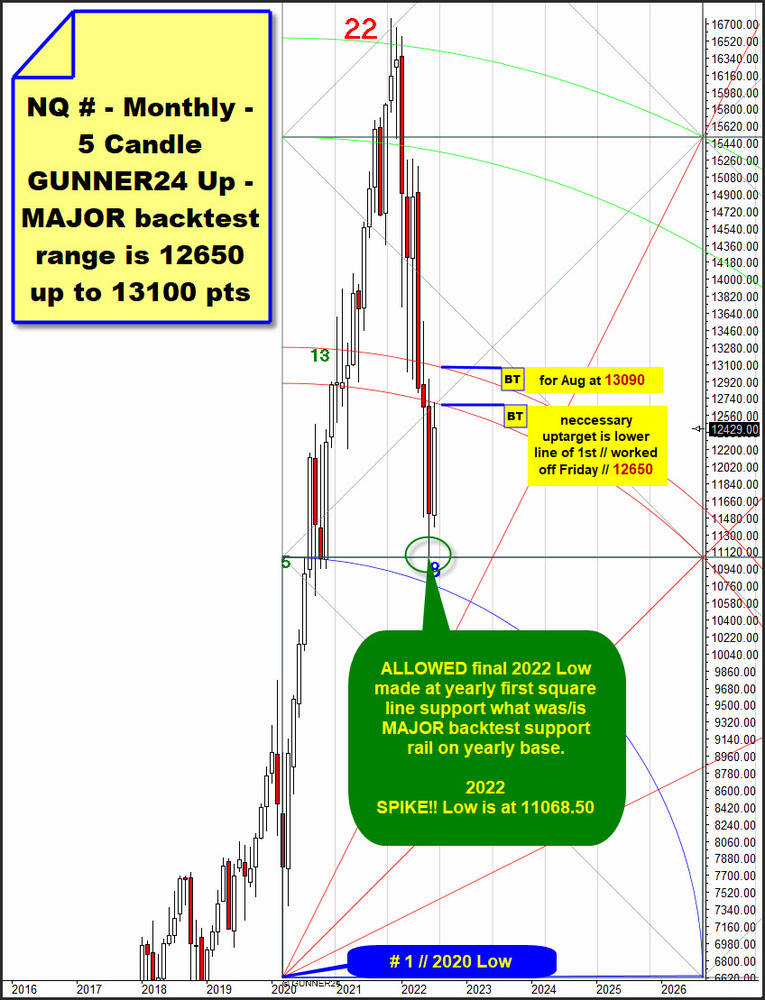 The MAJOR resistance zone and ideal backtest space for NQ # is the 13100 down to 12650 pts. The backtest magnet of the upper line of 1st main resistance is at 13100 for coming August candle.
==> NEXT GUNNER24 Call: The biggie from the 12650-13100 pts shouldn`t taken out anytime soon!
What this means for you in practice can be seen in the Trade of the Day issues. Please order immediately, because I want to guide you safely and successfully through this bear market.
Be a part of our exclusive sworn GUNNER24 Trader Community – now... I try to make you rich!
Be prepared!
Eduard Altmann