Rarely I had witnessed such a phony and dizzying week as the last was. It's becoming more and more badass… it causes upset stomachs. In those days when I was young, my father (going to be 80 soon) used to tell me stories on the way of living in the Third Reich, here in Germany. Josef Goebbels' perfectly orchestrated propaganda machine crossed my mind several times in the course of the week. You may also be aware, gentle reader, of Julius Streicher's working and operating – he was the editor of the weekly inflammatory periodical "Der Stürmer" - or at least you've got it in mind somehow?!
Lies and swindle, hosing and hoaxing to the corresponding peoples is what I'm observing in many quarters now. Politicians, mass media, television, newspapers and journals are virtually tripping over with menaces and slanders and quick unproven prejudgments: USA is threatening to him and that, Ukraine accusing him and that, Europe condemning him and that. Russia is supposed to do such and such, Germany obliged to such and such. In the Near East, he and that is being bombed.
Nearly every time, the mass media stick together in the same boats with the protagonists of the different blocks kissing their feet. Driveling and slavering they support and circulate rumors, half- and untruth, as well as quarter-knowledge, tweeting out everything unfiltered such as the respective politician and lobbyist beak may sound.
"Der Stürmer" was so popular from 1923 through 1945 because it succeeded in selling the radical anti-Semitic kibosh as a fundamental truth, many people taking it at face value…
Blogs, forums, investigative journalism didn't exist then. Today they do. Alas, strict investigation mostly happens just only in the web, apart from the self-proclaimed "independent media". Thank goodness the peoples are higher educated than they were 60 or 100 years ago. That leads to the situation that they now scrutinize more screening things in a different way, commenting, attempting to filter out the "truth" in order to assess the situation the right way. Mass media and politicians/rulers don't seem to have advanced particularly since the end of WWI and WWII respectively after the Cold War.
These ones always commit the same mistakes, relentlessly driving the peoples into difficulties. They do without remorse or merci.
It's the same inexorability, the markets sometimes show as well. They don't bother much about what the common sense expects. In a wave 3 up from 5 the markets don't care whether it is 1 bird or 20 a day being fired out of the Ukrainian sky. Sell on news and buy on facts! Today is Friday again. So you may buy again. Everything is okay cause the trend is your friend… etc.
But, when time allows, when the time has come, one single butterfly flap will make the whole house of cards collapse – just like it always used to in the past…
As last depicted in complete detail last Sunday taking as example the NASDAQ-100 index, after you find this issue in your e-mail inbox the final countdown will begin: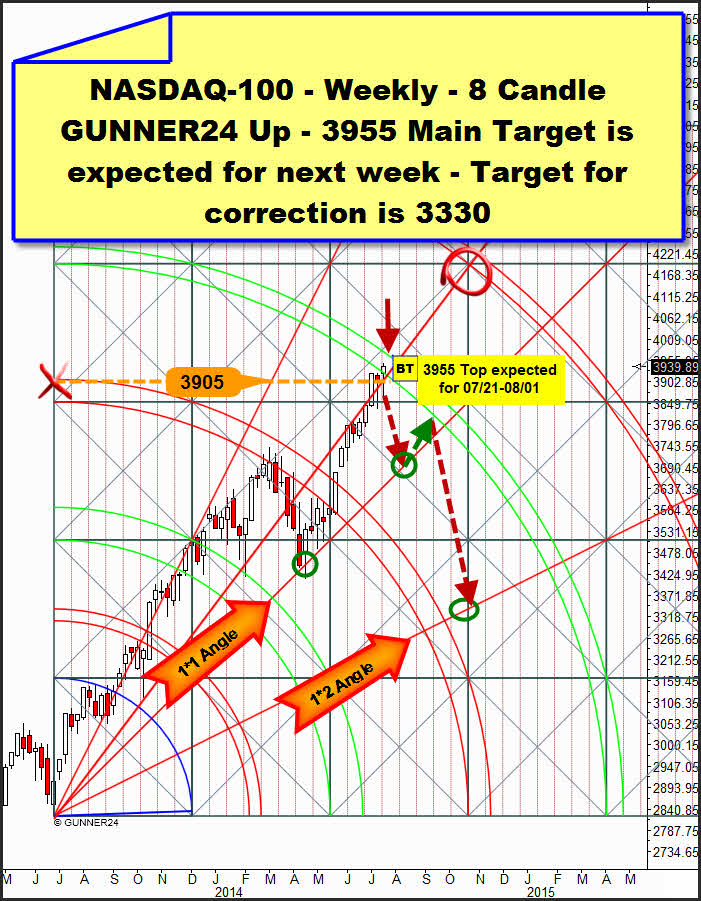 The new year high is situated at 3947.49 now. The 3955 will still have to be attained. From this main target in terms of price, the index is 16 points away after the Friday close.
Monday is the 21th. Thus the time fence for the top will also have been reached. The market is supposed to top out between 7/21 and 08/01 to correct then down to 3330. Since, as if by magic, Dow Jones, S&P 500 and the tech index newly managed to close the tenth consecutive Friday in a plus, I think that the broader US markets will be positively supported till perhaps Wednesday or even Thursday of next week being thereby worked off the 3955 till Thursday at the latest. Then we'll see…
As mentioned several times already it doesn't make sense = too dangerous!!! to short the NASDAQ-100 without confirmation. Certainly the price is supposed to turn down at the 3955 = upper line of the 4th double arc resistance between 07/21 and 08/01, but it doesn't have to at all. It will take a clear weekly reversal candle in the environment of the 4th double arc resistance to get the very first indication that the market will have turned.
So we'll sell the index only in case the index closes below the 3935 next week! SL is a weekly close above 3960. Main target for the correction that may be triggered then will be the 3330 in this case. The 3300 is likely to be reached between the end of October and early November 2014.
Gold got through already
Today, for once I decided to tout a little bit in my own matter. Palming off on you right further down – instead of another new gold- and silver analysis – the last GUNNER24 Gold Trader issue including the forecast for the coming days, made on Friday, the day before yesterday.
Thus you'll once be able to get a picture in detail of the way we go into the metals during the week, assessing their trend and trading correspondingly.
The chances for gold are indeed pretty rosy, generally for the coming months – please mind on that inter alia the last detailed analysis of last Sunday in the free GUNNER24 Forecasts.
But now, because of the tense Fiat-Money situation, the constantly blantant manipulations in the gold and silver pits and the currently more and more severe geo-political meteorite impacts there is increasing confusion when it comes to the movement patterns of gold and silver. This is what I try to unravel and decode in the different Gold Trader issues thereby generating constant profit – for our Gold Traders and me.
The following assessment/analysis including 2 gold buy-triggers was dispatched last Friday (07/18), two hours before the weekly close, at about 21:00 GMT:
=====================
Dear GUNNER24 Traders,
gold got through with the likely close above 1308, and I had an eye opener today. Found a nice buy-trigger for Monday. But first to gold and what happened since yesterday's issue. At the very moment I sent out the issue, gold started a sharp short covering (NO REAL BUYING) rally from 1307 level into yesterday's 1325 highs.
Golds 33 candle down setup. Well known, I use it today for explaining what happened since yesterday: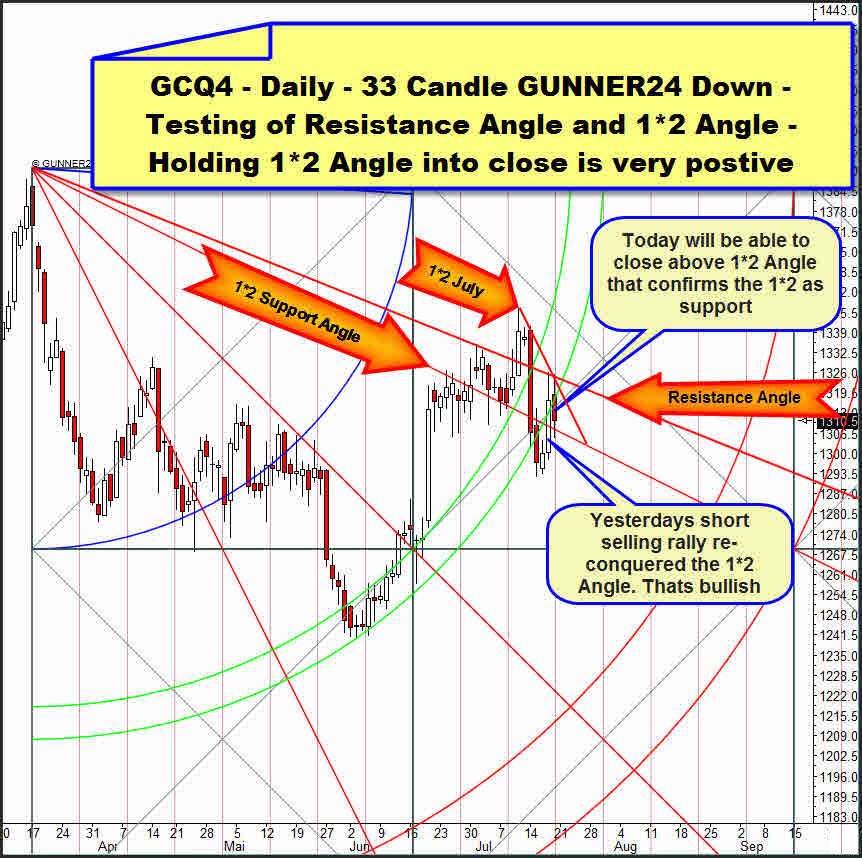 Yesterday's low was at 1298.10, shy below 1302 monthly GUNNER24 Horizontal. Intraday gold was able to re-conquer that magnet. This was in the end the trigger for reaching - and working off AGAIN - the next higher important monthly GUNNER24 Horizontal, the well-known monthly magnet 1322.
Yesterday sliced a few minutes through monthly 1322 resistance and gold was able to reach the daily Resistance Angle at 1325.90 and both resistances, the monthly 1322 and the Resistance Angle forced gold today into a back-test of re-conquered 1*2 Support Angle.
Also very important is the fact that today's early Asian lower high - arrived shortly after today's open - found strong resistance at the 1*2 Angle who can be derived from current July swing highs.
The whole action of yesterday and today tested some important daily and monthly resistances and supports. Up, down and so on, gold jumps between this resistances and supports.
In the end, 1322-1325 is resistance and 1*2 Support Angle is daily support, that angle was tested last few hours but gold got the curve, it should close above that important daily angle support. Angle is at 1308 for today. Think this likely close above 1308 is another positive sign that gold found an important correction low 4 days ago at 1293.50.
Summarized, gold is showing now 3 higher daily lows in row since Tuesday and 2 lower daily highs since yesterday but re-conquered the daily 1*2 Support Angle. It re-conquered also the 1302 monthly magnet but is still braked by daily Resistance Angle and daily 1*2 July Resistance Angle and the 1322 monthly resistance magnet. It seems to me that up and downforces are equal currently. That points to sideways between 1325-1300 for next future.
But I found something new supporting that 1322 first and 1325 MIGHT be broken upwards till Wednesday...
Think following elliptical view on market makes a lot of sense, so much that we should bet a small long position at 1303.50: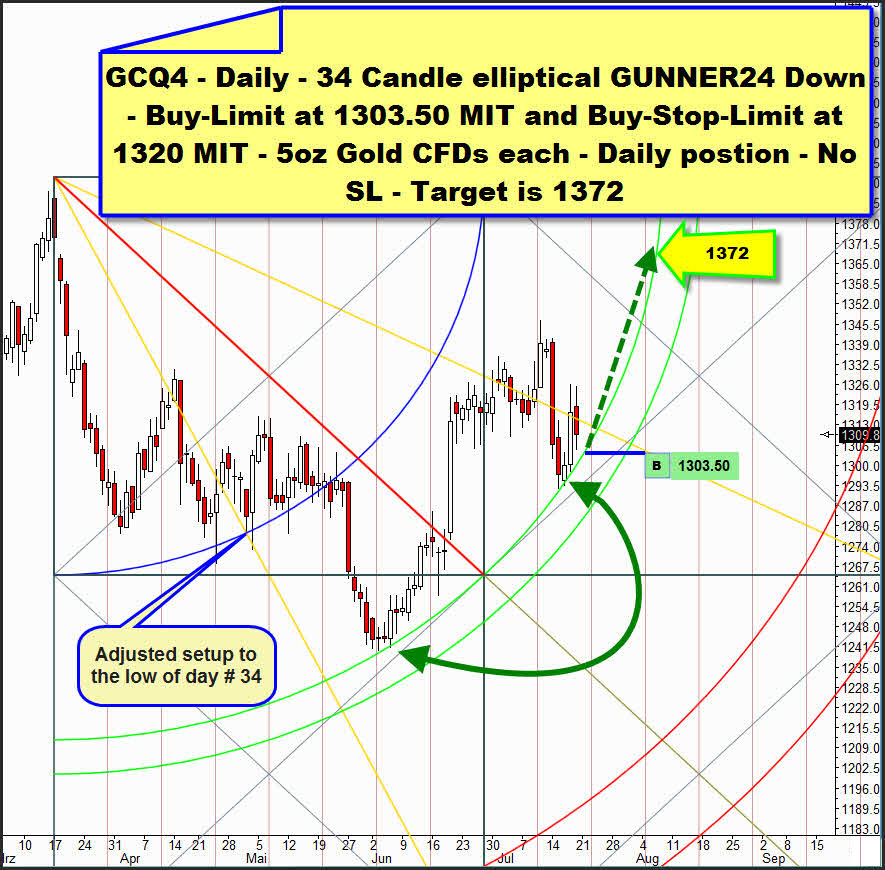 I adjusted the elliptical Blue Arc down to the low of day # 34 of last downleg that has begun at March 2014 highs. And voila all the important higher lows of last days and the early higher June lows fit wonderful and nearly perfect to elliptical upper line support of 1st.
I´m so confident that this elliptical support is currently ruling that we should by the next touch with that support. For Monday the elliptical support is at 1303, hmm..., very close to 1302!!! We buy at 1303.50 MIT for the 1345 first and 1372 main target.
Buy-Limit for 5oz Gold CFDs at 1305.50 MIT (market if touched). Daily Position. Order valid only Monday, 21th of July. First Target at 1345. Main Target 1372. No SL.
Additionally we place a Buy-Stop order at 1320 hoping that a possible next touch with the elliptic support is able to release so much upwards energy that another serious attempt breaking the 1322 at first and 1325 at second will succeed till Wednesday:
Buy-Stop for 5oz Gold CFDs at 1320 MIT (market if touched). Daily Position. Order valid till Tuesday, 22th of July. First Target at 1345. Main Target 1372. No SL.
You best register with our GUNNER24 Gold Trader now. That's where we oversee the optimal entries and exits for you. Especially in the difficult market situations where many factors have to be considered the Gold Trader is backed by the additional GUNNER24 Signals based on the combined 1, 4 and 8 hour setups to catch the optimum entries and exits.
The GUNNER24 Gold Trader will provide you with the critical knowledge you need to forecast and analyse the precious metals with the GUNNER24 Forecasting Method. All the GUNNER24 Trading Signals you receive real-time are based on the actual Gold and Silver Future. The NEW GUNNER24 Gold Trader is a must for every actively working investor and trader who wants to trade successfully in everyday trading. The insights you receive from the head trader Eduard Altmann (and discoverer of the GUNNER24 Forecasting Method) are truly amazing sometimes. I promise!
Click the button below and order the GUNNER24 Gold Trader - $39.90 US a month. For 201 members and up - $49.90 US a month.
Be prepared!
Eduard Altmann