Gold future topped into current 2017 high 5 weeks ago. Afterwards a so-called Waterfall Decline, a panic down cycle began which finally broke former strong 1220-1223 yearly GUNNER24 Support on Friday. Today I will present the downwards dragging magnet, which is responsible for the Waterfall Decline. Since we are able to identify the dominating Waterfall Decline magnet, we can act accordingly!
First step to identify the Waterfall Magnet: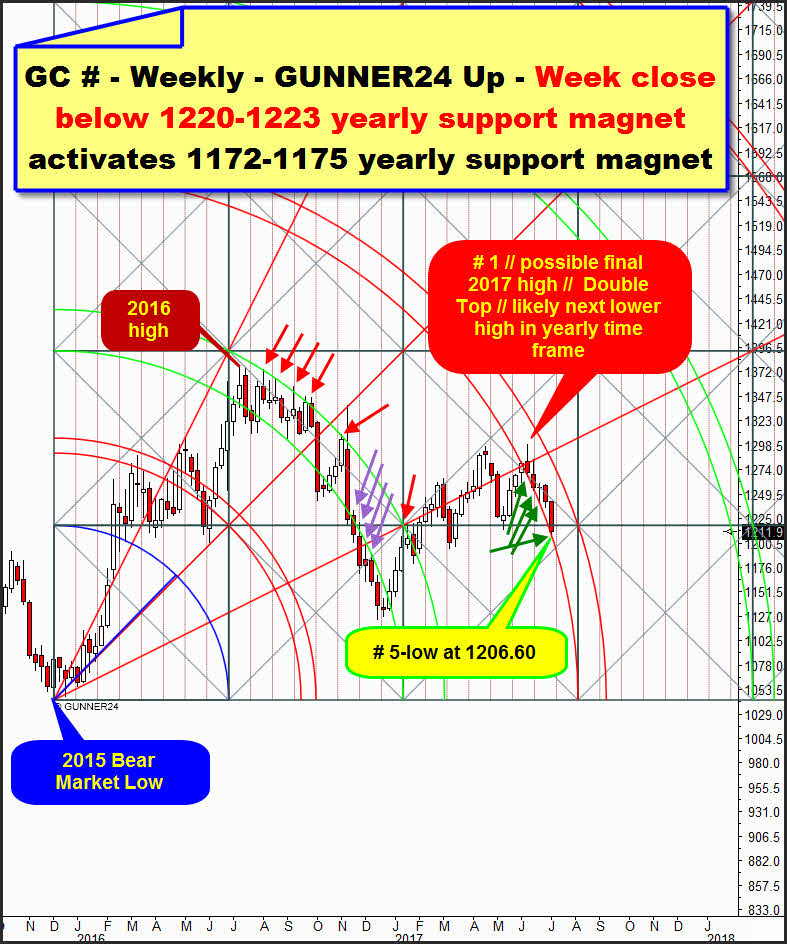 Above is a GUNNER24 Up in the weekly starting at 2015 Bear Market Low. As you can see, this up setup isn`t correctly adjusted upwards according the GUNNER24 Measurement Rules. The reason to use this technique is that I recognized that current downtrend which has started at # 1 // possible final 2017 high shows a lower low series that obviously must be oriented to a natural existing hidden arc support. Setup above gives a main idea how recent made arc oriented lower lows mathematically correlate with previous made lower week highs caused by some double arc resistance lines.
The lower low series of current downtrend in the weekly marked by green arrows has obvious symmetry with former received important lower week highs caused by upper line of 2nd double arc highlighted at the red arrows and former made important lower week highs (at purple arrows) caused by lower line of 2nd resistance.
4 of the 5 recent made downtrend lows in the weekly exactly match with lower line of 3rd double arc that radiates natural support for the underway Waterfall Decline. Last test of lower line of 3rd support from above was Friday at 1206.60 which also means the absolute low of downtrend week = # 5-low.
After studying the candles of current downtrend in relation to the up setup I recognized another important thing. Additionally the individual highs of the week highs seem to follow, seem to respect a somehow curved resistance!
Second step to identify the current ruling Waterfall Magnet
I tried a lot until I found this one: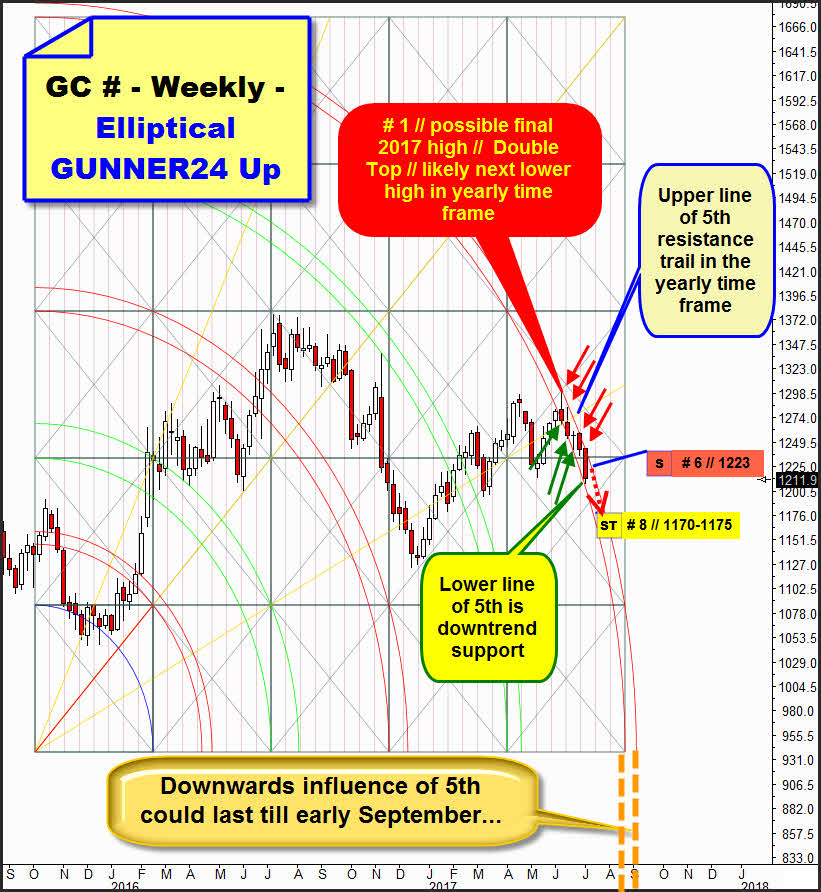 A sick thing, a crazy placed and adjusted elliptical GUNNER24 Up Setup in the weekly. But as it looks the falling lines of 5th double arc above nail the received lower highs and lower lows of current downtrend nearly 99% PERFECT!
This means that the Waterfall Decline use the upper line of 5th as major resistance and lower line of 5th as major support. Upper line of 5th is major upmagnet for the Waterfall Decline, 4 of 5 downtrend weeks found week high resistance at downwards dragging upper line of 5th. 4 of 5 downtrend weeks have tested lower line of 5th down magnet from above without braking that major support magnet.
By the way... actually - and for the near-term future - the upper line of 5th above is a falling curved resistance rail in the YEARLY time frame cause that magnet forced the gold future contract into highest bullish extreme of 2017 = current 2017 top!
I tried anything but no other setup placement and double arc adjustment fits so perfect, nails the current week extremes. There is just one possibility that nails lower downtrend highs and lower downtrend lows relation in such perfect manner. The 5th as placed above. 5th double arcs have always the closest distance between the lines compared to the other former double arcs, 1st, 2nd, 3rd, 4th. This means this downtrend runs in a narrow path.
A merciless narrow path. Tight, strong downwards directed path gives no relief. Lower highs, lower lows, lower week closings. 5 red candle bodies in a row. Red candle body length gets larger week by week! Just very weak bounces in the daily time frame. No relief, no rest in sight.
Third. Since we now have identified the current most dominating bear factor for gold, we are able to work with this confirmed resistance magnet:
A) The time factor:
==> A Waterfall Decline, caused by steep and tight downwards oriented 5th. Well, just the first week close above upper line of 5th above is a relative sure sign that gold has ended its underway bear stampede! The very first week close above the 5th is a buy signal that a next countertrend in the weekly time frame has started.
==> Above I`ve highlighted the time frame when downwards influence of 5th officially ends. Lower line of 5th intersects the time-axis for round about mid-August, the upper line of 5th intersects time-axis for early September!
==> As long as the weekly candles are caught within now steeper and steeper downwards dragging lines of the 5th gold remains in its bearish panic cycle, is naturally forced to decline lower and lower each week candle, faster and faster usually. The bearish panic might continue - in the very worst case from my point of view - till early-September until then the influence of 5th officially comes to an end. Or, gold shows very first close above upper line of 5th which is first GUNNER24 Buy Signal in the weekly time frame officially signaling that current selling frenzy is over!
B) The price factor and the evolving trade setup:
Cause gold has lost 1220-1223 yearly GUNNER24 Support Trail on weekly closing base next important monthly downtarget finally is activated. 1170-1175 is additionally very attracting GUNNER24 Support in the yearly time frame. Odds are very high that gold will work off that downtarget = combined monthly and yearly support magnet within underway Waterfall Decline cause given time signal points to downwards pressure until at least mid-August!
Next week is # 6 of downtrend. Cause # 5-low (1206.60) on Friday found support at lower line of 5th and gold was able to bounce nearly 6$ into 1211.90 week close, its allowed and possible, that this bounce will continue just for testing back the now formal downwards broken major 1222/1223-magnet.
It`s no coincidence that upper line of 5th Waterfall Decline resistance upmagnet resides precisely at 1223.00 for next week # 6! It would be textbook behavior seeing gold immediately testing back such massive attracting magnet, now combined weekly and yearly GUNNER24 Resistance Magnet for the # 6, afterwards continuing its strong decline.
I expect that any quotation below 1205.00 in course of downtrend week # 6 triggers the next strong downswing that at least should test the round "1200" Gann number. Think any daily close below 1200 in course of downtrend week # 6 and week # 7 triggers the next test of lower line of 5th which is at 1185.00 for # 6 and at 1170!!! for # 7!!
A classic backtest of the 1222/1223 is in the cards, allowed and perhaps likely, so this very well-confirmed resistance area is the most obvious short magnet for gold actually. Afterwards gold should continue its slide till the next lower important yearly GUNNER24 Support Magnet at 1170-1175 area is worked off and perhaps first time tested in course of downtrend week # 8, the next higher Fib number turn possibility after the 5 delivered another very ugly sell signal cause 1222/1223 support looks definitely fallen short.
You best register with our GUNNER24 Gold Trader now. That's where we oversee the optimal entries and exits for you. Especially in the difficult market situations where many factors have to be considered the Gold Trader is backed by the additional GUNNER24 Signals based on the combined 1, 4 and 8 hour setups to catch the optimum entries and exits.
The GUNNER24 Gold Trader will provide you with the critical knowledge you need to forecast and analyse the precious metals with the GUNNER24 Forecasting Method. All the GUNNER24 Trading Signals you receive real-time are based on the actual Gold and Silver Future. The NEW GUNNER24 Gold Trader is a must for every actively working investor and trader who wants to trade successfully in everyday trading. The insights you receive from the head trader Eduard Altmann (and discoverer of the GUNNER24 Forecasting Method) are truly amazing sometimes. I promise!
Click the button below and order the GUNNER24 Gold Trader - $39.90 US a month. For 201 members and up - $49.90 US a month.
Be prepared!
Eduard Altmann