Since the beginning of 2017, US Crude Oil has been going like clockwork in respect of the correspondingly triggered monthly GUNNER24 Uptrend Signals resp. turn magnet. The individual trend legs in 2018 are sustainable, the future GUNNER24 Targets use to be worked off correspondingly, and the turning points are easy to be identified.
Most recently within my "Crude Oil Bull - 64.30$ first, followed by a next big rally into 80$"-forecast which was e-mailed on Sunday May, 27, I advised to jump the rolling Freight Train into 80$ year 2018 main attraction price at 64.30$ June 2018 major pullback magnet. This for sure was one of my greatest calls ever, as after the important June low which was finally printed at 63.40$, the predicted rally into 80$ year 2018 main target began.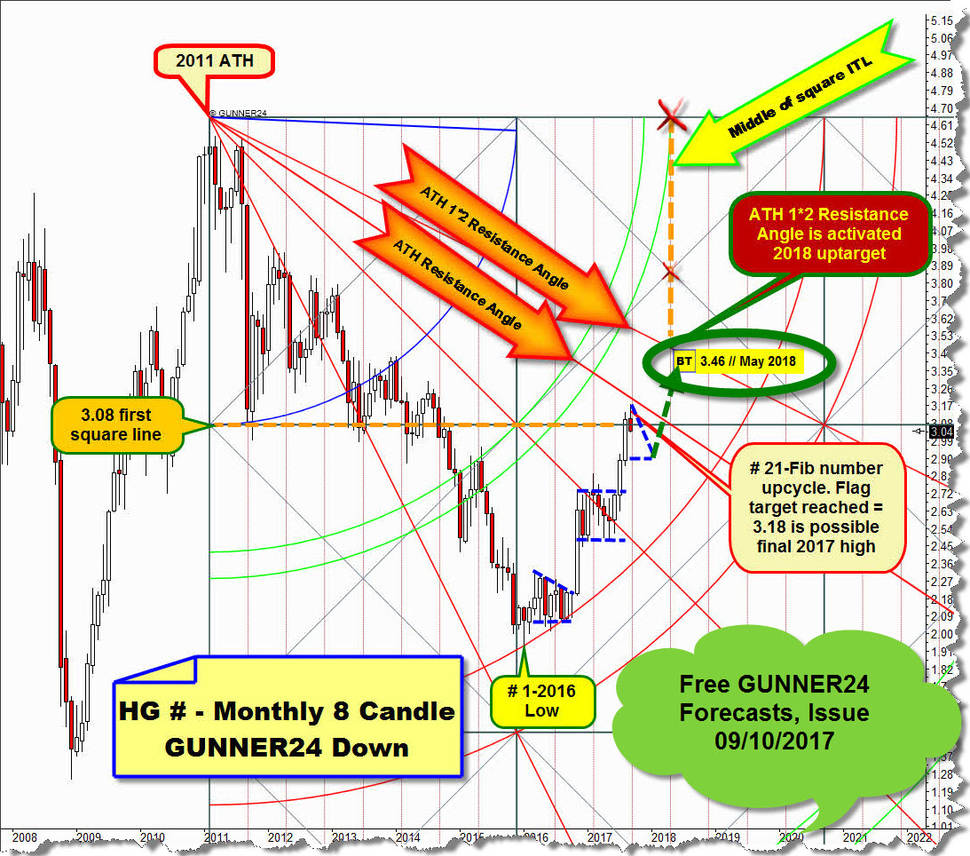 After received important intermediate highs made at 72.90$ GUNNER24 Resistance Horizontal Crude Oil was expected to pullback into finally upwards broken upper line of 1st double arc. Most strongest slightly falling monthly support within dominating monthly 12/13/14/15 Candle up.
After the bearish June extreme has tested back most attracting, most obvious pullback support magnet on 06-18-2018 at 63.40$, the important inflation indicator rose more than 10$ in just 10 trading days.
Thus, June 2018 closed above 74$, near month highs and close to year highs. Likewise, the second quarter. Mighty bull market continuation signals! Only a negative "miracle" can prevent the final processing of the Big 80$ Yearly Upmagnet until October 2018: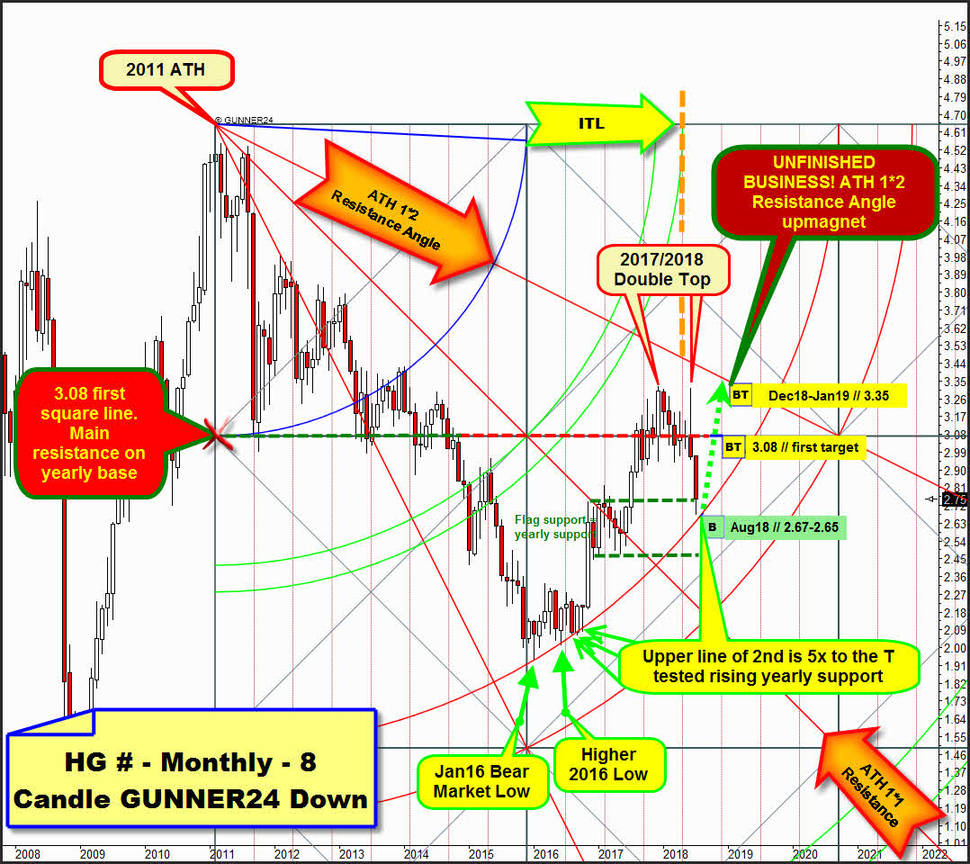 Above you recognize updated monthly 12/13/14/15 Candle GUNNER24 Up Setup into June and 2Q 2018 close. Next month candle will be 30th month of bull market which was triggered at # 1 // 2016 Bear Market Low.
# 29-June 2018 is strongest bull candle of entire bull market! Made next year highs, etc.
The rebound from the upper line of 1st double arc support starting at # 29-June Low // 63.40$ is powerful. Steep and strong. Seems unstoppable actually. The bulls are now buying like crazy. The bears have realized that they have to cover their shorts. The June rally was even able to close above or re-conquer naturally anchorable 2016 Resistance Angle which was 14-month stubborn month high and month closing base resistance - watch red arrow highlighters for the resistance importance of 2016 Resistance Angle.
Since this well-confirmed = strong monthly Resistance Angle was conquered back, June also triggered a next monthly GUNNER24 Buy Signal or buy candle. Thus, the June & 2Q 2018 close would once again - at least theoretically - release fresh bullish forces.
==> Crude in the monthly remains brutally bullish into "round" 80$ which still is expected to be reached and worked off at activated 2018 triple upmagnet resistance in course of October 2018, month # 33 of bull market.
Despite the many very bullish signals that the first half of the year had fired, it can be rockier now until the 80$ is due in the course of October. And even more surprising maybe. I expect two important turnarounds during the summer months, before the final rally-leg will be able to handle the 80's.
In order to clarify the possible summer course of oil we change to another - also very valid - up setup in the monthly chart. It starts measuring upwards at final low of 2017 that was 100% accurate backtest of 1*1 Bull Market Angle out of # 1 / 2016 Bear Market Low: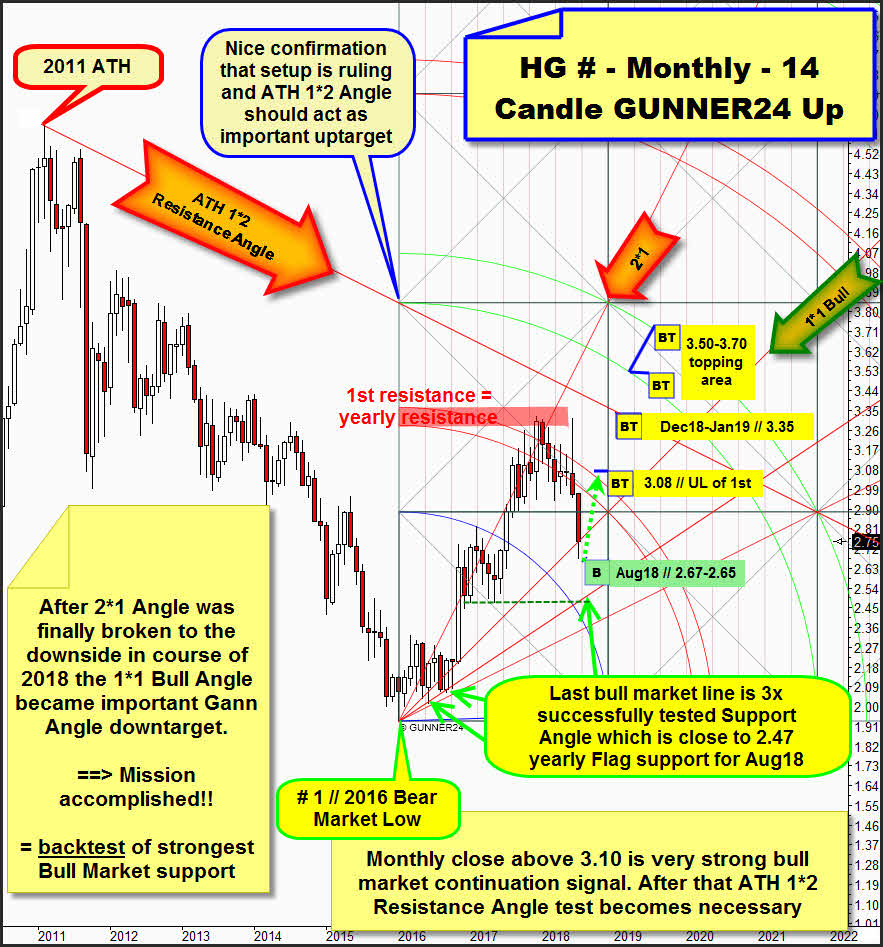 These setup specifications have also been very accurately observed by the market so far. It`s a "classic" 8 Candle up out of # 1 // 2017 Low, with the Blue Arc is double confirmed because the somewhat lower bullish extreme of uptrend month # 9 is captured by the initial resistance of the Blue Arc.
Main bull driver and currently most dominant bull market ruler out of 2017 Low is the 2*1 Angle or 2*1 Bull Market Angle. This 2*1 bull rail has been extremely precisely tested/touched 6!!! times from above during the bull ran so far. We also recognize 2 small violations of the 2*1 Bull Market Angle support at month lows. Most recently at the June 2018 low. Bearish June 2018 extreme also very successfully tested back prior finally upwards broken Blue Arc magnet from above, confirming that arc as important future support in the monthly chart.
2*1 Angle and Blue Arc support forces turned the market into rally mode and with overcoming the first square line = initial monthly resistance horizontal and the 2016 Resistance Angle at received June 2018 close it is very, very likely that the activated lower line of 1st double arc will be worked off within next 5 to 13 trading days.
==> I expect that lower line of 1st double arc uptarget resistance at 76.50$ will be worked off in course of July 2018 and at July 2018 highs!
When we start the bull market count at the final # 1 // 2017 Low, the June 2018 is candle No. 13 of the bull. July 2018 candle will be # 14 of bull. And count points to the outcome that month # 14-July 2018 will mark a next intermediate top - let`s call it the summer high - because 14 -1 is 13, possible Fib turn number.
And well, ideally, the summer high would have to come in at 76.50$ at lower line of 1st, possibly even at the "round" 77$, in any case at the 1st double arc resistance environment before the next 5 to 8-week pullback or correction cycle in the weekly chart very likely will test back the monthly first square line support at 67.75$!
2*1 Bull Market Angle together with 67.75$ first square line forms usually very strong support magnet for the trading months # 14-July and # 15-August. And offers itself as natural backtest target for a 5 to 8-week downcycle if the Crude Oil tops out at/near 76.50$-77$ usually strong monthly resistance in course of July!