This weekends newsletter is going to be a bit different and I wanted to focus on what I think could be most promising at this moment. I'd like to share some of that with you now. Please note that most of this information was released in my premium product Trade of the Day on Wednesdays and Thursdays. However, the charts and the highlighted achrt information are up to date!
XBI SPDR S&P Biotech ETF tracks an equal-weighted index of US biotechnology stocks. Early 2018 we went long XBI at 87.20$, expecting the Big Round 100$ uptarget in further course of 2018.
Finally on Wednesday, the XBI ETF for the very first time reached that usually strong natural resistance magnet: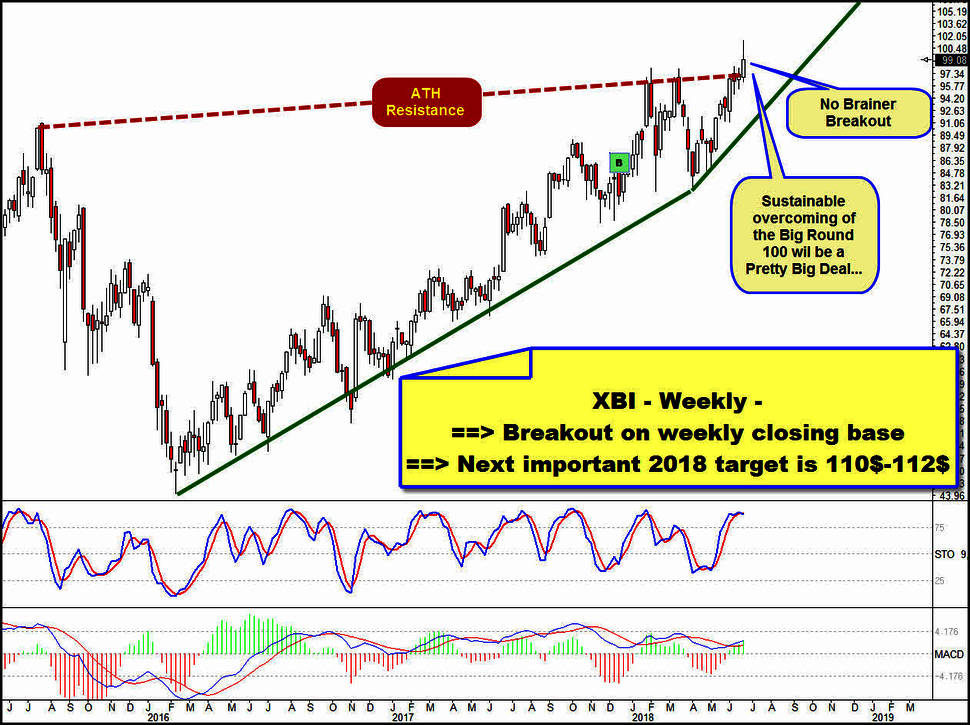 But instead of bouncing off the 100$ and its well-defined slightly rising ATH (alltime-high) Resistance, these 2 powerful resistances could be overcome on a daily closing base on Tuesday. For the week XBI decisively closed above stubborn ATH Resistance and it seems that a next "No Brainer Breakout" is underway. I guess the investors think US Biotechs aren`t affected by trade wars and have started to pump a lot of money into XBI!
A sustainable overcoming of the Big Round 100$ threshold would be of course a Big Deal because then far, far higher "round" uptargets are activated. 125$ first, 150$ second, 200$ etc. And well, a close above Big Round 100$ on yearly closing base officially activates a test of the BIG ROUND 1000$ sometimes in the future.
But one by one! After this week bullish development, I expect 110$-112 or so for the current weekly XBI upcycle.
I forked the individual XBI holdings and found that breakout stock for today:
The 1:3 Trade: Buy Array BioPharma at 18.75
Our 1:3 trades are A) adjusted to a longer term, having a spacious stop-loss for the development not to be endangered and B) have to show a risk-reward ratio of more than 1:3.
NASDAQ listed Array BioPharma Inc. (ARRY) is No. 13 XBI holding and focuses on the discovery, development, and commercialization of small molecule drugs to treat patients with cancer in North America, Europe, and the Asia Pacific. Array BioPharma Inc. has a collaboration agreement with Amgen, Asahi Kasei Pharma Corporation, Loxo Oncology, and Mirati Therapeutics, Inc. The company was founded in 1998 and is headquartered in Boulder, Colorado.
Big Monthly Picture shows that also ARRY is heavily breaking above its current ATH Resistance:
In 2018, ARRY began to break above 10!!!-year Longterm ATH Resistance. A 10-year lasting resistance is resistance in the DECADE time frame. Over the last 10 years stock formed a Cup in the monthly. Underway successful breakout above a 10-year Cup has very bullish long-term implications! BIG BASE ==> BIG MOVE! buy setup is fired. This stock is very bullish for entire 2018 and likely beyond!
Setup is a "classic" 13 Fib number up ad measures from # 1-2016 Low into early # 13 // Early 2017 Top that confirmed existence of slightly falling Longterm ATH Resistance.
Very first trading month of 2018 finally broke A) Longterm ATH Resistance, B) Blue Arc, C) First square line in 1 go on monthly closing base.
This was a rare triple GUNNER24 Buy Candle/Buy Signal. A buy signal in the combined monthly, yearly and DECADE time frames! Jan18 breakout cycle stopped accurately at upper line of 1st double arc, finalizing important 18.78$ // Former 2018 ATH at natural GUNNER24 Bull Market uptarget.
After March 2018, 18.78$ ATH the shares headed south but just for successfully testing back A) overcome Longterm ATH Resistance line, B) overcome Blue Arc, C) overcome first square line at reached April and May 2018 lows. Backtest of this triple magnet ended at May 2018 Low, afterwards next strong bull thrust unfolded which yesterday was able to overcome the upper line of 1st main resistance arc and 18.78$ // Former ATH!
Breakout that has activated lower line of 2nd double arc upmagnet in bull market direction. It is expected that ARRY will work off lower line of 2nd at 24.40$ surroundings sometimes in course of summer 2018!
==> 24.40$ is important 2018 ARRY uptarget and the shortterm uptarget of todays long setup!
==> Gentleman`s long entry is at 18.75$ // Former ATH and upper line of 1st double arc! Both rails have now morphed to double support in the monthly time frame!
==> Please buy always possible pullback into former ATH area!
Next a quick look at the weekly chart. I do not want to go into detail, I just want you to show how strong the ongoing breakout looks also in the weekly chart and that shares perhaps will pullback soon into 18.78$ former ATH.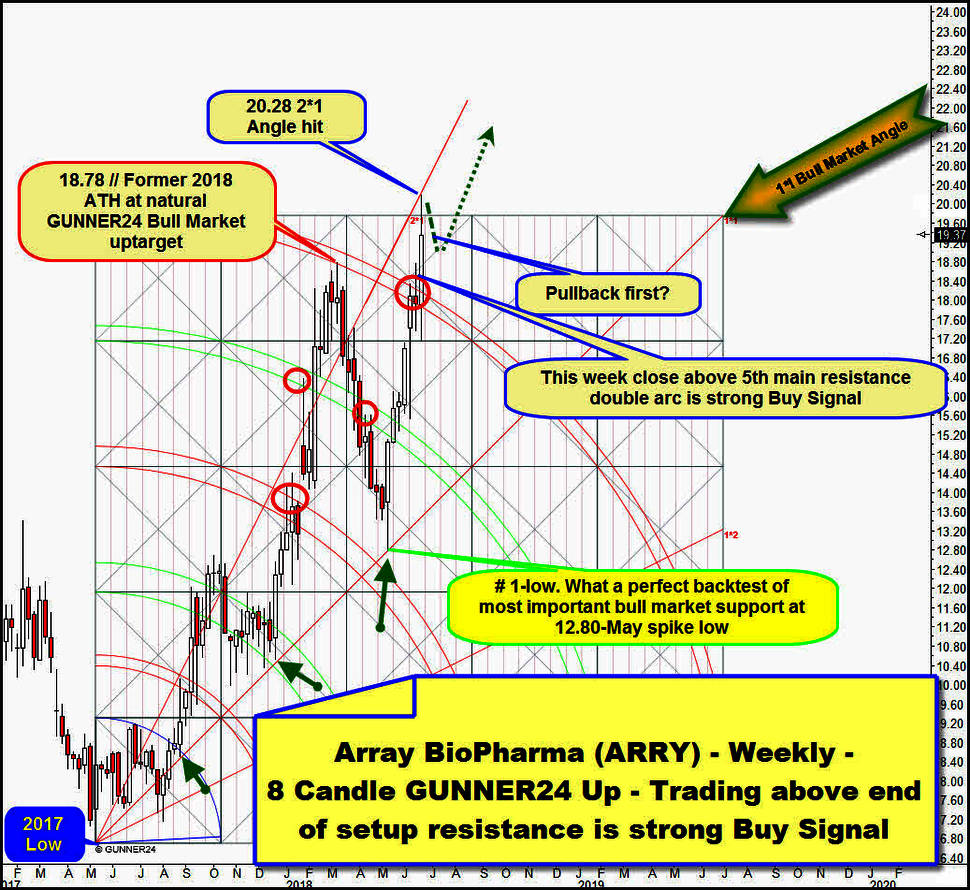 Classic 8 Candle up starting at final low of 2017. 18.78$ // Former 2018 ATH has arrived exactly at lower line of 5th natural bull market uptarget, or main bull market uptarget, at same time most important existing resistance in the weekly chart.
Former 2018 ATH at main uptarget resistance triggered the deep and steep correction cycle into # 1-May 2018 Spike Low. This in turn was just the next exact test of the strongest natural bull market support which is always the 1*1 Angle.
==> # 1-May 2018 Spike Low also was very successful backtest of most important support in the weekly time frame. Means # 1-May 2018 Spike Low in one point successfully tested back supports in the weekly, monthly, yearly and DECADE time frame. Cause at # 1-May 2018 Spike Low a new strong bull market leg was launched, which is able to reach higher ATHs # 1-May 2018 Spike Low is very important and nicely confirmed next higher bull market low. Thus, the price should not decline below 12.80$-May low in further course of 2018!
Shares have closed above 5th former ATH resistance double arc and this is next very strong GUNNER24 Buy Signal in the weekly time frame. All in all, we observe a very bullish development or breakout!
This week made higher 20.28$ ATH has tested 2*1 Angle out of final 2017 Low from below. This means new ATH has tested important Gann Angle perhaps important on yearly base without overcoming this possible big = strong resistance on closing base. The exact test of 2*1 Angle from below offers a shortterm top was made Tuesday!, perhaps followed by a daily down swing or pullback which could test back 18.75$ Gentleman`s backtest rail.
In the daily I have this nicely confirmed 8/10/11/12 Candle up setup which begins measuring at # 1 // 12.80 // May Spike Low: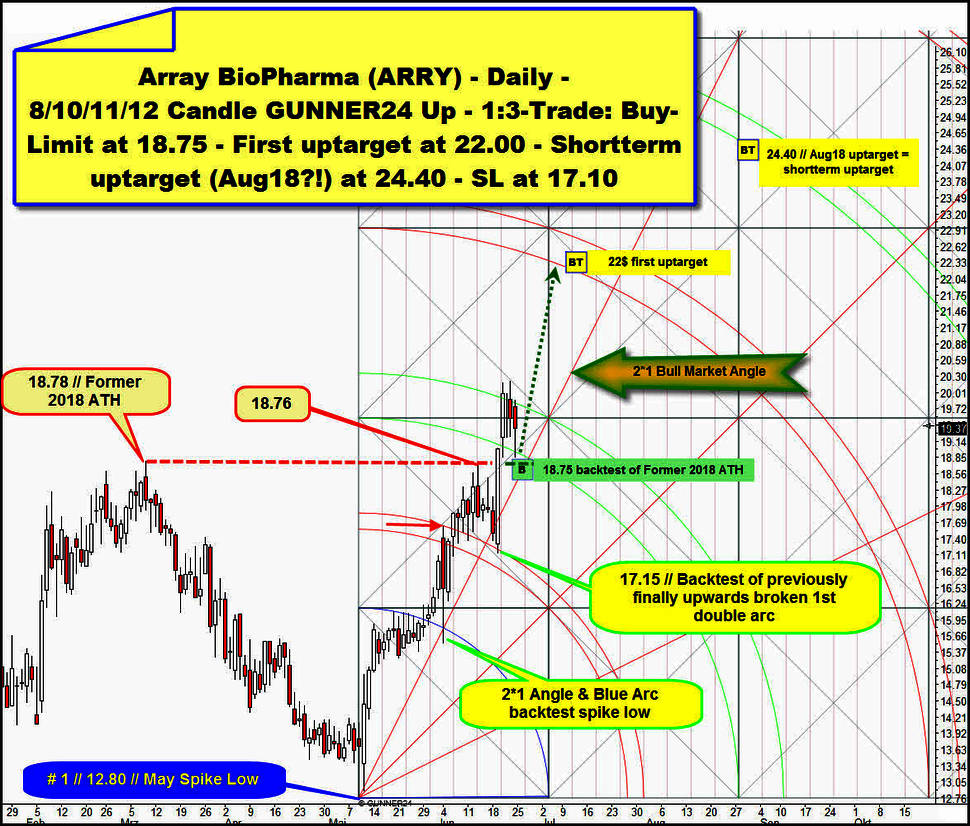 Its rare observation that a GUNNER24 Blue Arc is or was so well-confirmed prior resistance. Cause of this we should trust in this 8/10/11/12 pitcher. Once Blue Arc resistance arc was overcome on closing base market 100% accurately worked off upper line of 1st uptrend target at red arrow.
At the same day at lows a fast backtest of 2*1 Angle/Blue Arc daily support magnet can be seen. This successful backtest of important daily supports lead to another upwards thrust which was able to overcome 1st resistance in course of past week.
At Tuesday 17.15$ low, ARRY shares show pullback into previously finally upwards broken upper line of 1st double arc. This successful backtest of prior important resistance arc together with second test of 2*1 Bull Market Angle has released huge bullish forces and Wednesday ARRY shares have been able to deliver a very first close above upper line of 2nd natural resistance which is next GUNNER24 Buy Signal on daily base. 2 successive daily closings above 18.78$ // Former 2018 ATH resistance is additional buy signal of course.
But watch carefully, that upper line of 2nd was just slightly overcome on closing base and this offers that this line still wants to hold back the market and with Wednesday high made at possible influencing weekly 2*1 Angle resistance shares could pullback or digest into Former 2018 ATH line before current breakout cycle wants to resume!
==> Gentleman`s long entry at 18.75$ double support in the monthly time frame! ==> 1:3-Buy-Limit order at 18.75$.
==> 24.40$ is important 2018 ARRY uptarget and the shortterm uptarget of todays long setup! Daily setup above offers that 24.40$ uptarget might be reached or worked off sometimes in course of August 2018 = there and then is potential 4th double arc upmagnet target within 8/10/11/12 daily up setup.
==> First important uptarget for this breakout cycle seems to be activated lower line of 3rd double arc which is at 22$ for early July 2018!
==> Please place the SL for this trade setup at 17.10$!
Risk = 1.65$. Potential reward = 5.65$. Risk-reward ratio 1.65/5.65 or 1:3.42
GUNNER24 Trade of the Day orders for 06/21/2018:
Market: Array BioPharma Inc. (ARRY)
Orders: Buy-Limit at 18.75. Stop-Loss (SL) at 17.10. First uptarget at 22.00. Shortterm uptarget at 24.40.
The 1:3 Trade: Buy Celgene at 79.20
NASDAQ listed Celgene Corporation (CELG) is very profitable Biotech Blue-Chip and is engaged in the discovery, development, and commercialization of therapies for the treatment of cancer and inflammatory diseases worldwide. Celgene was founded in 1980 and is headquartered in Summit, New Jersey.
Shares of Celgene Corp. are beginning to breakout on the daily stock chart. Actual pattern setup is fantastic as money is beginning to flow from overbought sectors to underbought sectors. In a market priced to perfection, the biotechnology stocks have drastically lagged. Their valuations are extremely attractive compared to an Amazon (AMZN) and Netflix (NFLX). Todays pick has a superb forward P/E of 7.7!! after a nearly 50% tumble since October alltime-high which arrived at 147.47$.
In the daily chart, the CELG shares have formed a beautiful Bull Flag just off the 52 week lows. Look for an upside target of 86.89$ in the short-term!
We try to jump on board at 79.20$ till Friday which is at breakout level and Flag resistance line backtest magnet. Shortterm uptarget for the possible long position is 86.89$. This is now very attractive gap upmagnet, nearest important backtest target in the weekly chart!
Next, I will show you why the latest swing low (May 21/74.13$) even has the potential to be the FINAL LOW of entire 2018! Which of course could have huge impact on the still ongoing bull market that began at 18.45$-2009 Low: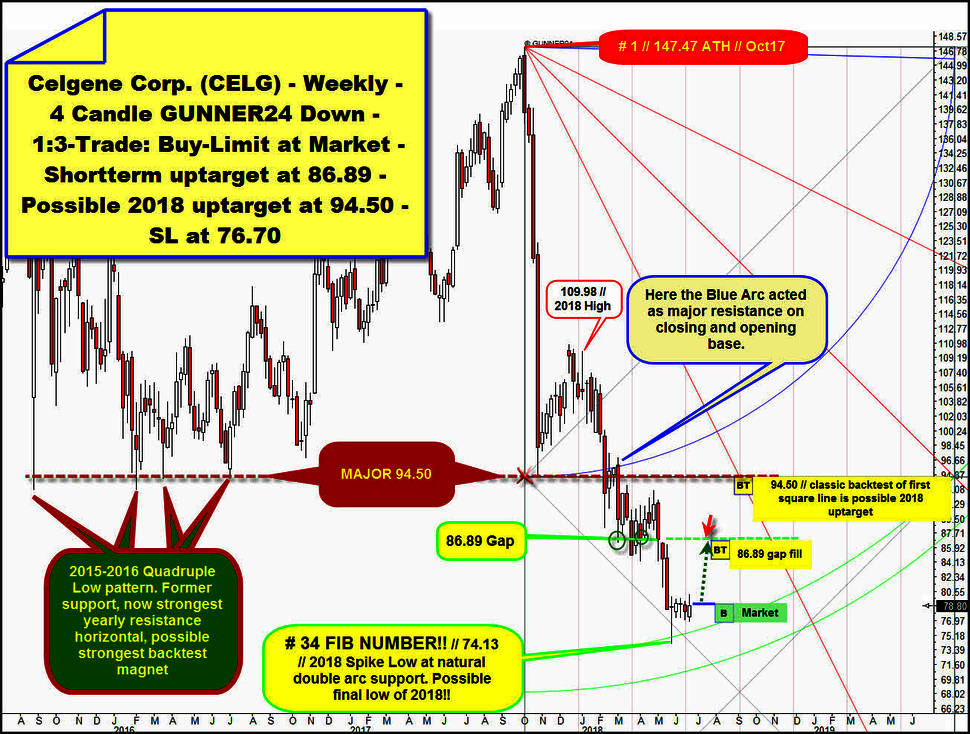 In the weekly chart, the massive sell-off which started at # 1 // 147.47 ATH // Oct17 spiked after exactly 34 week candles into natural double arc support or natural bull market correction target!
We all know just how important the 34 Fib number, potential turn signal number is. The fact that a bearish capitulation pattern is recognizable after exactly 34 weeks of downtrend opens some stronger up potential in the weekly chart. According the time and according the price! If the turn additionally happens at recognizable important natural support the future up potential is increasing according price and time.
The down setup above would have to be great as far as its dimensions are concerned, as the 4 Candles down measurement automatically results in the first square line which in turn is in 100% accordance with the 2015-2016 Quadruple Low horizontal, most important horizontal support line of prior multi-year bull market upleg!
And the upper line of 1st double arc natural downtarget/natural correction target out of first down impulse is always mathematically related to the first square line.
And with a final 2018 Low probably or likely in a backtest of the 94.50$ first square line in further course of 2018 can`t be ruled out!
94.50$ horizontal has morphed to usually very strong resistance threshold on yearly base!
Just 2 CONSECUTIVE MONTHLY closings above 94.50$ should signal that the overall multi-year bull market has resumed!
So, for now, the 94.50$ MEGA resistance horizontal is just a potentially important classic backtest target for this year!
==> 86.89$ weekly gap fill can be done relatively quickly after yesterday's first fired buy signal in the daily chart because markets just coming out of a potential year low sometimes are in beast mode! so it is possible that 86.89$ shortterm uptarget could be filled within next 5 to 14 trading days...
==> 1:3-Buy-Limit order at 79.20$.
==> Shortterm uptarget for the 1:3-CELG long attempt is 86.89$ weekly gap fill.
==> Possible 2018 uptarget at 94.50$!
==> Please place the SL for this trade setup at 76.70$!
GUNNER24 Trade of the Day orders for 06/20/2018:
Market: Celgene Corporation (CELG)
Orders: Buy at Market. Stop-Loss (SL) at 76.70. Shortterm uptarget at 86.89. Possible 2018 uptarget at 94.50.
Be prepared!
Eduard Altmann