The most wonderful thing about a bull market consistently making higher alltime-highs over the years is that any long position, no matter when and where it was taken, becomes a winner in the long run and brings us some money.
This circumstance or this win-win situation is valid until the bull market ends. At least theoretically! Thus, actually every dip, every pullback or any correction in a confirmed bull market is always an ideal buying opportunity; which will eventually make the cash register ring. Any break, dip after dip, pullback after pullback, no matter, every bull market trading at alltime-highs screams "buy me, buy me" right in our face.
The trick - of course - is to recognize or suspect where a bull run could end or turn. When will it become dangerous for the long trader, investor and the upcycle?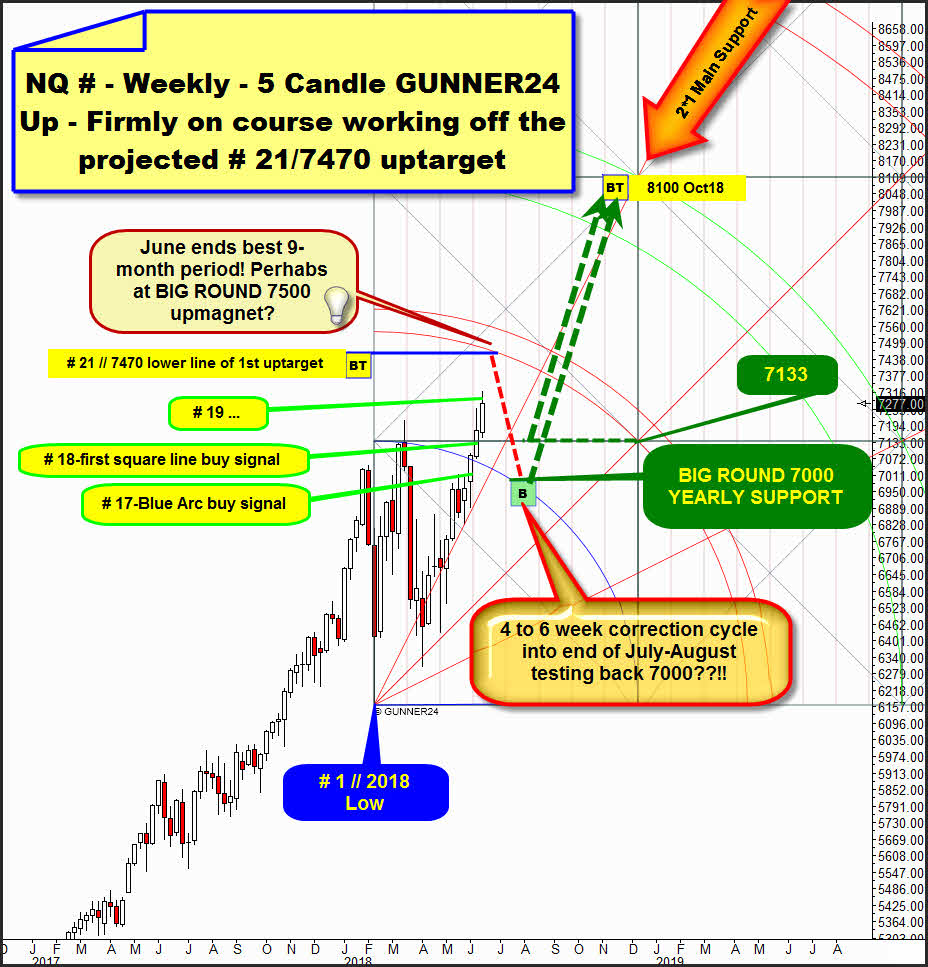 Two weeks ago I was looking for the NASDAQ-100 future contract to reach the ideal 7470 pts uptarget by the end of June 2018!
This offered and signaled the above for the current rally likely most determining setup in the weekly time frame which is a "classic" 5 Fib number up setup out of # 1 // 2018 Low, the likely final low of entire 2018. The first time I´ve presented and analyzed it within the free "Techs on the run" forecast. Please click here to re-read this last market view.
Upcycle week No. 17 for the first time closed above Blue Arc natural uptrend resistance. This was first important GUNNER24 Buy Candle and has activated lower line of 1st as next most important bull market uptarget according the price factor. Then, the possibility that the lower line of 1st will be processed in trend direction had a 70% odd.
Penultimate uptrend week # 18 closed fairly above 7133 pts natural first square line resistance after a new all-time high was made. ==> this was the next, the second consecutive GUNNER24 Buy Signal in the weekly time frame. This week # 19 made again higher highs, is next strong uptrend candle and market was able to deliver highest week close ever.
Accordingly testing or working off the activated lower line of 1st upmagnet/uptarget resistance at the end of June has now a +85% odd! This is very high odd and accordingly market is now always long and pullbacks or daily down swing necessarily have to be bought until the upwards target is reached.
The weekly upcycle which started at # 1 // 2018 most probably will be oriented to the high important 21 Fib number, next upcoming Fib number cause June ends best 9-month Tech Stock period! At the end of June, market might deliver its next important intermediate cycle high, even important summer 2018 high.
The activated 7470 pts is so close to the BIG ROUND 7500 Gann Number, BIG ROUND yearly horizontal resistance, that this major target could be tested at the end of current upcycle cause of its strong magnet attraction! For the end of June the 7500 is tight to upper line of 1st double arc magnet. Coincidence?
So far everything should be analyzed regarding the signaling and the shortterm uptarget according price and time factor. Once final June highs are - hopefully at worked out price/time target - the market should start its next deeper weekly correction or bull market consolidation cycle that usually should last 4 to 6 weeks. IF market indeed starts to turn at 1st double arc 2018 main resistance, the following correction cycle with high odd will be able to test back BIG ROUND 7000 Gann Number that has morphed to a support existing in the yearly time frame.
==> BIG ROUND 7000 pts has now morphed to a yearly support horizontal! Ideal summer 2018 backtest support magnet/target!
The market offers now a 1 to 3 day dip after Fridays June Option Expiration! Historically the trading week after June Option Expiration is mostly a very weak one. How deep a pullback could go I can work out hereby: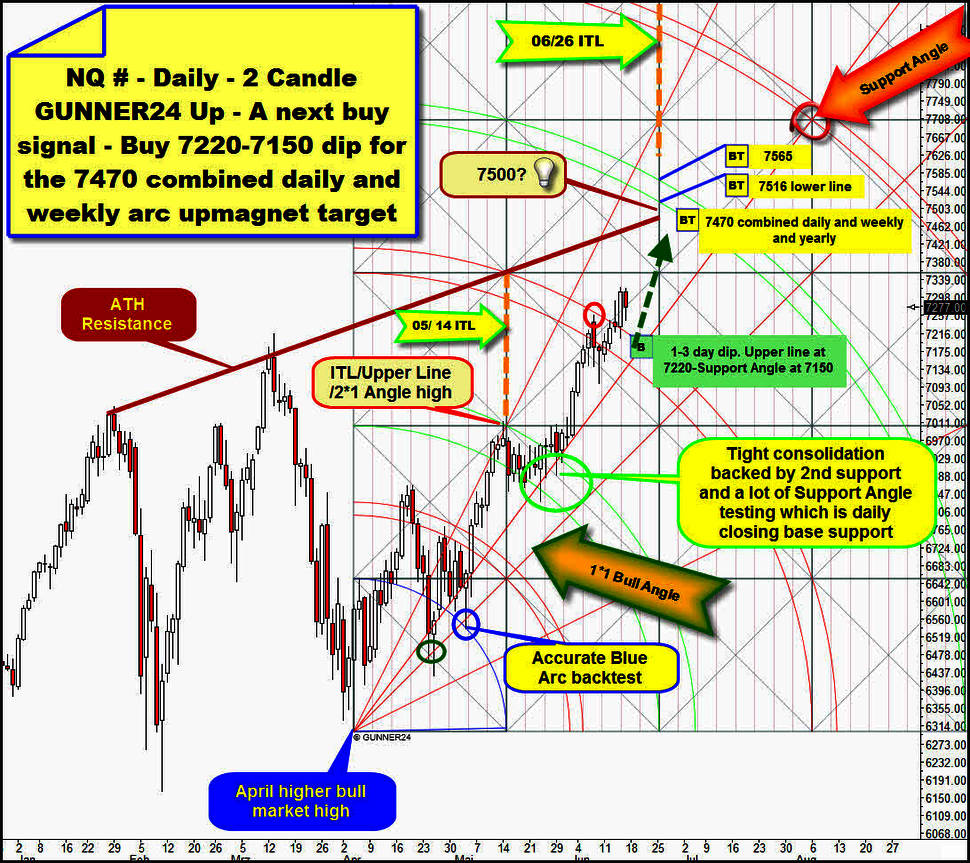 Past week Thursday candle closed decisively above the upper line of 3rd double arc resistance within 2 Candle up setup that starts at higher April 2018 low to deliver a next important buy signal on daily base.
Thursday first close above upper line of 3rd activated a test of lower line of 4th double arc in trend direction which should be worked of with a +70% odd. Cause the 3rd double arc former resistance area is now broken to the upside on daily closing base, this falling double arc area is now nearest support environment in the daily time frame. At upper line of 3rd starts daily support range. At lower line of 3rd double arc daily support area is over.
Upper line of 3rd is at 7220 for the next 3 candles. Accordingly, a possible coming dip should test back that rail, I suppose.
Naturally within setup anchorable Support Angle is currently strongest rising daily and main upcycle support. At the end of May, Support Angle together with 2nd double arc support area ended the recent daily consolidation period. Within big lime oval I´ve highlighted recent test activity a Support Angle and obviously Support Angle is well-defined and massive strong daily closing base support and was sometimes accurately tested day low support.
Think a coming 1-3 day pullback has good chances to reach exactly this most important daily support which is near the 7150 pts for the next 3 candles!
IF market dips and bottoms at 7220-7150 in course of the week the next and final sharp rally leg into 7470 upmagnet target should unfold = fat dark-green dotted arrow adjustment.
Please look at the really amazing attraction area at 4th double arc environment for the end of June. There and then unites rising alltime-high resistance with lower line of 4th activated uptarget at 7470 pts.
Thus, the 7470 is a combined daily and weekly and yearly upmagnet target according price factor = BIG or MAJOR uptarget, at same time BIG or MAJOR resistance magnet.
The 21st upcycle week is last trading week of June. Daily setup above reveals that the next important time line (ITL) is due for June, 26 = 06/26 ITL! The most recent processed ITL has telegraphed possible important cycle high for May, 14 = 05/14 ITL which ultimately led to an important turn or short-term cycle high.
Thus. 06/26 is BIG or MAJOR magnet according time factor.
Conclusion: GUNNER24 telegraphs important cycle top for the trading week June 26-30 at 7470 to 7500. Then and there the summer 2018 high could arrive.
After that and if the GUNNER24 Projection proves to be about right, the market could develop something like this into August: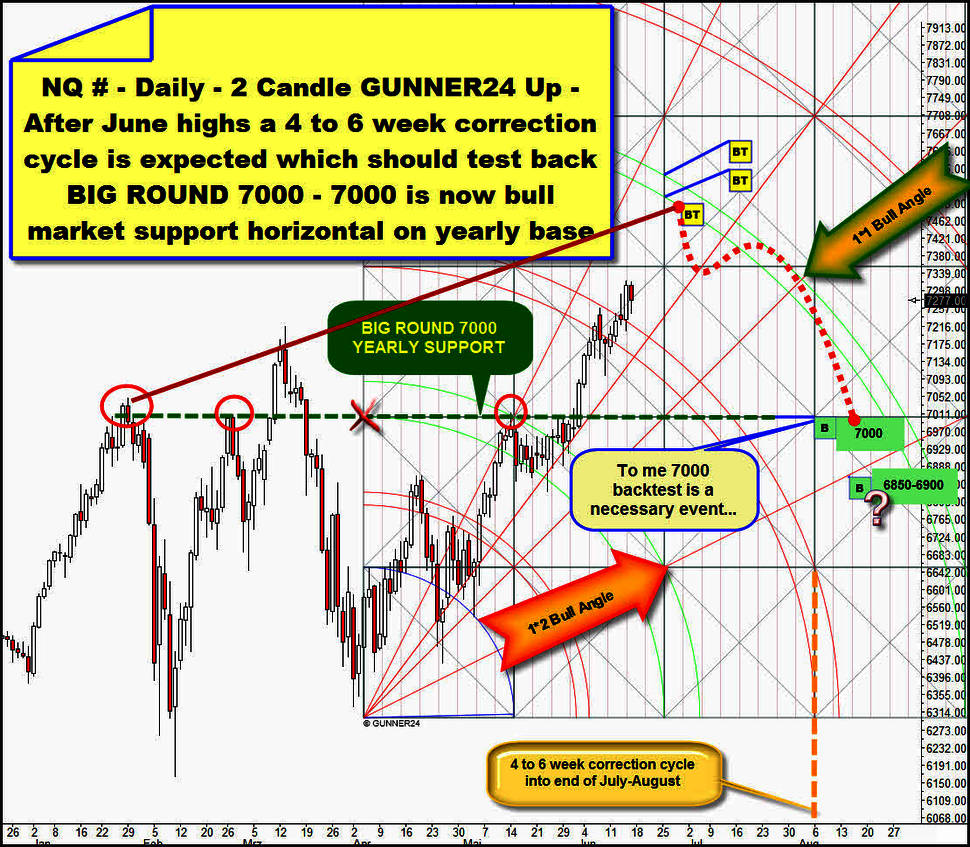 Very shortly after the 2nd double arc consolidation area was finally overcome also the BIG ROUND 7000 pts threshold was finally taken to the upside on daily, weekly and monthly closing base. 7000 was well-tested 2018 resistance horizontal up to the end of May 2018 and is a natural horizontal within 2 Candle up setup above.
Since skipping the 7000 horizontal the market never looked back because that jump triggered extremely powerful bullish forces in any important time frame. Daily, weekly, monthly but also yearly!
Hmm, to me a 7000 backtest is quite obvious and probably also very necessary to confirm this former important 2018 resistance horizontal as major important future support horizontal.
==> Very attractive, the most attractive backtest target for the rest of 2018 is the BIG ROUND 7000. The falling 4th double arc (resistance?!) above could guide the market within such impending - quite normal - 4 to 6 weeks retracement cycle.
==> The summer lows could test back the yearly 7000 pts down magnet in course of August 2018.
But, index could rally higher into 8100 pts/October 2018 uptarget without a 4 to 6 week summer break! Of course... within strong bull markets the surprises always come to the upside!
Be a part of our exclusive sworn GUNNER24 Trader Community – now... I try to make you rich!
Be prepared!
Eduard Altmann