Now it's been some time since we looked at the Precious Metal Mining Stocks and tried to estimate their overall performance by analysis. Last time we did this mid-January (free GUNNER24 Forecasts, issue 01/13/2019 - "That`s the first important GUNNER24 Buy Signal of the Miners since 2016") with the help of the GDXJ (VanEck Vectors Junior Gold Miners ETF).
Then I presented monthly 8 Candle GUNNER24 Up Setup below that shaped out after the final low of 2016, what is still the absolute extreme of the bear market, which started 2010 at 179.44$: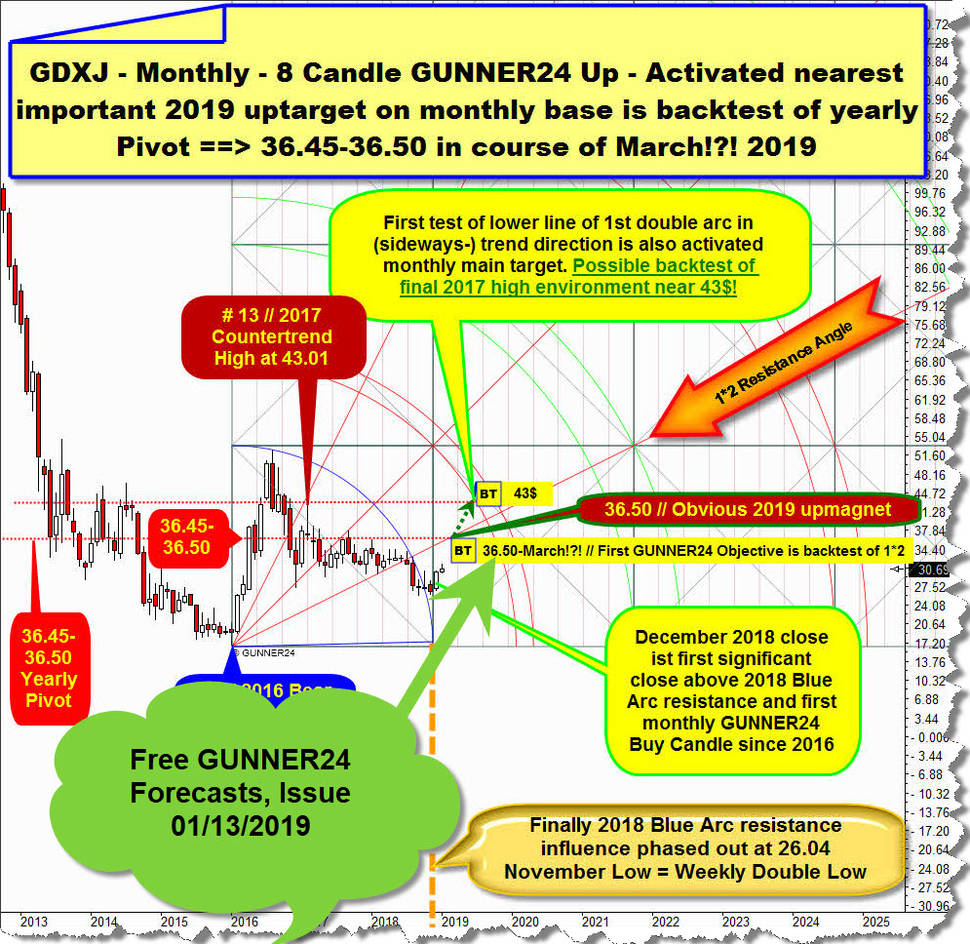 Among other things, we recognized this of interest. An important essence of the January Forecast, so to speak:

And so it happened. At least almost exactly. But what makes a huge difference in the assessment of the further development.
The last monthly countertrend failed in terms of achieving its quite natural important targets. As far as the price factor is concerned, but also in terms of the time factor.
And that was Harbinger for, what came afterwards...
Since reaching February's high of 35.04$, the GDXJ ETF Mining Companies are back in strong bear market mode on the monthly chart. Deliver lower highs and lower lows, with the current year's low marked at 28.02$ at the beginning of current May.
Below you recognize an elliptical monthly GUNNER24 Up Setup which seems to exert the greatest influence on recent and probably future movements. It also depicts the GDXJ course since it`s important year 2016 Bear Market Low.
This as from now well-confirmed setup offers that the Gold and Silver Miners have to print their annual lows sometimes August to September 2019. Our GDXJ ETF perhaps likes to print the year now near "round" 25$ surroundings. This is a quite solid possibility, actually the most bearish option as far as the further course of 2019 is concerned: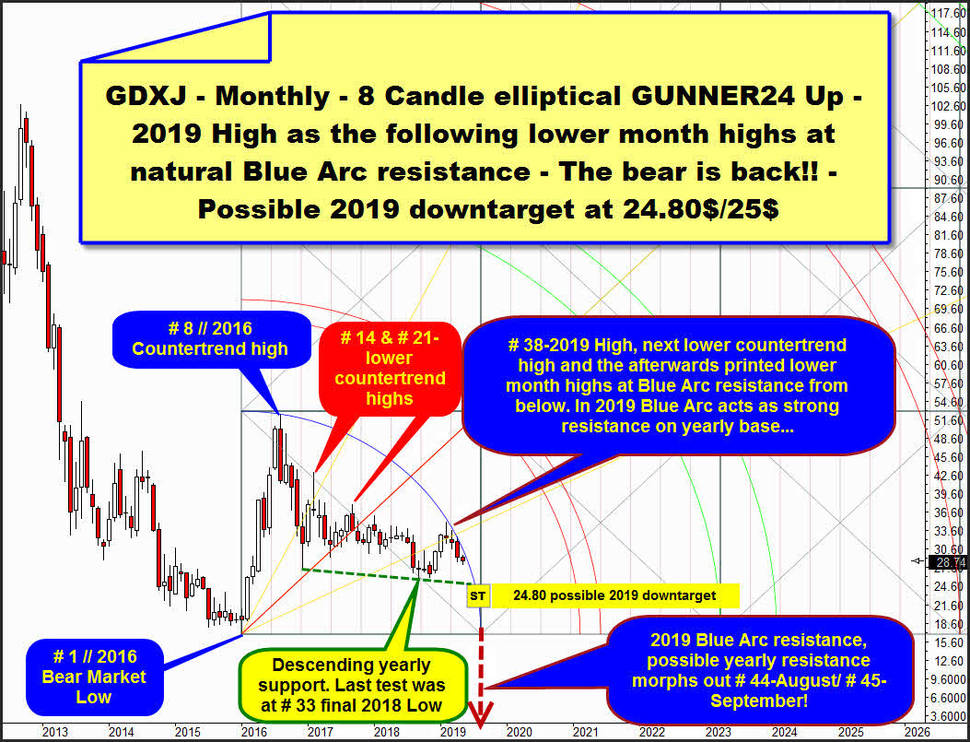 A long-lasting countertrend on yearly base starts - as shown up setup measurement -, at # 1 // 2016 Bear Market Low.
High price of countertrend candle # 8 delivered the highest price of entire countertrend cycle that also was printed in course of 2016. 8 is Fib turn number. Means, setup is a very "classic" one, cause this mass movement is fully oriented to an important high Fibonacci number.
Afterwards candle No. 14 of countertrend marks final high of 2017. # 14 -1 is 13 Fib turn number, so Fib numbers 8 and 13 (= time) delivered or have triggered important lower countertrend highs or major turns.
At Fib number # 21-top another important lower countertrend high is noted. Once again a Fibonacci number signaled a major turn or next lower year high or next important lower countertrend high in advance.
Next lower important countertrend high on yearly base, which is current 2019 High (# 38 of countertrend), and the afterwards printed consecutive small lower month highs of March, April and even actual month of May can be sensibly linked to the absolute high of the entire countertrend on an elliptical level.
This natural mathematical month high and 2016 High-2019 High resistance connection is shown by the chosen elliptical Blue Arc expansion.
Cause elliptical Blue Arc nails A) the so far absolute highest price of entire 2019, and B) additionally the afterwards printed consecutive small lower month highs this shown Blue Arc rail now seems to exercise strong resistance on month high base and perhaps even looks like it actually radiates stronger resistance on yearly base.
The at # 38-2019 High and first negative elliptical Blue Arc test started series of lower month highs, lower month lows and lower month closings as lower month openings is ugly serious confirmation of a heavy downtrend underway and that`s why elliptical Blue Arc above usually expresses the most decisive resistance for this year and for all the month candles to come.
… once a very-confirmed looking yearly resistance rail puts confirmed, strong bear pressure on a market, this market is trapped and is subjected to bearish forces until determining resistance rail sometimes is finally overcome in the future.
That`s why a first month close far above yearly elliptical Blue Arc resistance should be a rare, unusually strong next buy signal on monthly base!
But the trend is always our friend!!! Because of that we should expect the elliptical Blue Arc resistance to radiate further resistance until it has morphed out according time and this time event comes true either sometimes in course of # 44-August 2019 or # 45-September 2019.
According the price factor underway 2019 bear cycle could test back dark-green dotted descending yearly support line which might offer major support on yearly base at around the "round" 25$ W.D. Gann number magnet for # 44-August 2019 to # 45-September 2019!!
==> GDXJ suggests important yearly downtarget at 24.80$ could be processed sometimes August to September 2019!
The last test of descending yearly support line can be seen at the final low of 2018. And this next lower yearly countertrend low was printed in course of countertrend month # 33, thus this next lower countertrend low on yearly base usually was influenced by the next Fibonacci turn number in the row, what is 34.
Cause entire countertrend shows an important yearly low which likely was influenced by the 34, the final 2018 Low PERHAPS was a major low of entire countertrend and PERHAPS there and then an uptrend on monthly and on yearly base could have begun which might continue into next Fib number to come!! = 55!!
==> Cause of this time factor hint the GDXJ in the monthly 2019 bear market cycle perhaps avoids trading below the # 33-final 2018 Low and thus might not work off 25$ support area in further course of 2019, so the 24.80$ just a VERY LIKELY 2019 GUNNER24 Downtarget!!
The bear is back and thus the coming weeks should be concerning for all the still toooo optimistic Gold Bugs.
==> Possible 2019 downtarget at 24.80$/August to September 2019!
The Gentleman`s sell short level for June 2019 is a possible next test = expected next negative test of sharply predefined elliptical Blue Arc resistance at 29.60$!
Be prepared!
Eduard Altmann