I know that many investors and readers are feeling uncomfortable facing a short entry in stocks. But rarely GUNNER24 had produced such a spate of unequivocally frequent short signals as it did over the last few weeks. I can't remember many times I had to analyze such a wide range of large stocks and individual sectors being in such a plucked condition as they are at the moment.
A fairly safe sell-short bet at the moment, however, should be the General Electric Company (GE), whose sell signal still seems quite fresh and sustainable and whose decline should most likely continue for the next 4 to 8 weeks.
By past week fired strong sell-off candle GE shares have completed a +1year topping process which is extremely strikingly reminiscent of a downward oriented elliptical GUNNER24 Double Arc.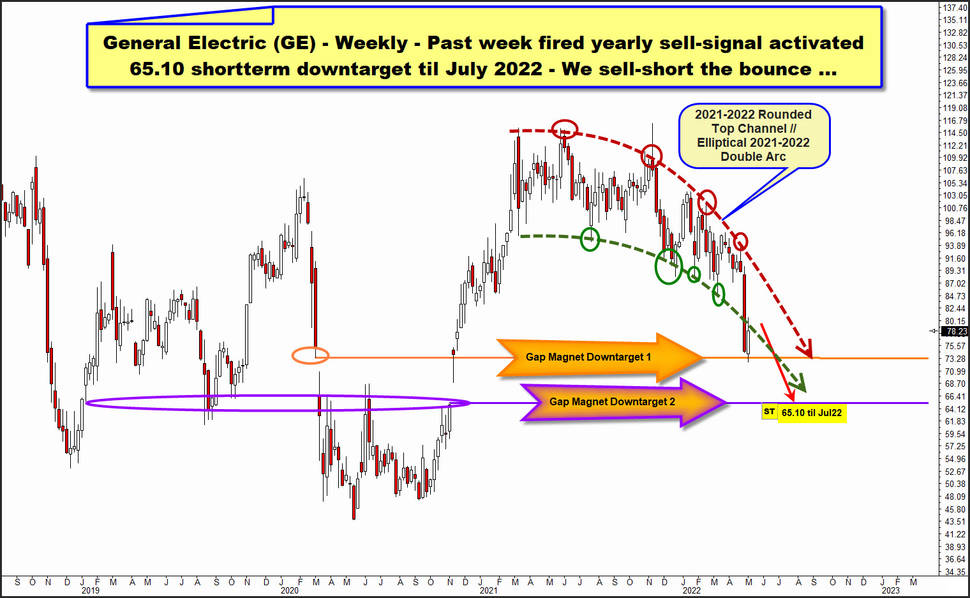 In the classical chart-technical sense, one may probably recognize a Rounded Top, which formed since March 2021 emerged in a narrowing channel. With past week close the before 4 to 5 times exactly holding dark-green dotted support channel rail became finally broken what is nicely confirmed by this week closing action what is seen below the former dark-green dotted support rail, now likely future main resistance.
This was an official combined weekly and yearly sell-signal because the Rounded Top formed over 1 year resp. was defended to hold over 1 year.
At lows, this week candle successfully worked off an existing key downside target on a yearly basis, namely the orange 73.44$ Gap Magnet Downtarget 1 horizontal.
This support horizontal on yearly base triggered a visible bounce you should look to sell-short cause this following textboook 5-Fib number weekly GUNNER24 Up Setup starting at # 1 // MAY!! 2020 bear market low reveals that normally also the Gap Magnet Downtarget 2 at 65.10$ should be reached/worked off within the coming weeks: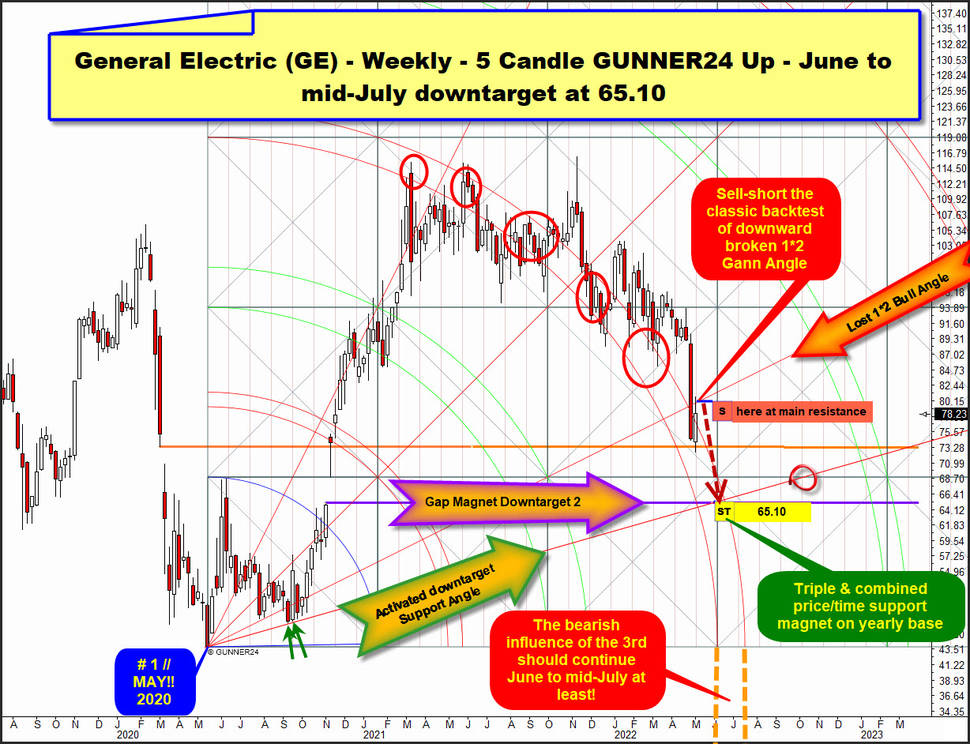 I think everyone recognizes the main resistance energy and therefore also the main reason why the +1year Rounded Top had to form in the narrowing channel.
The maximum confirmed negative 3rd double arc influence!! on the price.
Finally, the long-holding natural GUNNER24 Uptarget Main resistance area/energy of the 3rd double arc forced GE shares into past week fired heavy sell-signal that definitely broke the former bull market support energy state of the 1*2 Gann Angle.
This lost yearly 1*2 Bull Angle support rail around the round 80$ is the most obvious main resistance upmagnet for the underway stronger bounce on the daily chart and selling this very textbook backtest of the "Lost 1*2 Bull Angle" should become profitable over the the next few weeks because after past week fired combined weekly & yearly sell-signal the bearish influence of this 3rd double arc magnet on GE shares usually has to continue further at least until the two lines of the circular 3rd double arc automatically intersect the time-axis at the two orange-dotted verticals. This period is the beginning of June until mid-July 2022.
=> For then there should be very bearish pressure again and therefore normally the lilac Gap Magnet Downtarget 2 should be worked off during this cyclic time window.
For around mid-July 2022 the fresh activated 2 big downtarget supports of A) Gap Magnet Downtarget 2 & B) "Activated downtarget Support Angle" form a combined Triple price/time Magnet on yearly base. One component of this Triple Magnet is the time - mid-July 2022!
==> Big, big activated shortterm downtarget is the combined 65.10$ Gap Magnet Downtarget 2 & "Activated downtarget Support Angle"!
==> therefore the shortterm downtarget for GE shares should be the 65.10$, likely to be met until mid of July 2022.
Last but not least below is the bigger weekly picture from my point of view. It seems quite plausible and possible that GE shares have been working on a Complex Head-and-Shoulders formation for many years: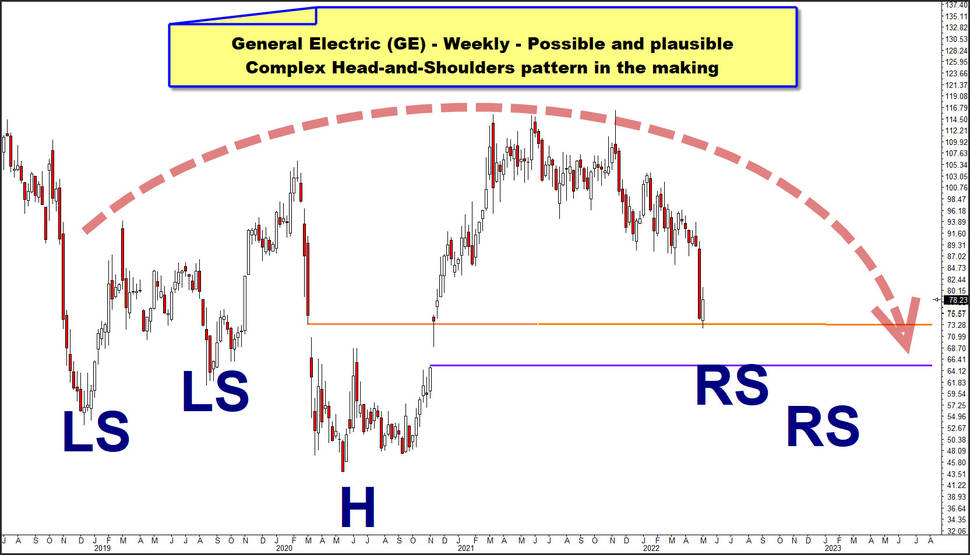 Whereby the two Left Shoulders (LS) as well as the Head (H) are set and the two plausible or maybe due Right Shoulders (RS) may complete until the end of this year!
Be prepared!
Eduard Altmann