The relative strength of gold over the week versus the still rising U.S. Dollar Index was quite impressive. And instead of dropping in sympathy with the Euro, which is getting weaker and weaker and therefore made some fresh 2019 lows on Thursday and Friday, the shining yellow metal rebounded pretty hard into the week close, after current 2019 Low arrived at 1267.90$ on Tuesday.
Since the gold downtrend started at # 1 // February 2019 High, I never was completely sure about that the following daily 12 Candle down setup will be a good working one we should use for forecasting the gold market.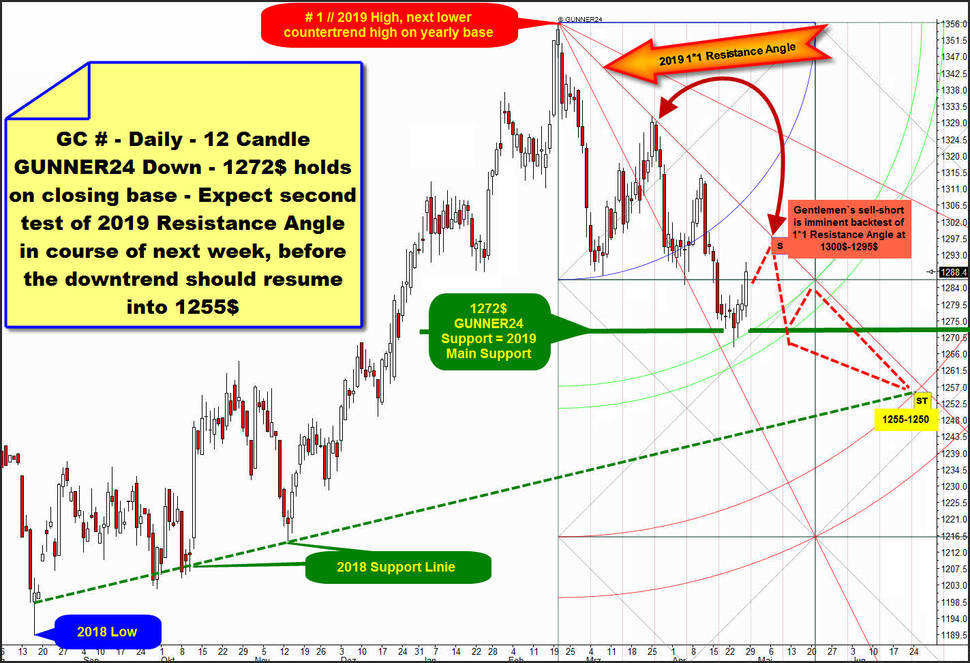 Of course I recognized the very first negative backtest of 2019 1*1 Resistance Angle at important lower downtrend highs which then was perfect entry into downtrend. This first 100% accurate negative test of 2019 1*1 Resistance Angle confirms that chosen scaling seems perfect to nail the future developments...
But apart from this one very accurate setup confirmation, there were actually no other truly accurate tests of the different GUNNER24 Items. Until the Tuesday made the short-term cycle low and Wednesday candle confirmed a bullish reversal.
Because then the natural support of the upper line of the 1st double arc intervened together with MAJOR 1272$ GUNNER24 Support Horizontal. There the cycle lows arrived. And we recognize that the upper line of 1st double arc support holds on daily closing base and on daily low base and even more bullish, is forcing the gold into a series of higher lows and higher highs and higher closings on daily base.
==> We have full confirmation that the next short-term downtrend low is printed and the next stronger rebound according price and time on daily base is underway!
==> Currently most important daily support is up-sloping upper line of 1st double arc above. And as a consequence the very first daily close below upper line of 1st double arc support should be a promising short.
The rebound presents quite strong for the first 3 days, thus the rebound cycle should run at a minimum 5 days, but more likely has to go 8 trading days or will last a maximum of 10-11 daily candles.
Because the bounce presents quite strong for the first 3 days with more than 90% likelihood the gold futures will be able to test back the 2019 1*1 Resistance Angle for the second time!
==> If gold opts for a next tests of 2019 1*1 Resistance Angle within a 5 to 11 days lasting upcycle, this well-confirmed cause accurate negative tested falling Gann Angle resistance out of year high should end any bounce activity and should lead to the next selling wave on daily and weekly base that usually has to test the activated 1255$ down magnet at upper line of 2nd double arc surroundings sometimes in course of June 2019!
And here is why we still should try to sell short gold until 1255$ will be finally worked off: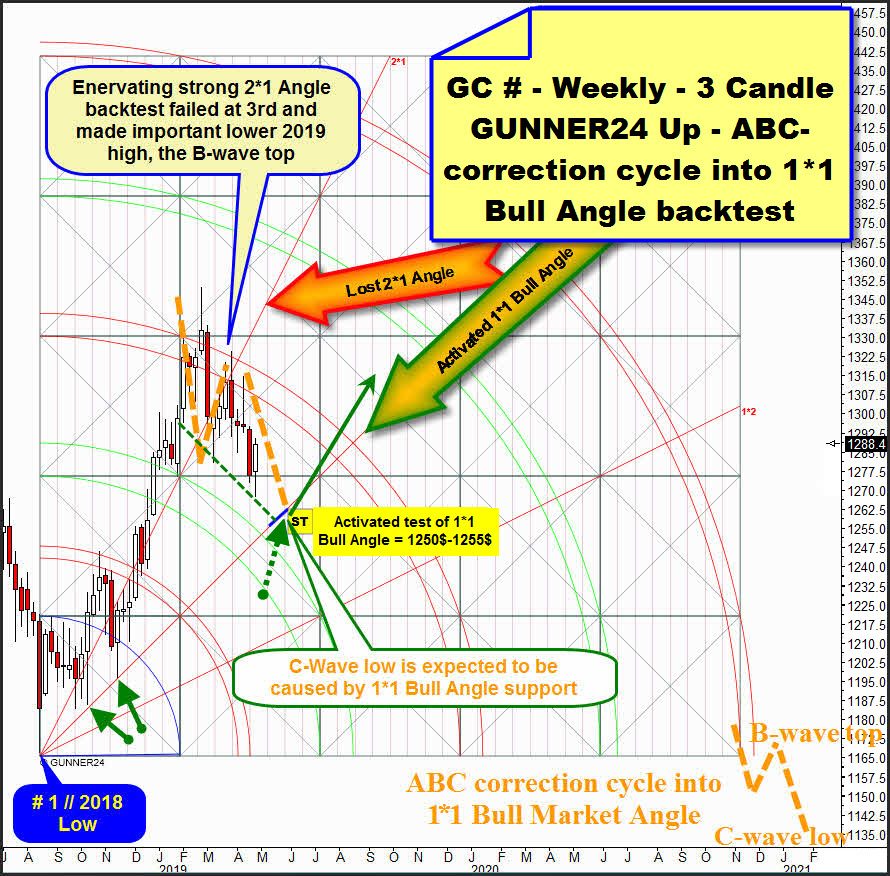 Gold is more and more confirmed working on a textbook & classic ABC-corrective pattern on the weekly chart. C-wave downleg usually should test and work of most strongest uptrend support which is always the test of the 1*1 Gann Angle that does develop from prior most important low which in that case is the # 1 // final low of 2018.
Weekly ABC-correction cycle started at 2019 High, that has a 40% probability to be the FINAL HIGH of entire 2019. This odd has risen from 30% to 40% compared to my March view (free GUNNER24 Newsletter 03/10/2019), cause all the important markets - gold/silver/palladium/Gold and Silver miners - look a least short resp. corrective far into summer 2019.
Entire anticipated ABC-correction pattern is highlighted with the fat orange-dashed lines.
2019 uptrend ended at falling yearly resistance at February highs and was caused by 3rd double arc resistance within still very valid and solid looking weekly 3 Candle GUNNER24 Up that starts measuring upwards at # 1 // 2018 Low.
After the A-wave low that finally lost 2*1 Angle support the gold retraced for enervating 4 weeks, just for printing a first important lower 2019 high which is likely B-wave high. ==> we observe 2019 top and important lower 2019 top is caused by the bearish acting 3rd double arc.
Also the cycle into likely B-wave top was a very enervating back testing period of 2*1 Angle from below. No single week of the B-wave up cycle was able to re-conquer the 2*1 Angle on weekly closing base.
After another negative backtest of 3rd double arc from below gold VERY LIKELY started it`s C-wave decline, that usually has to test back strongest 2019 uptrend support which is represented by the dark-green highlighted 1*1 Bull Market Angle.
==> the next 1*1 Bull Angle re-test is now officially activated according the W.D. Gann important Gann Angle trading rules. ==> 1*1 Bull Angle re-test has now 75% odd to be fulfilled within currently running weekly correction cycle.
If C-wave leg is about equal to A-wave leg according price - A-wave is a 70$ down wave - the third 1*1 Bull Angle backtest and the next intermediate 6-month-cycle low will come true at about 1255$!!
==> 1250$ up to perhaps a 1260$ remains quite natural, and thus perhaps most attractive downtarget for the weekly correction cycle that started at 2019 Top!
Also the next test of the 1*1 Bull Angle out of 2018 Low should succeed on week low and/or week closing base and should end the entire weekly correction cycle that began at February 2019 Top.
Once activated 1*1 Bull Angle target is finally worked off, traders should expect the next weekly and monthly upcycle, which with 60% probability, should be able to print higher 2019 highs by October 2019.
The currently best, cause most riskless sell-short entry, for the awaited 1255$ work off is the backtest of daily 2019 1*1 Resistance Angle that very likely will be tested back for the second time in course of next week somewhere between 1300$ and 1296$! Big Round 1300$ W.D. Gann resistance number adds strength to daily 2019 1*1 Resistance Angle! For shorts starting at 1300$ use 10$ to 12$ SL.
You best register with our GUNNER24 Gold Trader now. That's where we oversee the optimal entries and exits for you. Especially in the difficult market situations where many factors have to be considered the Gold Trader is backed by the additional GUNNER24 Signals based on the combined 1, 4 and 8 hour setups to catch the optimum entries and exits.
The GUNNER24 Gold Trader will provide you with the critical knowledge you need to forecast and analyse the precious metals with the GUNNER24 Forecasting Method. All the GUNNER24 Trading Signals you receive real-time are based on the actual Gold and Silver Future. The NEW GUNNER24 Gold Trader is a must for every actively working investor and trader who wants to trade successfully in everyday trading. The insights you receive from the head trader Eduard Altmann (and discoverer of the GUNNER24 Forecasting Method) are truly amazing sometimes. I promise!
Click the button below and order the GUNNER24 Gold Trader - $39.90 US a month. For 201 members and up - $49.90 US a month.
Be prepared!
Eduard Altmann