Whereas the most recent course of the common currency since February 2018 developed awfully yet – 2019 is supposed to become more painful for the Euro bulls.
The EUR/USD currency pair is in a monthly bear market that started at year 2018 countertrend high and determining falling DECADE resistance.
As the month ending in March was the 14th month of the current bear market and delivered new bear market lows and lowest close of entire bear cycle after the bear market month No. 13 (Fib number), it is quite possible that the market will expand the monthly bear until the end of this year.
With the negative March 2019 closing price at 1.1217, the EUR/USD has now activated the processing of 1.105 for next April.
And thus with a probability of currently 65% - according to the GUNNER24 Method - it should also be able to reach and test the 1.07 in course of the second half of this year.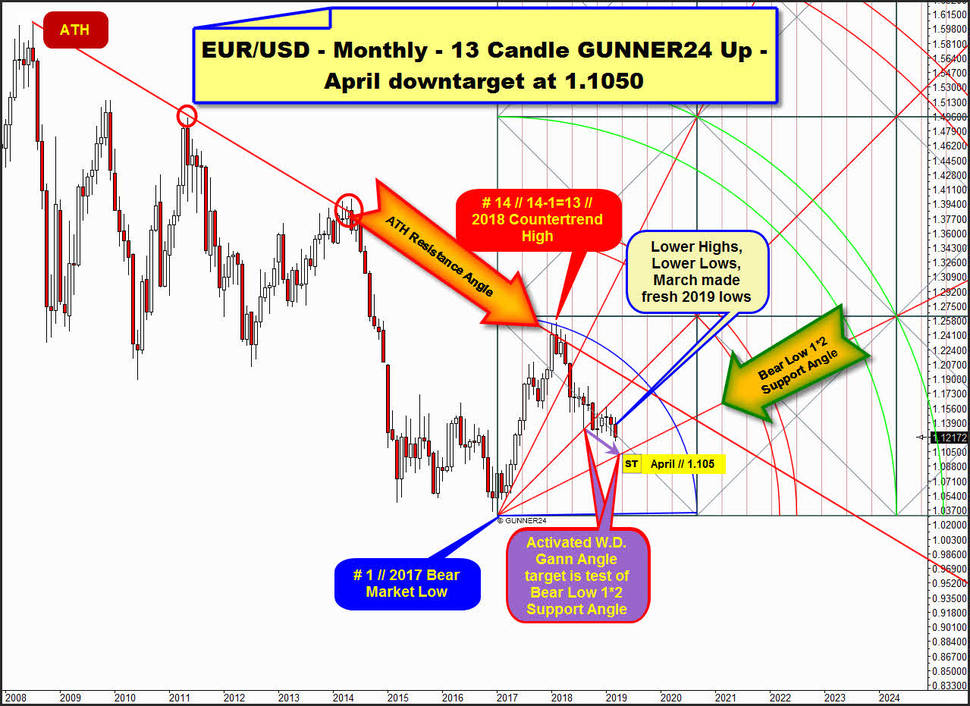 At the # 1 // current Bear Market low, made early in 2017, we measure 13 months upwards. That`s the real cycle of the last important monthly countertrend that topped finally after 14 (14-1=13 Fib number) month candles at nicely confirmed ATH Resistance Angle or well-confirmed declining DECADE resistance. Therewith the future supports and resistances are established.
Blue Arc above represents two times holding month high resistance of last multi-month countertrend cycle, thus this rail is perhaps most important = most strongest future arc resistance of the currency pair.
The very first monthly close above this Blue Arc officially ends the EUR/USD bear market that has been running for over a DECADE.
Of course also a very first month close above ATH Resistance Angle signals a next strong bull market cycle was triggered before, cause in such case falling DECADE resistance would have been finally overcome.
Please next watch the price/time relation, I´ve highlighted by the slightly decling lilac arrow.
Lilac arrow starts at successful first test of 1*1 Angle and points down to the right to the Bear Low 1*2 Support Angle test that likely will finally achieved soon - likely in course of April 2019 - after entire bear market has lost important 1*1 Angle support finally and decisively by year 2018 close and since any month of 2019 made lower highs, lower lows and lower closings.
The bear trend which visibly paused for 3 to 4 month candles officially resumed by March 2019 lowest bear market close and usually should gain some traction in course of the coming weeks!
Thus perhaps immediately & finally working off prior activated natural W.D. Gann Angle downtarget in trend direction, which is Bear Low 1*2 Support Angle.
==> Pair ususally should test Bear Low 1*2 Support Angle in course of April 2019. Then target runs at 1.105. IF April denies target work off, month of May should deliver at latest. Then rising Bear Low 1*2 Support Angle runs at 1.1065.
This March 2019 candle is No. 14 of bear. New lows made after important Fib number 13 month February 2019 point to to outcome that this bear market wants to continue for some months, and even wants to be oriented to the next coming Fib number which is 21.
==> This bear might last another 7 to 9 months! So it implies the bear market count first. This count signals that the yearly support of the rising Bear Low 1*2 Support Angle should fail to hold in the end and the first monthly close below Bear Low 1*2 Support Angle should fuel the selling.
But also this coming GUNNER24 measurement in the monthly chart indicates quite nicely that the possible final bear market low just might be printed sometimes October to December 2019: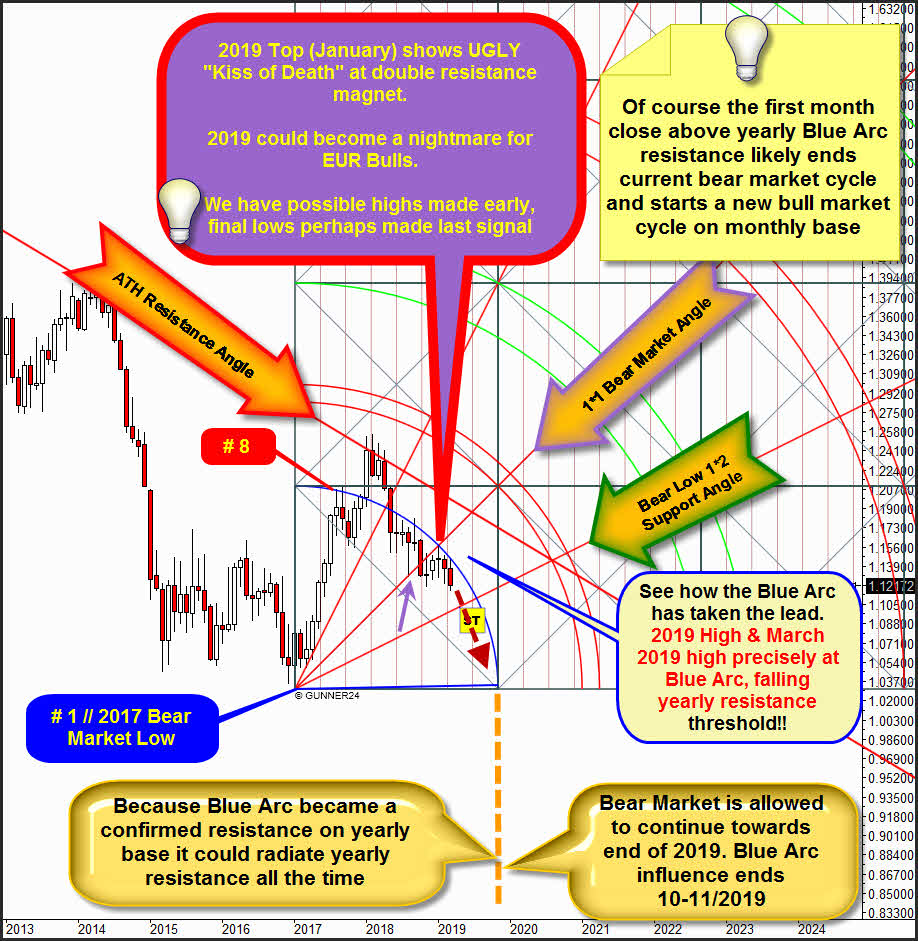 This up setup starting at current bear market low is the classic 8 Fib number candle up and just a quick glance is all we need to know that this natural range of first mass movement after bear market low triggers the currently most important bear market resistance which is the Blue Arc. Since 10 long months Blue Arc acts again as a well-defined month high resistance.
Now we already recognize 3 completely accurate tests of this slightly decreasing resistance, with the last being visible on this month's high. Although this test - although it led to new bear market lows as a final impact - is probably not the most important one.
For me, the penultimate test of the Blue Arc seems to have triggered the most important sustainable consequences.
The current 2019 high price, which cemented at January 2019 top, shows a very accurate = ugly "Kiss of Death" backtest of combined GUNNER24 Resistance Magnet formed by Blue Arc and 1*1 Angle = the lilac 1*1 Bear Market Angle.
It appears to the viewer that after the 1*1 Angle for the most part of 2018 was support, it was immediately and FINALLY tested back at the beginning of the new year. And this negative backtest of 1*1 Angle & Blue Arc resistance magnet at 2019 Top has triggered a next sustainable longer-lasting bear market leg that now aims the Bear Market 1*2 Support Angle work off first.
This Blue Arc above is now a 10-month lasting month high resistance and also responsible resistance for printing the current 2019 High, thus the 8 Candle up Blue Arc is well confirmed threshold not only on monthly high base, but also on yearly high base. It is now clearly a sustainable arc resistance and since its resistance energy officially expires only October/November 2019 this bear market might deliver its final lows or next important lows only around this timeframe = 21 Fib months lasting bear market cause Blue Arc resistance might continue until this price magnet officially phases out according the time! Sic.
This state of affairs in turn allows the year 2019 candle to develop in such a way that the year high is made at the beginning of the year and that the year low will come sometime towards the end of the year.
==> The Euro is facing to deliver a strong downtrend year pattern!, with highs made early, lows made last. But what is important for all: The very first month close above the 8 Candle Blue Arc signals that bear market found decisive lows before and a new mulit-month bull ran has begun at that lows.
In the next step, let's take a closer look at the current status of this 14 months bear market which at the early 2018 high was triggered by the DECADE resistance or ATH Resistance Angle. This helps us to calculate one possible important or perhaps the really most important low price of this bear.
==> EUR/USD could test 1.07 area sometimes October - December 2019!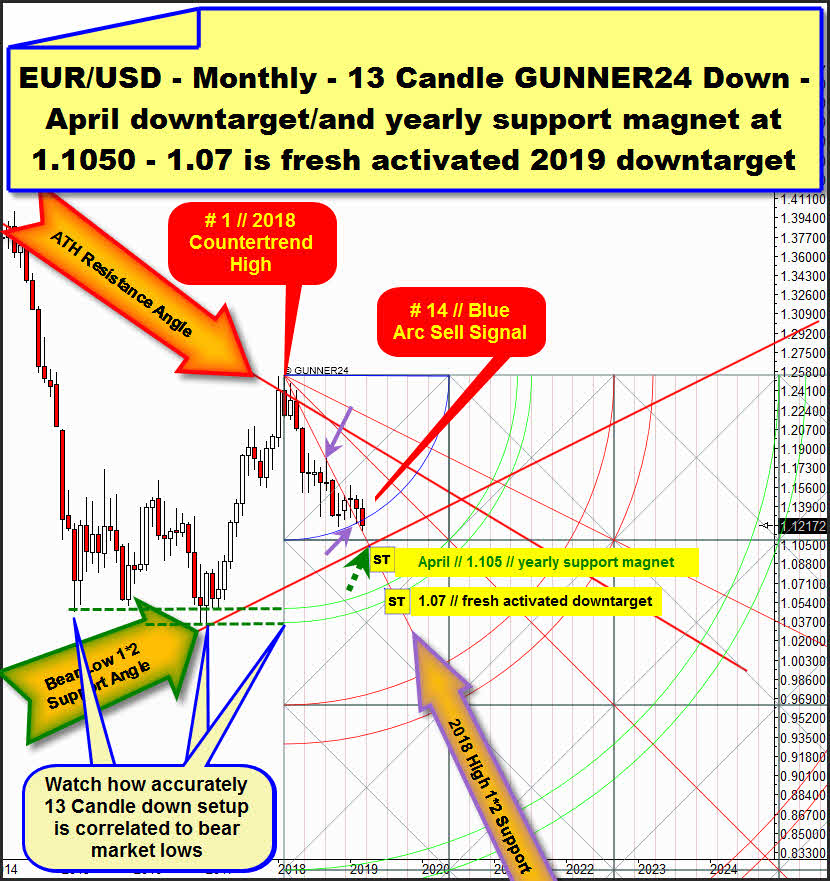 At the # 1 // 2018 Countertrend High we measure the discussed very important natural 13 months downwards cycle. Current and future importance of the setup should be confirmed because the natural 1st double arc environment fits perfectly with the current bear market lows. This harmony is highlighted by the two green-dashed lines who depict some most important bear market lows and current overall bear market low to the T.
Down setup shows that March 2019 finally lost natural Blue Arc support and this is next important monthly sell signal according the time. This points to the outcome that running bear will last perhaps 21 Fib number candles.
Of course its additionally next strong monthly sell signal according price cause bear shows lowest month close.
==> March 2019 fired a next sell signal according time and price on monthly base. Bearish follow through should be the consequence. Next lower highs, next lower lows etc. Bear Low 1*2 Support Angle work off should be the next important consequence.
Please observe where activated Bear Low 1*2 Support Angle runs for coming April 2019 candle.
Then Bear Low 1*2 Support Angle is at 1.105 and there also runs the lilac highlighted 2018 High 1*2 Support Angle that actually radiates obvious falling 2019 month low support rail. Lilac highlighted 2018 High 1*2 Support Angle was prior 2018 month high resistance angle which is highlighted by the lilac arrow...
==> We have identified strong yearly support magnet at 1.105, existing for the April 2019 candle. We have identified somewhat obvious yearly support or downtarget support magnet at 1.105, existing for April 2019.
And cause this magnet is a future yearly support magnet or usually very strong holding support the entire bear market could finally end there once finally worked off.
==> We have possible entire bear market lows there or close to 1.105 sometimes in course of April 2019. Such possible final bear market low might be caused by an announced final or sealed Brexit Deal?! But who knows for sure what else this never ending Brexit story brings to us.
What we can safely assume is that IF the Bear Low 1*2 Support Angle is finally undercut even with only one monthly close the upper line of 1st double arc should be processed in the further course of 2019.
==> Thus, it may very well be possible that the upper line of 1st double arc downtarget support resp. the 1.07 area towards the end of the year, between October and December, will be the main reason for the final low of a then to the 21 Fib number oriented monthly bear market cycle.
Be prepared!
Eduard Altmann