The US tech indexes manoeuvred themselves into an excellent position to end the significant underperformance of the last few weeks against the S&P 500 and Dow Jones Average, only to potentially rally very sharply into the month close or into early-April.
I try to illustrate this piled up bullish tensions with the help of some GUNNER24 Up Setups on weekly base and the most determining daily GUNNER24 Up Setup on the QQQ ETF. If the current GUNNER24 Forecast is correct all the western stock markets begin an at least -20% multimonth corrective cycle (= official bear market) at their late-March to early-April 2021 peaks.
I am using the QQQ for the forecast-analysis today as it most perfectly illustrates where the low for the year so far arrived and what it would mean if this support were to be undercut again on a weekly closing basis.
This phat dark-green support arrow illustrates the so far QQQ 2021 Low. It is at 297.45$: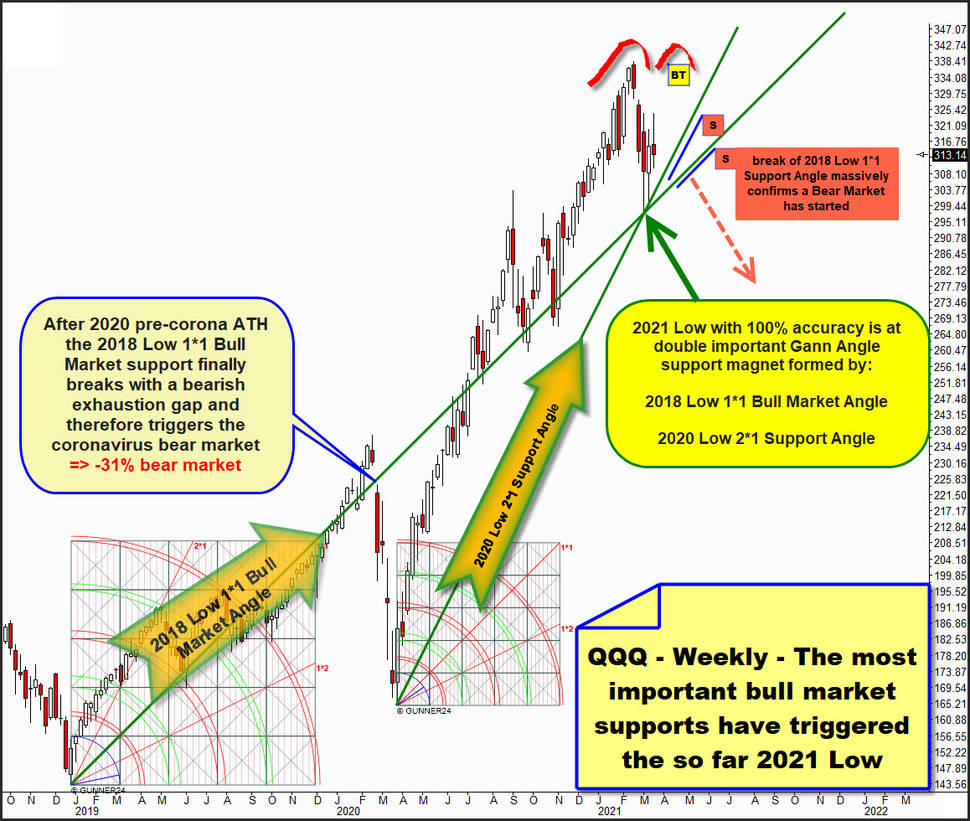 You can clearly see, on a weekly candle basis, how the 2021 Low with an 100% accuracy is at a yearly cross support formed by two different important Gann Angles which both spring from the two most important lows of the past years. First, there is the 2018 Low 1*1 Bull Market Angle and the 2*1 Support Angle that comes from the perhaps most famous bear extreme ever what is the March 2020 coronavirus bear market low.
==> The most important bull market supports were responsible for the so far delivered 2021 Low.
We know A) that this MAJOR important Gann Angle support magnet is a combined rising support on a yearly base cause it has held at 2021 Low. Additionally B) the MAJOR support magnet on yearly base triggers some kind of bullish power since 2021 Low the market makes higher week highs and a higher week lows series. And oh well, when a MAJOR support magnet kicks in and delivers some upward energy this condition usually lasts a little longer than just 2-3 weeks, so I think the QQQ /NASDAQ indexes are now on their way for the serious backtests of their alltime-highs at a minimum.
The most important support of this bull market is with as much confirmation as it can be the 2018 Low 1*1 Bull Market Angle, not only because he started to radiate positive energy again at the 2021 Low test, but especially because it triggered the hardest, fastest bear market cycle ever as this line in the sand after the 2020 pre-corona ATH finally broke with the help of a bearish exhaustion gap and this was the official trigger or the official sell-short signal for the -31% coronavirus bear market downcycle to begin.
Consequently, it would have to be the case that IF a first clear weekly closing price below the 2018 Low 1*1 Bull Market Angle were to occur in the near/nearer future, then the market would have to be in a bear market (a >-20% correction) cycle AGAIN.
Think, we can use a very first future weekly close below the 2020 Low 2*1 Support Angle for a very first quite safe short entry because this is the closest rising yearly support.
The 2020 Low 2*1 Support Angle is now very confirmed rising yearly support because not only the 2021 Low, but also the slightly higher low of the week before last 100% exactly defended this rising yearly important Gann Angle support.
The 2020 Low 2*1 Support Angle is currently and thus for the current upward cycle enormously important rising support, and if it were to be broken finally on weekly closing base, this event should be the very first very important warning signal that the QQQ/NASDAQ`s LIKELY have topped decisively before!
Before that, however, we have to assume with some conviction that the tech markets will continue their at 2021 Lows started upcycle, in order to possibly deliver a classic Double Top trend turning chart pattern on the daily and weekly charts at the given alltime-high surroundings around the end of March to the beginning of April 2021.
To verify this theory, we pull up this weekly GUNNER24 Up setup starting at the # 1 // 03/23/2020 Bear Market Low as follows: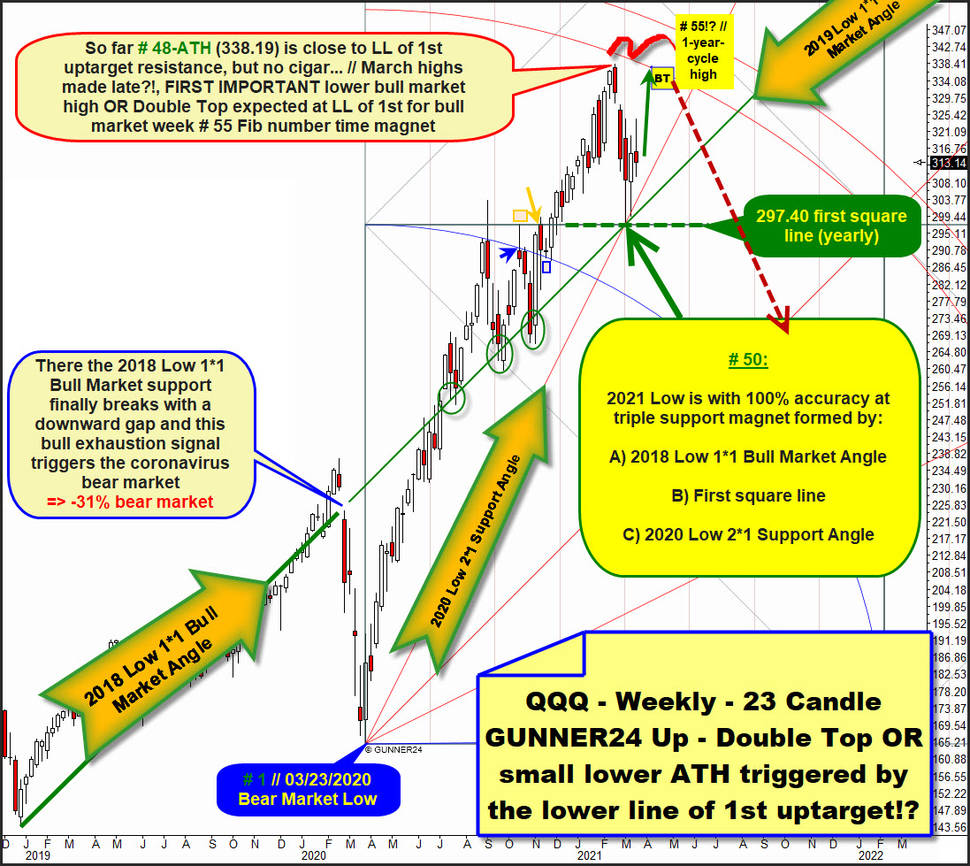 Above you recognize a 23 Candle weekly up. This is not exactly at the 21 Fib number, but is highly likely to be inspired by this often very dominant trend-changing number. The setup likely will also work for the nearer future because there is a lot of confirmation that the Blue Arc and the first square line were important price-rails in the recent past. Watch that at blue arrow the Blue Arc offered 2 times consecutive opening base resistance. The blue rectangle highlights 2 consecutive backtests of the Blue Arc – then main support – at achieved weekly lows. 2 orange markers are highlighting the prior respect = importance of the first square line and well, OBVIOUSLY this first square line at 297.40$ is the third imporant support rail what kicked in at so far 2021 Low.
==> We can add up that the 2021 Low is triggered by a triple support magnet what is a combined monthly and yearly support magnet!
This very bullish energy state likely triggered at 2021 Low makes it even more plausible and even more logical that the pending work off of the lower line (LL) of 1st double arc uptarget has to come true rapidly and maybe within next 10 to 15 trading days as this would also be the 55th week candle of the entire bull market run what started at the # 1 // March 2020 Bear Market Low. Since this bull market began exactly on March-23-2020, the final 1-year cycle high may soon be necessary anyway!
The final work off of the activated lower line of 1st GUNNER24 Uptarget (price) at existing ATH resistance surroundings around the 55th bull market week (time) is primed for a W.D. Gann price/time event and suggests the 1-year-bull cycle has to top with a first important lower bull market high compared to the # 48-ATH (338.19$) OR has to top finally with a classic daily/weekly Double Top. It is also clear that a very small higher alltime-high may occur there and then before the awaited multimonth bear market cycle should start.
On the daily chart the # 1-March lows, what have arrived at MAJOR triple support magnet, have successfully defended a rising yearly support line. So, bull market is fully intact. After this second successul backtest of a yearly support a daily up impulse unfolded what made so far up impulse highs after a 8 Fib number swing.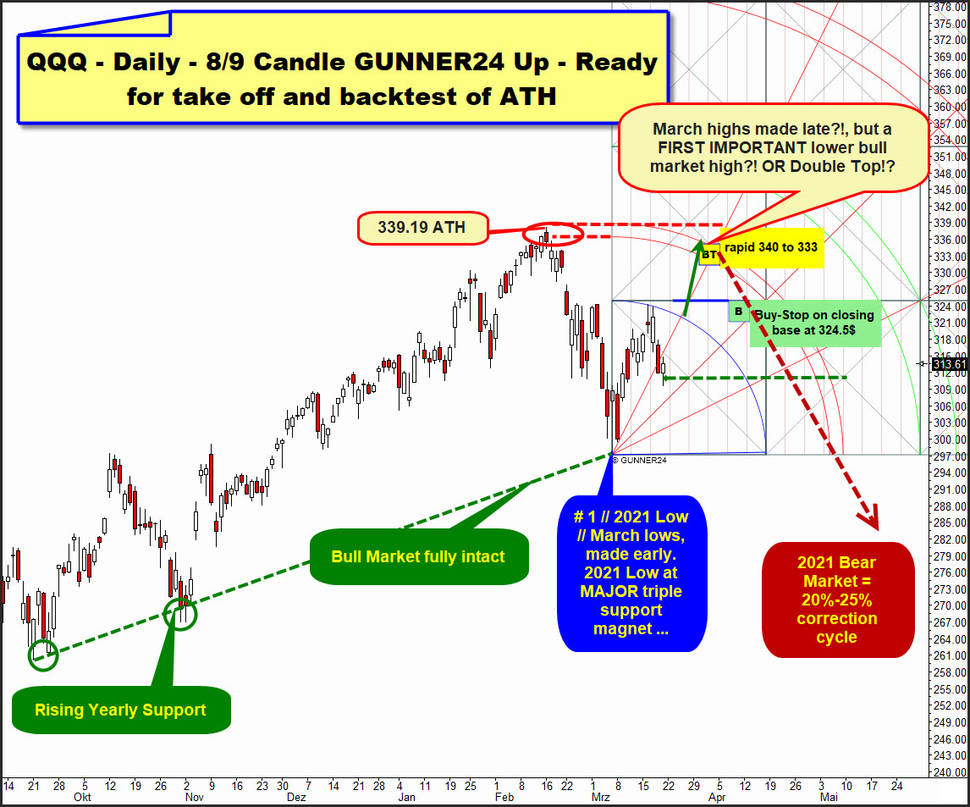 This past week Tuesday top is linked to the Wednesday top and can be connected logically with the Blue Arc, which represents a confirmed swing highs arc resistance. Friday candle successfully tested back the middle of first square support regarding price, I`ve highlighted dark-green dotted. A daily 8/9 Candles up setup, starting at MAJOR yearly support magnet underway ...
A next buy signal on the daily chart would be the very first day close above the Blue Arc within days. A soon coming daily close above the Blue Arc resistance and the 324.5$ first square line resistance activates the rapid work off of the ATH surroundings and the 1st double arc in (bounce-) trend direction.
If the growth and tech stocks are back to be in favour again, then we should really notice this when the QQQ delivers a daily close above the 324.5$ first square line resistance horizontal until next week Thursday! In such a bullish outcome the QQQ should aim the RAPID backtest of the ATH resistance upmagnet and usually has to work off the possible uptarget of the 1st double arc at 333$ to 340$ surroundings in course of the next 10-15 trading days or so.
==> Maybe this market or any other tech stock market and index now wants to deliver a combined daily and weekly Double Top pattern into perhaps very important late of March 2021 time magnet, what is the next due potential BIG, BIG turning magnet regarding the time. I would place a Buy-Stop order at 324.5$ on daily closing base to hopefully profit from a quick (10-15 trading days?!) run into ATH resistance surroundings as this daily upcycle usually needs another wave higher to deliver at least a classic ABC-upward correction cycle that likely started at the # 1 // 2021 Low.
Be prepared!
Eduard Altmann