On February 17th, I called bitcoin to top within days around the bigger round 50.000$ negative Gann number influencer what THEN corresponded to a 52$ for the Grayscale Bitcoin Trust (GBTC) in which we were heavily long. We covered the GBTC long positions the same day at 52.00$ and higher. Finally the GBTC found alltime-high two days later at a 58.22$, what triggered the strongest decline since the beginning of 2021.
Look at bitcoin first. I expect bitcoin to pullback to the low 40.000`s, after it has topped out at 58.330$ alltime-high last Sunday: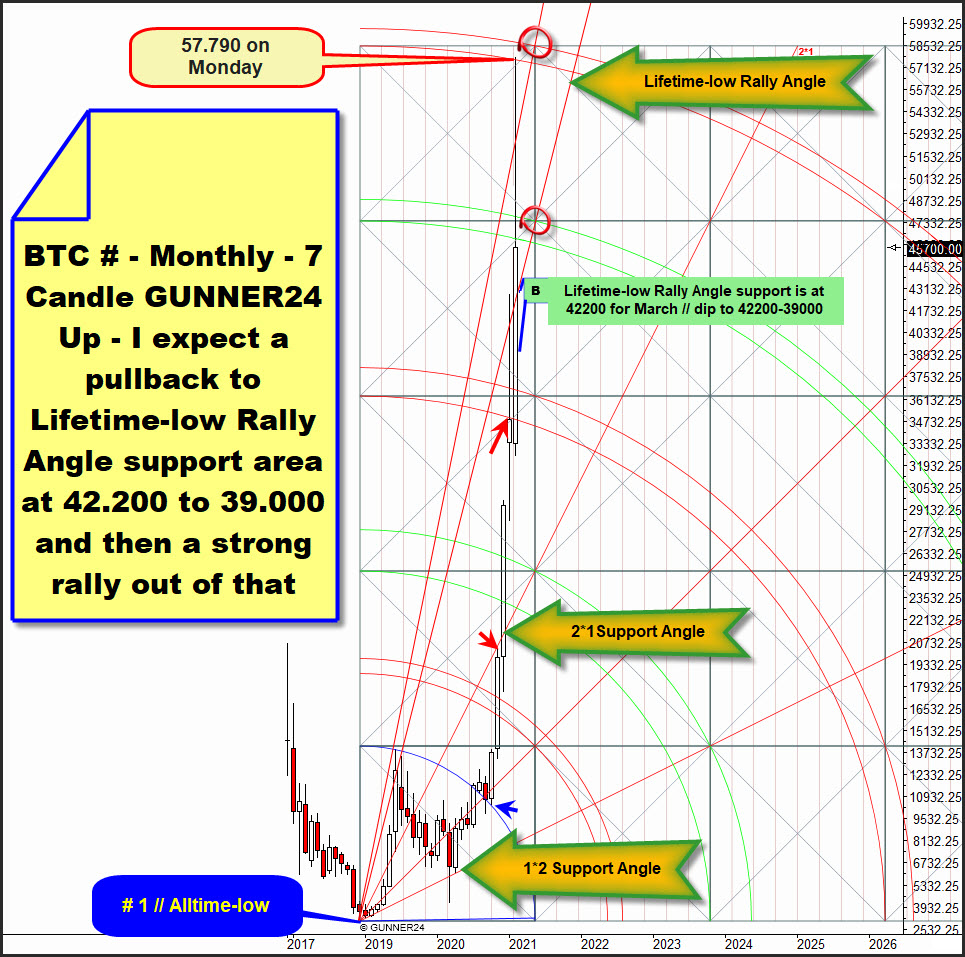 The Bitcoin continuous futures contract (BTC #) maxed out at a 57.790$ on Monday, followed by a heavy 2-day drop that found shortterm lows at 44.900$. I have in mind that this was the fastest, hardest sell-off in percentage terms the bitcoin was ever faced with.
Somehow no wonder that it went down so quickly when we look at this now very well confirmed monthly 7 Candle GUNNER24 Up Setup on BTC #. The setup starts measuring to the upside at # 1 // Alltime-low. The lower line of 5th double arc runs at about 47.700$ for this month candle and the next due candles and precisely there the price found a massive bullish exhaustion signaled by the unusual looong February 2021 Spike High.
The Tuesday`s shortterm lows were breaked by overall future support energy of the 4th double arc but at the same time this 4th double arc main support zone became violated during this first knee-jerk reaction to the lower line of 5th double arc future yearly main resistance rail.
On Friday the bitcoin again was weak into week & month close, the obvious very strong existing bear forces that were triggered after the final work off of the natural MAIN uptarget of the lower line of 5th became finally confirmed by 45.700$ month close what IS BELOW 4th double arc!
What is still very bullish closing auction although the 4th double arc is now also confirmed future main resistance. This is highest month close ever reached obviously and therefore an extraordinarily strong chart technical rally continuation signal.
==> This is why individual pullbacks/corrections should be bought with both hands, until confirmed otherwise. For bitcoin quite normal -20%, -30% pullbacks/corrections and even a bigger -50% retracement is a GIFT!
However, bitcoin bounced from a total of 2! monthly GUNNER24 Double Arc resistances over the course of February 2021. So it could not overcome these major bull market tasks at the very first test ==> This why I`m expecting that the underway pullback/bull market correction usually has to test back the likely strongest future bitcoin support what is the "Lifetime-low Rally Angle".
==> a pullback/correction to possibly to the 42.200$ where the Lifetime-low Rally Angle runs for the new March 2021 candle and then a Dead Cat Bounce rally back out of that.
==> because bitcoin moves so quickly and is also traded 24/7, I have to say that its more like that a final pullback/correction low could arrive somewhere between 42.200$ to 39.000$!
==> A countertrend move starting at or triggered by usually very strong Lifetime-low Rally Angle support easily should lead to a strong backtest of the 52.000$ to 55.000$ or so..., and if Lifetime-low Rally Angle support provides further bull market main support and forces bitcoin into a next higher bull market low then bitcoin will be able to overcome the current alltime-highs in course of the next few months!
It can move quickly to a 42.200$ to 39.000$, that`s the bitcoin pullback/correction I would expect in the normal case. I would re-enter there if that is what happens.
Now let`s focus on GBTC and to its current bull market status and pullback behavior. Where we could possibly buy a dip.
That`s the GBTC dip scenario I`m expecting/ hoping for: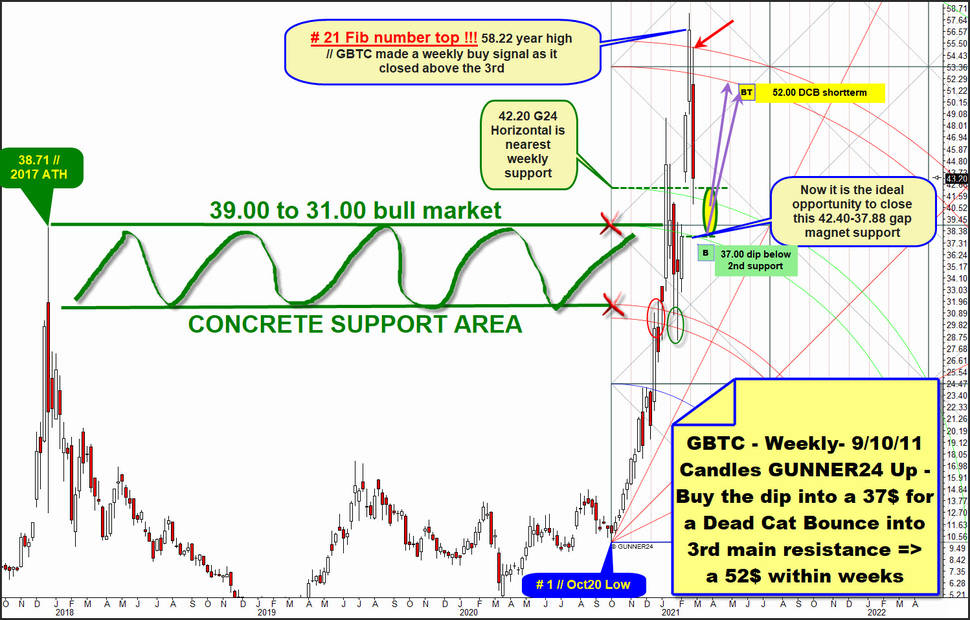 For this bitcoin market we have a nice-valid at # 1 // October 2020 Low anchorable weekly 9/10/11 Candles up setup, starting at # 1 // final low of October 2020.
We use it for months projecting the bitcoin waves. Last time we analyzed it within TOTD 02/17/2021. Click on blue to re-read this GBTC cover all longs-recommendation!
Finally the weekly # 21 Fib turn number turned the trend from rally to down. This was expected to happen when rally week # 21 arrives at forecasted 3rd double arc main uptarget resistance. So far so good. However, there is a sustainable long signal triggered with the final # 21-close as this auction happened relative far above the upper line of 3rd double arc.
Means, this # 21-GUNNER24 Closing Base buy signal on the weekly chart points to that bitcoin/GBTC bull market has to continue in further course of 2021, and maybe even beyond.
We have to expect some more higher highs for bitcoin and GBTC. Sometime...
This week candle spike high is 100% accurately at upper line of 3rd main resistance and this triggered the pullback/correction what bottomed likely only for shortterm close to the natural 42.20$ GUNNER24 Support Horizontal what springs from the highest price of the now overcome upper line of 2nd double arc.
Week low arrived on Friday at 40.80$ and that price spiked into natural 2nd double arc support environment what became confirmed = very important and strong nearest weekly main support by 43.20$ week close, what obviously defended the 2nd double arc in a very strong way and at first backtest.
Setup is in very nice harmony to the weekly action at very important year 2017 alltime-highs. The 39$ G24 Horizontal Support rail out of lower line of 2nd is in very nice sync to the 38.71$-2017 ATH. The 31$ G24 Horizontal Support rail out of upper line of 1st is in very nice sync to the highest week open of 2017. This 39$ to 31$ support range is heavy-strong future support area because this wider range arises from two important different places that lie in the past.
Firstly, from the 2017 alltime-high environment and of course from the important low of # 1-Oct20, where this unusual strong rally cycle started.
Therefore and usually, the 39$ to 31$ support range should offer at least support on yearly base, but more likely it will offer main support on DECADE base. So, a daily or weekly dip what reaches the 39$ to 31$ support range should be bought with both hands and likely will be rewarded afterwards for sure.
There are two more very important, usually very strong support areas below the printed 40.80$ pullback/correction low.
First is this prominent weekly gap below, what forms at 42.40$ down to a 37.88$. Second, there is the entire future 2nd double arc support environment what resides for the next due week candles at 41.50$ (upper line of 2nd) to a 37.50$ (lower line of 2nd) or so.
Whereas the naturally strong lower line of 2nd support together with the lower end of the weekly gap magnet forms an insanely attractive pullback support magnet that we should definitely buy when tested within days.
==> for GBTC now could be the perfect time and pullback/correction wave to fill this 42.40$-37.88$ gap magnet support, test back the lower line of 2nd double arc main support and hit & retest & confirm the upper edge of the CONCRETE 39$ to 31$ support zone as perhaps most strongest future support at the same time!
==> Within Trade of the Day service we buy GBTC at 37.00$ until March-12-2021, whereby the bearish forces now seen could well allow that our buy zone will be hit within just a few days.
IF 39.00$ to a 37$ or so is getting tested within days then a very strong Dead Cat Bounce rally perhaps has to backtest the lower line of 3rd double arc future main resistance and ideal important backtest magnet in a very classical countertrend wave. Lilac arrows options!
==> Shortterm uptarget and possible Dead Cat Bounce uptarget is at 52.00$ IF GBTC triggers the 37$ buy-point until March 12th!
Be a part of our exclusive sworn GUNNER24 Trader Community – now... I try to make you rich!
Be prepared!
Eduard Altmann