US stock markets closed another week near absolute 2019 highs. Week was No. 9 of rally cycle that began Xmas-holidays and although the week before was an option expiration time event week which tend to lead to shortterm cycle highs still no bullish exhaustion or even the slightest pullback can be recognized.
All this absence of any weakness - and of course the very strong looking uptrend structure - obiously indicates that the rally has to continue for some more weeks, printing some more fresh 2019 tops. And with some certainty, this weekly upcycle should probably be oriented to the Fib number 13.
Thus, as a short conclusion, weekly upcycle with some likelihood is expected to continue for even 4 full trading weeks until really important cycle heights could/should might be due. But in any case, this weekly upcycle should be stated maximally bullish for the coming 2, 3 to possibly even the next 4 to 5 weeks.
Thus, for the next 2, or 3 to possibly even the next 4 to 5 weeks stronger daily correction cycles according price - 50% or 61.8% retracements of previous daily upswings - should be pretty much excluded.
==> we are now again allowed to add to long positions. We should buy pullbacks and daily downswing cycles... as long as ES # future contract has worked off 2815 pts!!!
Below I`ve anchored a 5 Fibonacci number GUNNER24 Up in the weekly ES # chart which starts measuring at # 1-Xmas lows. It reveals that ES # at a minimum should test or work off 2815 pts within this cycle, or to be more precise very, very rare V-shaped rally cycle.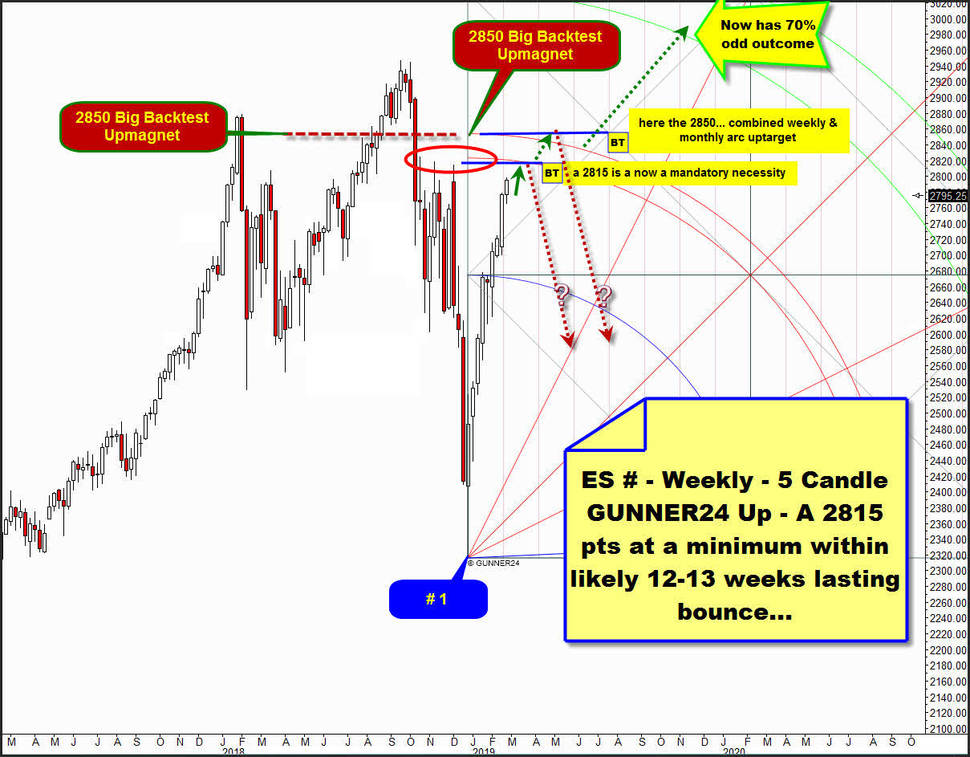 Note that the necessary 2815 pts for the upcoming few candles are at within rally acitvated lower line of 1st double arc GUNNER24 Uptarget.
==> 2815 pts resp. lower line of 1st double arc test = work off is now finally ACTIVATED uptarget for the market. And there highlighted by the big red oval we remember 3 bearish spike highs which have been printed towards the close of 2018.
These 3 spike highs have morphed to a very attractive harmonic backtest region. Price meanwhile trades so close to that attractive backtest magnet, I can`t imagine that the 2815 will not be processed in this expected 12 to 13 week candles lasting leg.
But pretty blatant is the observation that the upper line of 1st double arc, which also is possible natural uptarget for this run takes course at about 2850. And the natural GUNNER24 Resistance Horizontal resulting from the intersection price of the starting point of the setup with the starting price of the upper line of 1st double arc is exactly at the 2850 pts.
And the 2850 pts was worked out here "Now the Stock Market Bears will be grilled", to be the most important ES # objective for the entire 2019.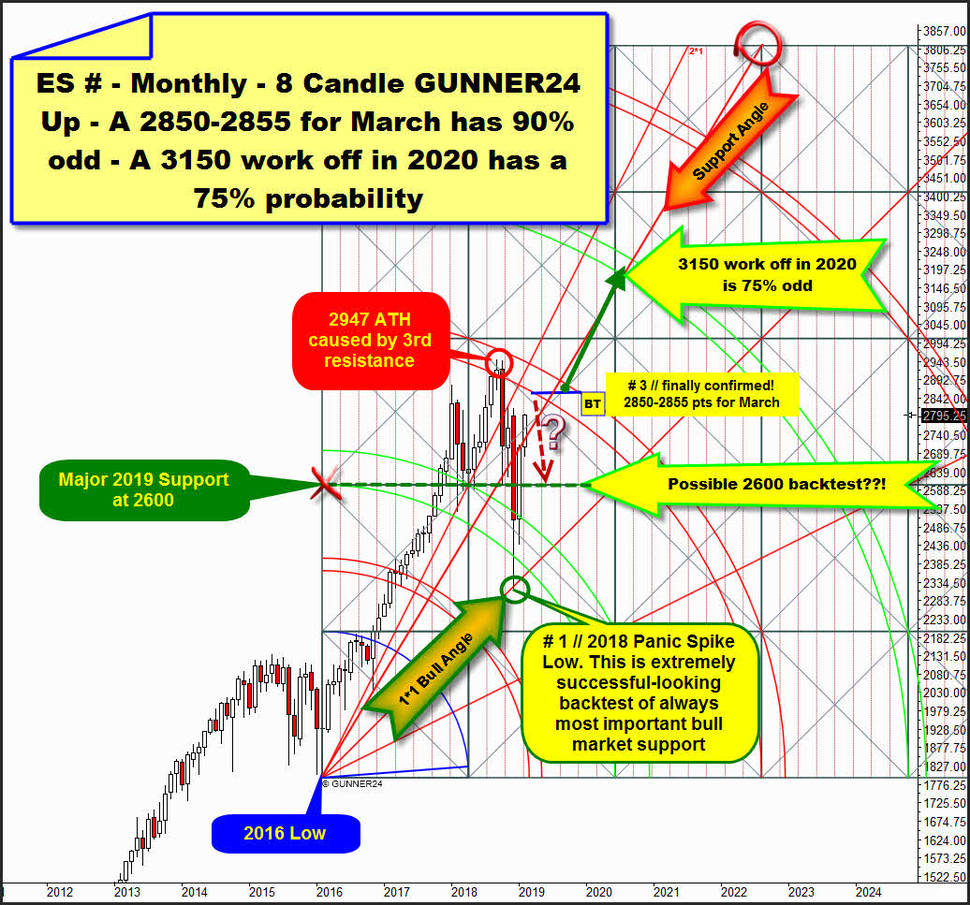 Hmm, now both, the determining weekly and the ruling monthly GUNNER24 Up Setup (classic 8 Fib number up, starting at 2016 Low) which is shown above point to, or allow a 2850-2855 for this ES # V-rally cycle which is expected to run for 12/13 week candles
==> 2850 morphed to a confirmed important combined weekly and monthly upmagnet cause the former nearest most important monthly GUNNER24 Resistance is now successfully overcome with the still in time February 2019 candle. This former rising resistance has morphed to nearest important rising monthly support and above is named "Support Angle".
And watch by your own, it smells that 2850 pts very attractive upmagnet resistance target could actually be completed soon...
Within monthly 8 Candle up the 2850 is pinpoint at lower line of 3r double arc for the coming March which then will be candle No 3. of the rally that began at # 1-low, that was 2018 Panic Spike Low, braked and triggered by always most important bull market support! The 1*1 Bull Market Angle, out of 2016 Low.
2850 to 2855 = lower line of 3rd is in striking distance for the coming # 3-March 2019 candle and has a 90% odd to be worked off in course of # 3-March 2019!!
Cause this rally cycle acts soo strong and started precisely at most ideal bull market backtest magnet GUNNER24 Method raised to a +70% odd that higher alltime-highs are due in further course of 2019!!! Consequently the 3rd double arc main resistance has high odd to be overcome finally and decisively in course of the next few months!
Method with a 75% probability projects that the next higher double arc above the 3rd double arc will be worked off in main trend direction, that is strong behaving multi-year bull market until proven otherwise!!
3150 pts at monthly 4th double arc upmagnet will be finally activated as next important bull market objective after a first decisive monthly close above 3rd double arc main resistance. A 3150 pts might be worked off early 2020, or so. For this watch dark-green arrow placement within chart above!
What the market plans after the probably necessary backtest of the 3rd double arc upmagnet resistance is - at least for me - still hidden in the dark. I have A) market could test back BIG = very strong 2019 Support Horizontal at/near 2600 pts before 2019 bull market cycle resumes, followed by higher alltime-highs in further course of 2019. Or, B) 3rd main resistance backtest objective will be finally overcome in course of a 5 to 6 month candles lasting rally cycle!
Be prepared!
Eduard Altmann