Just in the uncharted territory the Forecasting Method based on the techniques of W.D. Gann offers some excellent possibilities for determining the important future targets quite orderly. Frequently, not only the expected price range can be forecast in advance, but especially the very moment when the expected price should be reached can often projected as well.
On November 22, I published my S&P 500 topping analysis what is based on the ruling yearly GUNNER24 Setups of the S&P 500 cash index. Your can click here or on the coming 2 charts to re-fresh that hard call: "This is where the S&P 500 should max out in 2021, before next bear market begins".
At that time, 3 very hot MAJOR price uptarget magnet resistances were explored for the S&P 500 regarding a possible final high of 2021. One objective was the round 3900. One was the 3930 pts natural yearly GUNNER24 Resistance Horizontal. On February 12 the 3930 pts uptarget became finally worked off and the 3934.83 record close is printed. On February 16, the current alltime-high at 3950.43 pts is made.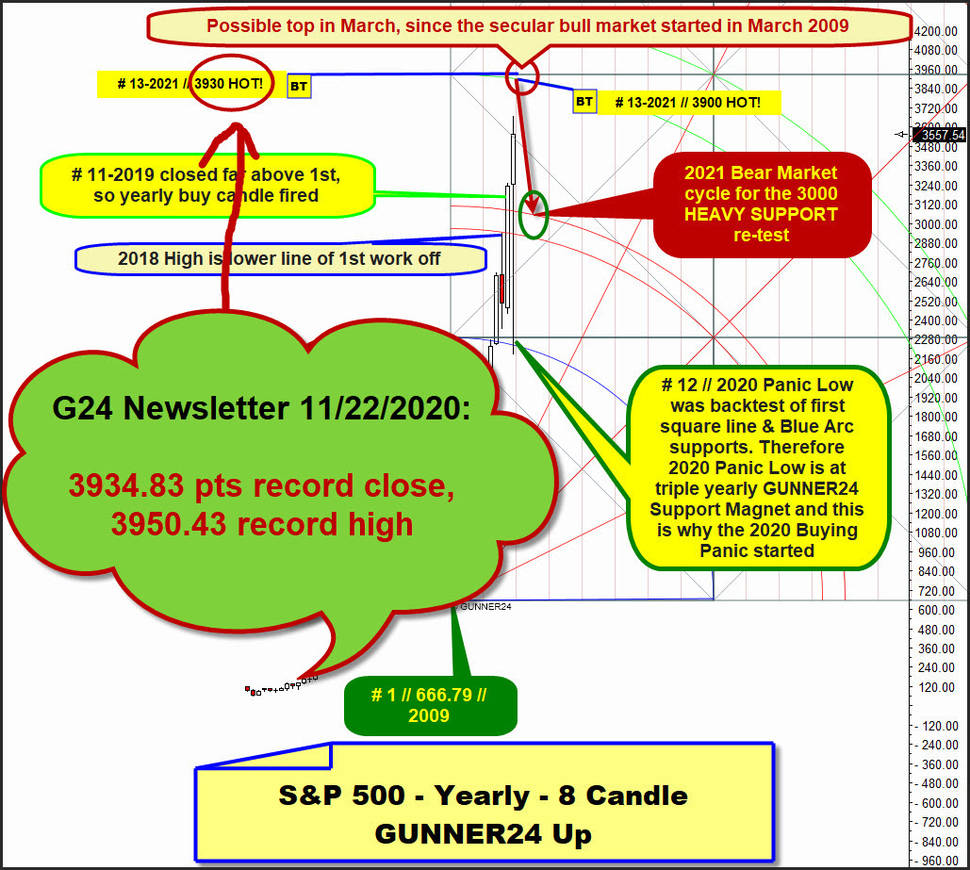 Thus, normally powerful annual resistance zone has now finally been reached. From now on it will be very critical for all stock market bulls, although it is still plausible to reach the 3970 pts and even the round 4000 pts, as this next yearly 24 Candle GUNNER24 Up Setup suggests: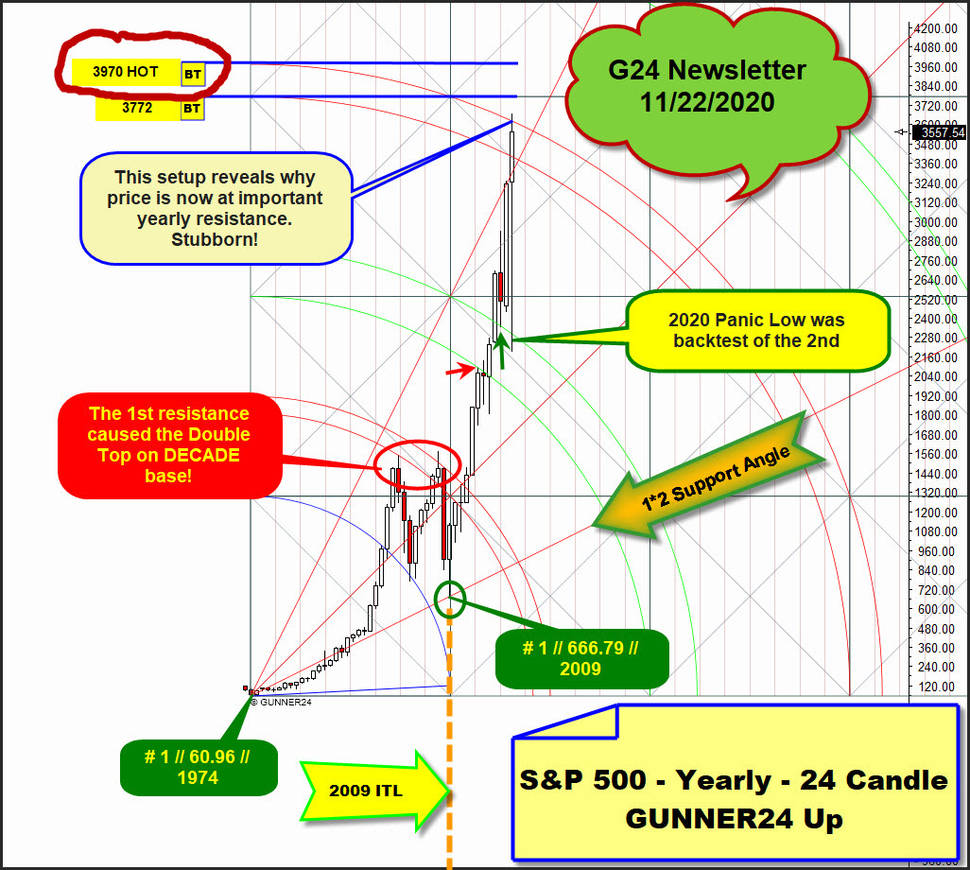 GUNNER24 predicted 3900 pts to 3970 pts will become MAJOR yearly resistance area for the S&P 500. In terms of time, I suspected that March 2021 candle could well print the possible final highs of the year 2021, as this month would be the 13th Fib number month candle since the famous March 2020 bear market lows.
So it may well be the outcome that the market wants to continue quite steadily higher into a 3970, maybe even 4000 pts perhaps until the very last trading day of the March 2021, simply because the time factor allows and signals it.

This week Tuesday the S&P 500 pretty exactly bounced from yearly 3930 pts GUNNER24 Main Resistance Horizontal, followed by a visible downward reaction. An immediate visible reaction to a forecasted GUNNER24 Rail is always an unmistakable sign that this rail is somehow important for the market, or is becoming important and thus wants to trigger a change in trend, resp. maybe has the energy to turn the trend finally. For now the 3930 pts has morphed to a confirmed daily & weekly closing base resistance horizontal:
On Tuesday 16th of February the S&P 500 emini (ES #) alltime-high spiked into a 3959.25, by this the very-well defined upper edge of the +3-month Tight Upward Channel was negative tested again. ES # record close is at 3931, so 99.99% accurately at yearly 3930 GUNNER24 Horizontal Resistance...: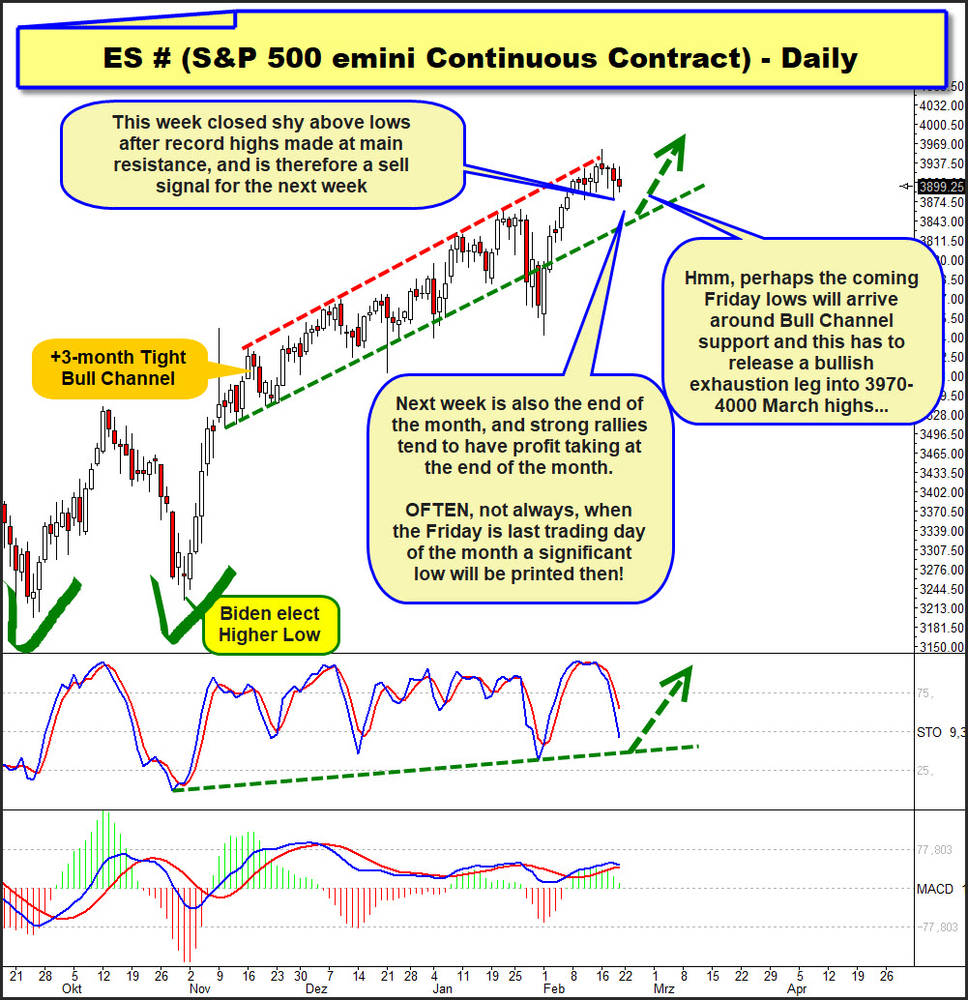 The S&P 500 index, the SPY ETF and S&P 500 emini have rallied strongly in a Tight Bull Channel since November 10. The bears were able to create some bigger bear candles which violated the dark-green dotted channel support, but the bulls bought each one immediately afterwards. And they will continue to buy every reversal down, until there are consecutive strong bear days closing near their lows.
This week closed near lows, and is therefore a weaker sell signal for the next trading week. Coming week is also the end of the month, and strong rallies often have profit taking at the end of the month. There is a rule:
OFTEN - not always! -, when the US stock market indices are caught in a strong bullish cycle and Friday is the last trading day of the month it tends to provide important month lows. Therefore, the coming Friday may have to trigger a next higher low in the +3 monthslong buying climax.
Such perhaps important Friday-last-trading-day-low might arrive at the dark-green dotted Tight Bull Cannel support rail and such a bullish event might be the main reason for a perhaps last final exhaustion rally cycle into a 3970 pts to 4000 pts/# 13-Fib turn number March 2021, the next major time magnet in front.
==> The monthly bull market cycle what started at famous March 2020 low is possibly oriented to the always important 13 Fib number.
==> The bull market candle/month # 13-March 2021 is also the most natural = ideal time for the 1-year-cycle high. The ES # bull market started on March-23-2020 at a 2174 pts. Therefore, Tuesday March 23-2021 is cyclically the most perfect day for the event of final 1-year-cycle highs. We always allow +/- 2 days deviation to better assess the basic idea of a significant extreme that might be due.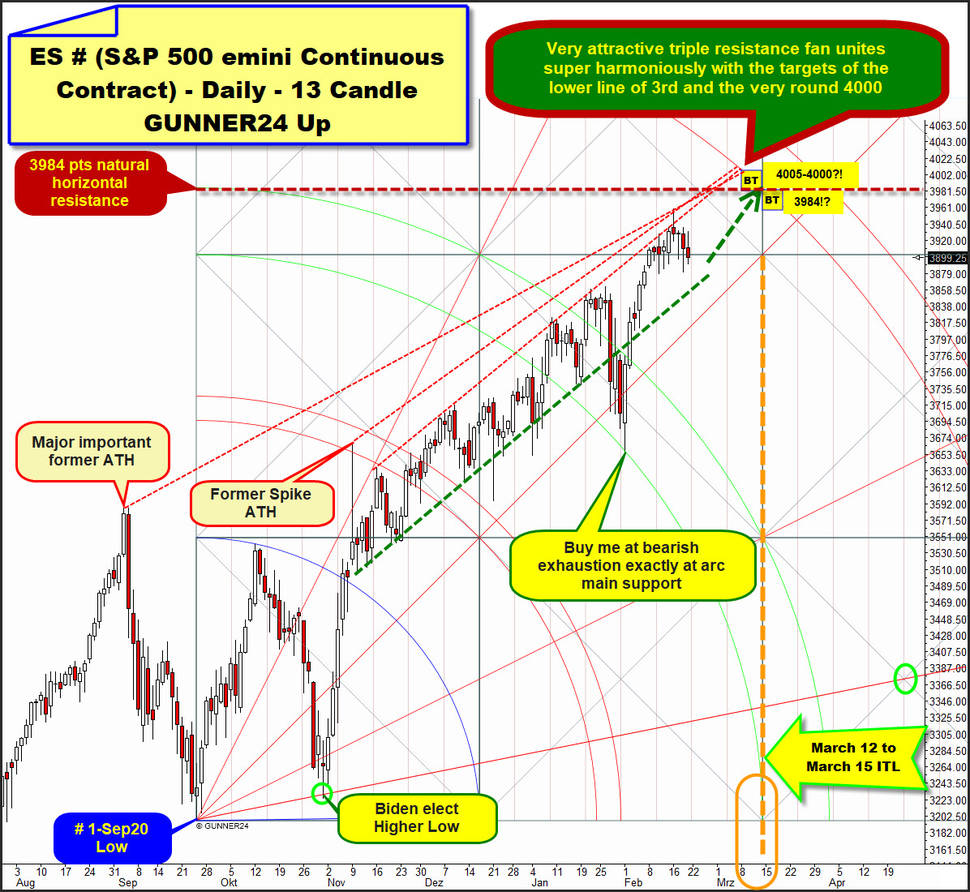 The daily textbook 13 Fib number Candle GUNNER24 Up, starting at the important higher bull market low of # 1-Sep20, predicts these interesting things in terms of price and time:
A final rally leg of this for +3 months running buy climax could start next week at dark-green dotted Channel Support and could work off prior activated lower line of 3rd double arc uptarget either around March 12 to March 15 ITL, for then at daily 3984 pts triple upmagnet resistance what is naturally formed by the A) maybe future important 3984 pts GUNNER24 Resistance Horizontal & B) the lower line of 3rd daily uptarget & C) the next due orange-dotted important time line (ITL). This combined triple price/time magnet is in nice harmony with the yearly 3970 pts GUNNER24 Main Uptarget resistance horizontal, what is a really HOT uptarget spot to release the final highs of 2021.
For a very important bull market high to occure and the market to reverse sustainably afterwards, it is often necessary that the "anticipated very last upwave" into a prior identified possibly due topping point is a "surprisingly" fast and violent upleg (buying panic), which then also "surprisingly" exhausts itself quite rapidly at unforeseeable highs or at the natural important upside target magnets.
The nearest due major and above all by every trader and investor recognized natural upmagnet is of course the round 4000 pts for S&P 500 index and S&P 500 emini. This important round W.D. Gann number resistance could well be reached at final # 13-March 2021 highs, because isn`t it meaningfull that there are a total of 3 very well predefined red-dotted rising resistance lines that converge pretty perfectly around the 10th of March with the big 4000 pts number upmagnet and the lower line of 3rd, the nearest activated natural daily GUNNER24 Uptarget?!
Be prepared!
Eduard Altmann