Gold proceed to attack. Gold is breaking out. New year-highs for gold. The rotation out of the stock market into upcoming 1-year-cycle highs, seasonals, coronavirus, you can debate the reasons. With the Friday close it hammered highest daily & weekly & monthly close of this bull market.
==> Go fully into the gold and Gold Miners again now. It's a no-brainer, so all in!! The expected main uptargets according price and time for the at January low resumed rally move are to be found in today's issue.
From a technical point of view it is clear:
Just printed highest monthly bull market close is MAJOR bull market continuation signal.
The January 2020 close at 1593.4$ is the highest month close of the bull market. More bullish is that January 2020 made a higher high as the highest price of 2019.
There is no more obvious buy signal, exising. There is no more obvious strong buy signal, cause this is charttechnical buy signal on combined monthly & yearly base. That will inevitably lead to some fresh higher 2020 highs.
And therefore it is justified to go strong long from a monthly perspective.
Monthly 1560$ double GUNNER24 Support Magnet might be tested back sometimes in course of February. Maybe within a quick & sharp daily pullback cycle after fresh 1615$-1622$ highs ...: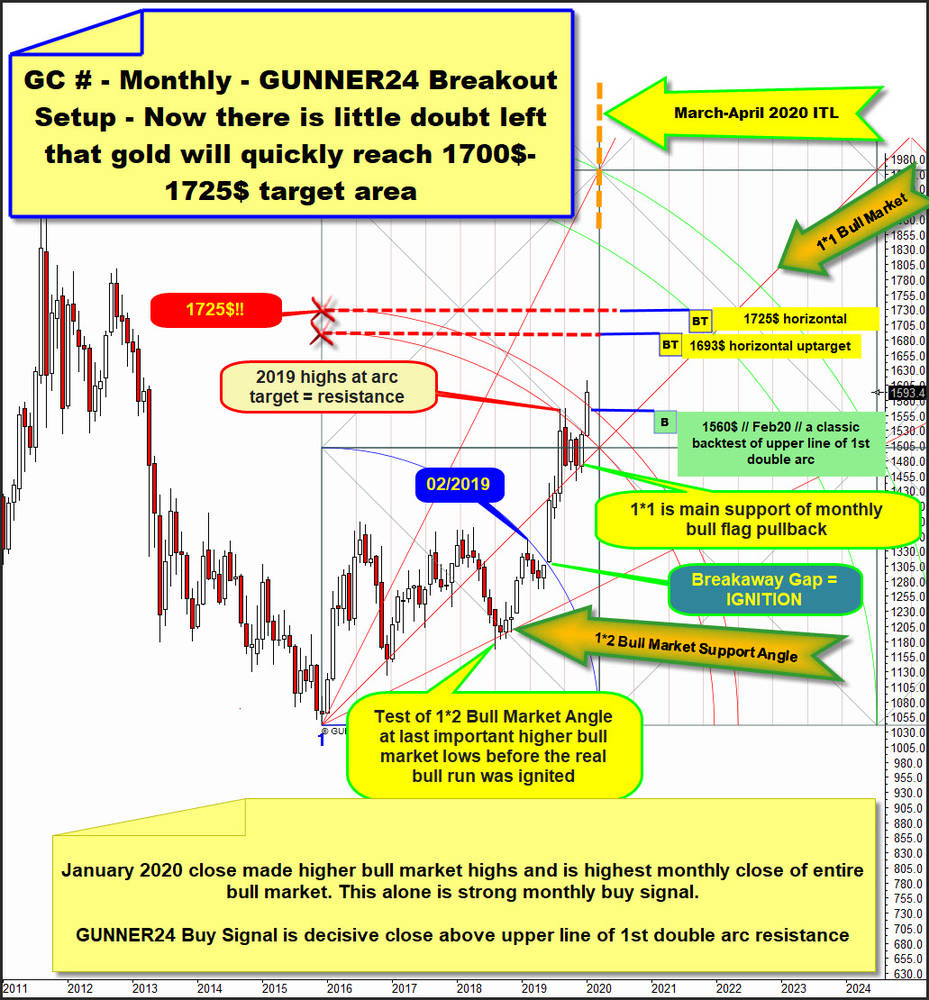 Above I`ve placed a currently determining monthly up setup, which depicts range from year 2015 bear market low into important bull market high of February 2019. This setup is determining because the monthly breakaway gap above Blue Arc resistance triggered the strong bull market phase in gold. Before and until the final overcoming of the above circular Blue Arc, gold had been moving sideways for years. The jump over the Blue Arc main resistance finally released a major longterm buy signal and positive energy thrust in the bull market.
At achieved final 2019 highs the first important GUNNER24 Bull Market uptarget was reached/worked off and afterwards gold formed it`s 5-monthlong Bull Flag, a bullish consolidation within yearlong bull market and as imminent reaction to the 1st double arc resistance magnet.
Watch closely, that the high of the December 2019 candle is seen EXACTLY at lower line of 1st double arc natural bull market resistance. This December and entire 2019 avioded overcoming the lower line of 1st rail, closed shy below the entire 1st double arc, til then combined yearly and monthly resistance magnet.
First bull signal of 2020 is fired at open of January 2020 candle. This auction skipped lower line of 1st, the well-confirmed, combined monthly & yearly resistance magnet finally to the upside.
... and this was a very first buy signal on ANNUAL BASE that is fired by the first notice of the new year.
To the T accurate backtest of lower line of 1st – of course a successful one - occured at final low of Janurary 2020!
==> Overcoming this lower line of 1st re-enforced the bull power ==> 5-month Bull Flag resolved to the upside, and up she went in further course of January 2020, printing next higher bull market high on yearly base.
January 2020 closed far above the upper line of 1st double arc and this is a GUNNER24 Buy Signal on monthly base.
Big, nearest bull market uptargets, this setup has triggered with the bullish Jan20 close at 1593.4$ are:
The natural two horizontals out of lower line of 1st and upper line of 1st double arc. Which became important for the price in the past and therefore the mentioned horizontals above current quotations are future imporant for the price and for this bull market.
At 1693$ runs lower horizontal uptarget for the future. This target perhaps might be reached March 2020, when the next important time line is due. For this watch orange-dashed vertical, ITL due for March 2020.
Exactly at 1725$ runs the slightly higher horizontal bull market uptarget for the entire future. And the 1725$ is very interesting price. This confirms GUNNER24 Breakout Setup above.
First, 1725$ is in striking distance to the always and for ever important 1722$ combined yearly and monthly GUNNER24 Horizontal Magnet.
Second, the still overall ruling classic 8 Fib number Candle up, starting at # 1 // 2015 Bull Market Low offers very important bull market uptarget, ALSO existing at worked out important 1725$: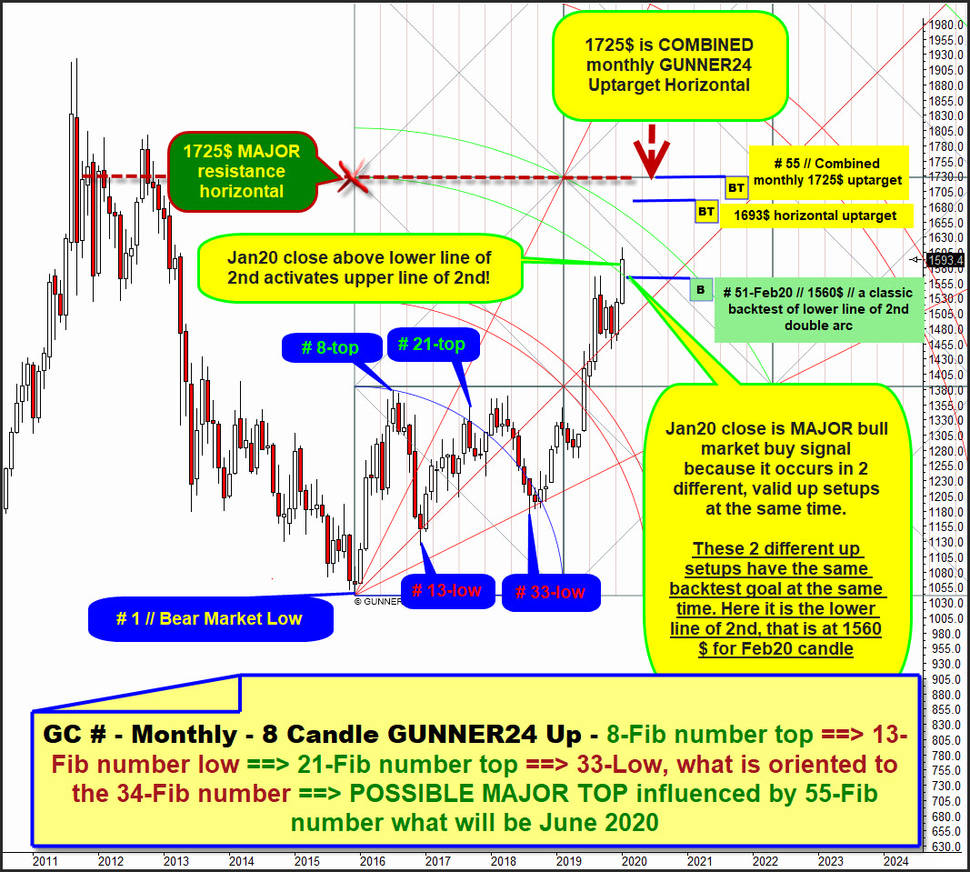 For years we use this textbook 8-Fib number up for trading signals and forecasting the individual trend waves and cycles.
Please first focus to the now finished January 2020 candle that closed sufficiently far above the lower line of 2nd double arc uptarget (initial bull market resistance) therefore activating the immediate first test of the upper line of 2nd double arc.
This up setup delivers same buy sign as first shown monthly one:
==> Jan20 close is MAJOR bull market buy signal, cause it is fired in 2 different, valid up setups at the same time.
These 2 different up setups have the same backtest support magnet at the same time. The 8 Candle up delivers it is the lower line of 2nd double arc, that runs at 1560$ for Feb20 candle.
This is why you should go all in gold at the "ideal" February 2020 backtest magnet = combined monthly support magnet, what is at 1560.00$ for the entire February!
==> These 2 different up setups also have the same important bull goal fired at the same time:
1725$ is a MAJOR bull market target cause now also the 8 Candle up radiates future natural horizontal magnet there. Within above setup the 1725$ threshold upmagnet springs from highest possible price of lower line of 2nd double arc, offering for ever interesting bull market attraction!
And the most trustful confirmation that we should be strong long until 1725$ target work off is the fact that the most important extremes of the bull market mostly exactly respect the Fibonacci sequence, thus this yearlong-bull is/seems strongly related to the golden ratio = nearly perfect trend according time. So far we count:
8-Fib number top ==> 13-Fib number low ==> 21-Fib number top
==> 33-Low, what is oriented to the 34-Fib number
The June 2020 will be the most-prominent 55th-Fib number month of bull. 55 is always important possibly due turn number and in the gold bull case this timer might influence the final highs of entire bull. Or maybe this traffic light triggers the final high of the entire year or triggers a long, long corrective wave. Who knows the final outcome caused by the 55 for sure actually...
Therefore and usually until then (+/- 1 unit) the 1725$ resp. usually major important 1722$ combined monthly & yearly GUNNER24 Upmagnet Horizontal might be worked off.