This week the Copper Miners were among the Top 10 best perfoming markets as the copper futures price jumped near a 3-month high. The metal considered by many to be an economic bellwether seems to be signaling robust global growth ahead. Copper prices have more than doubled since March 2020 coronavirus panic lows. Copper is naturally an important component in the housing boom with its applications in plumbing and wiring. Copper is also playing a pivotal role in renewable energy and electric vehicles, which require three to four times the amount of copper as gas-powered cars.
At the end of this interesting rally-week and with the official 39.72$ close the Copper Miners ETF fired a strong looking buy signal as longer-lasting main resistances were sustainably overcome via gap opening.
==> The short-term upside target for COPX ETF shares appears to be the 45.35$ magnet environment. This uptarget, which has just been activated with the current weekly closing price, is a natural important future GUNNER24 Uptarget on the monthly chart, as shown in the following monthly GUNNER24 Up Setup: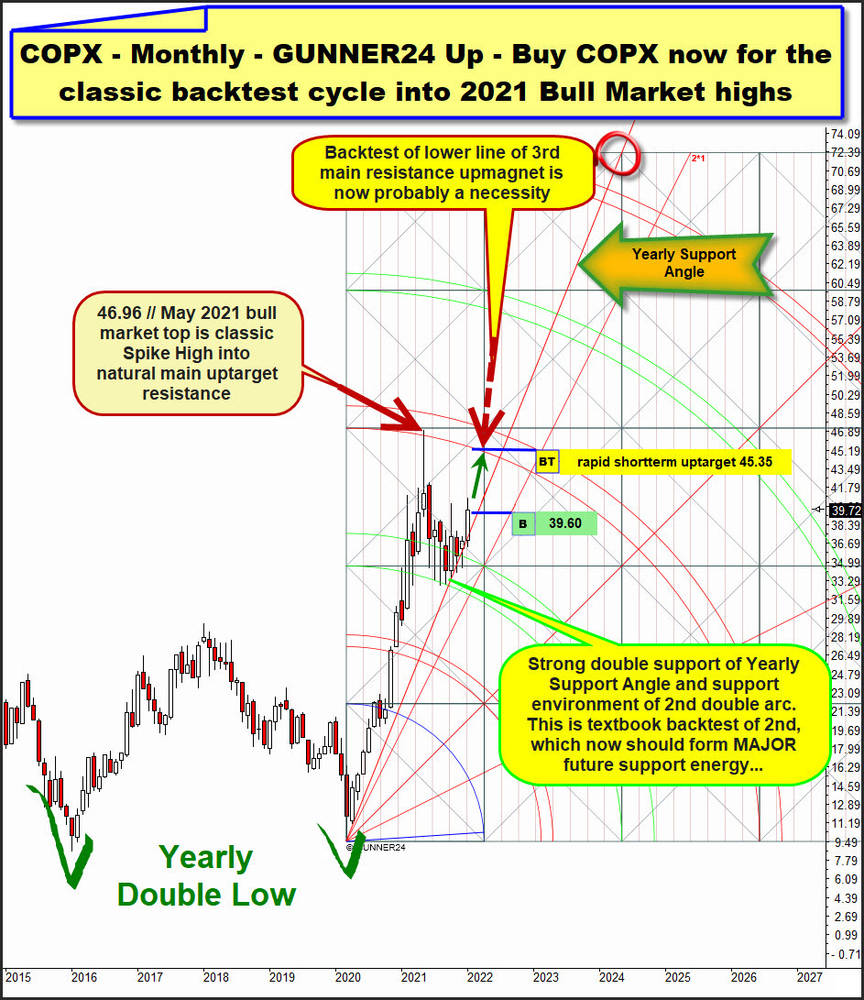 The Global X Copper Miners ETF (COPX) seeks to provide investment results that correspond generally to the price and yield performance, before fees and expenses, of the Solactive Global Copper Miners Total Return Index.
The most valid monthly up setups starts at final low of 2020 what is the right pillar of the mighty 2016-2020 Double Low pattern on yearly base. The so far COPX Bull Market highs have arrived nearly perfect = ideally at the natural uptarget of the lower line of 3rd double arc.
The following correction cycle is a very bullish looking one as the 2nd double arc was just successfully retested from above. At this "2021 Bottom" the lower line of 2nd support and backtest magnet has held with an 99% accuracy. With this positive correction the lower line of 2nd double arc main support has morphed to arc support on yearly base.It triggered the underway uptrend.
On the monthly chart above we find that a natural Support Gann Angle out of 2020 Low additionally kicked in at that "2021 Bottom".
==> This "Yearly Suppport Angle" is now 3 times rising monthly opening support rail!, and actally most strongest bull market support rail. A first monthly close below this "Yearly Suppport Angle" would be a first mighty sell-short signal ...
If bull market energy remains anywhere near as strong as it has been in recent weeks - and we have to assume it will after the weekly buy signal just fired -, the lower line of the 3rd double arc uptarget should be retested rapidly at the 45.35$ shortterm uptarget magnet. It could still be worked off this January!!! Or maybe not until later in February.
This lower line of 3rd is quite natural backtest target for COPX shares on monthly, but also on yearly base after the May 2021 bull market highs spiked into natural important bull market uptarget of lower line of 3rd double arc. This lower line of 3rd above is a combined yearly & monthly resistance rail and at same time the most important existing yearly upmagnet.
Or, this lower line of the 3rd double arc is THE IDEAL magnet, which the current upward cycle should at least reach!
==> The shortterm uptarget for a COPX-long position is the MAJOR resistance upmagnet at 45.35$. This uptarget normally will be completed until end of February 2022.
I think, it`s absolutely fine to long COPX shares here at the current quotations!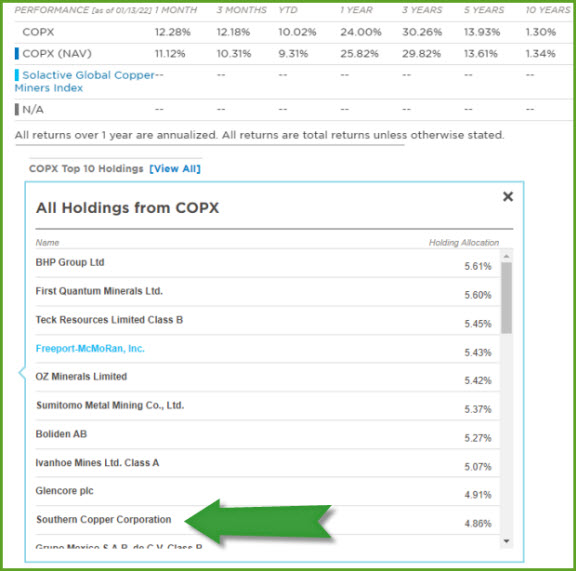 Southern Copper Corporation (SCCO) is not the largest of Copper Stocks, but its rapidly growing dividend is making it a way for yield-chasing investors to cash in on the metal`s revolution:
Q3 2020: 0.40$ per share dividend
Q4 2020: 0.50$
Q1 2021: 0.60$
Q2 2021: 0.70$
Q3 2021: 0.90$
Q4 2021: 1.00$
The latest hike finds Southern Copper yielding +6.1%. Maybe because of this value SCCO shares show one of the most promising bullish chart patterns, I have seen in some time: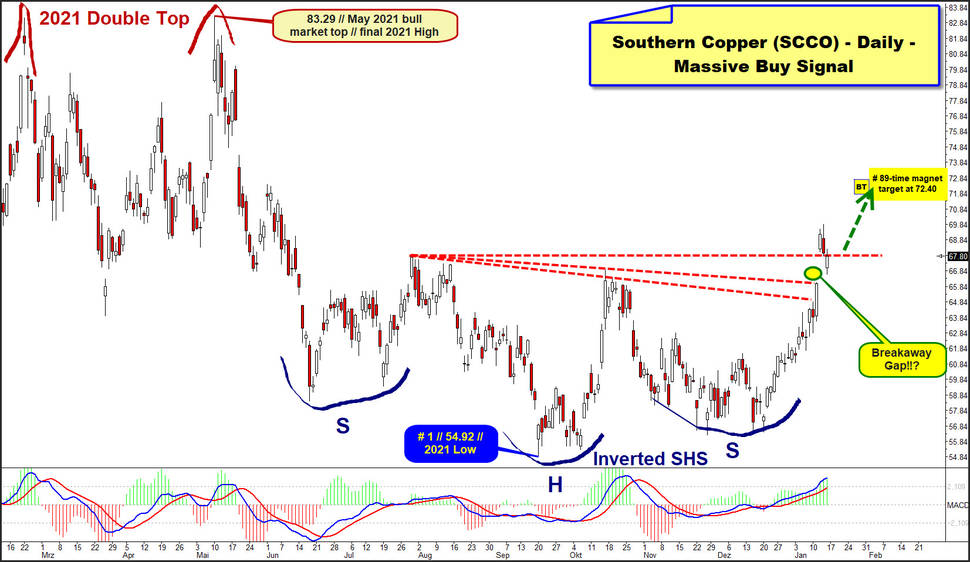 Likely bullisch Breakaway Gap completion of inverted Head-and-Shoulders (SHS) bottom.
Stable bullish and still upward oriented MACD.
Major weekly chart trend pointing up.
The count. The count. The count!!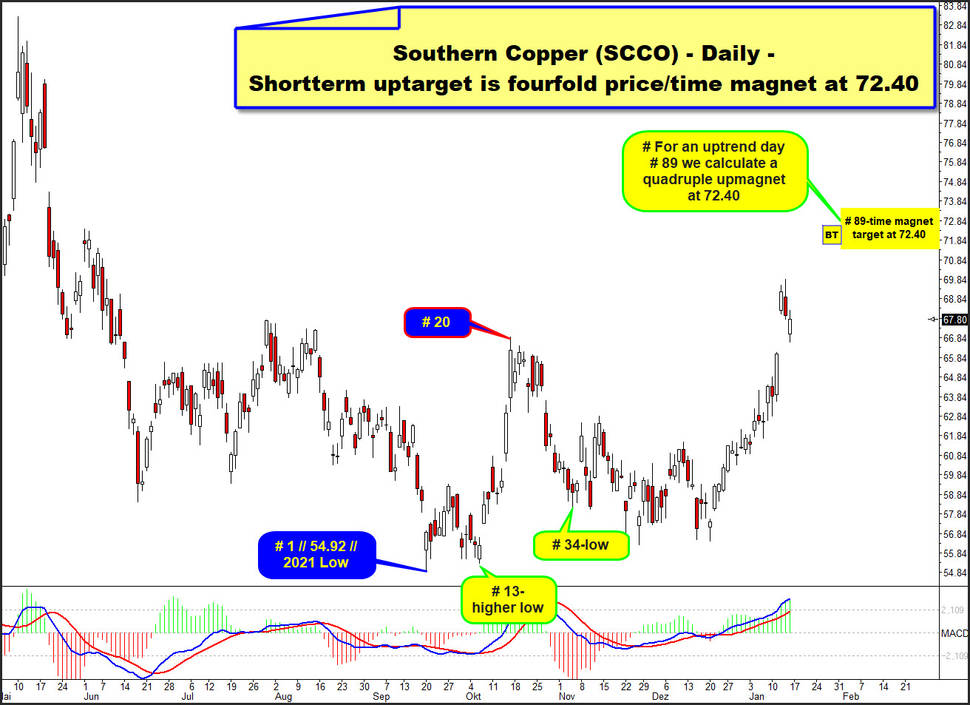 With coming Tuesday, the uptrend count will be at day candle No. 85, and since this uptrend delivered some important extremes that were directly oriented to the Fib numbers, we can strongly suspect that the next Fib number in the ongoing sequence - the 89 of course - that has begun at # 1 // 54.92$ // final 2021 Low can or should trigger another or the next major price top.
At # 1-Fib number low the last correction ended, the final low of 2021 came in and the uptrend began.
At top of uptrend day # 20 the initial up impulse was over.
At low of # 13-Fib number day the uptrend sealed its first important higher low.
The low of # 34-Fib number delivered a swing low.
Only the 55 produced nothing of interest.
With the charttechnical picture now so rosy, the probability that the # 89-uptrend time magnet could be responsible for the next important uptrend high is much higher than that the 89th day of cycle will form another major uptrend low.
==> Wednesday`s bullish "possible Breakaway Gap" buy signal activated a mathematical quadruple GUNNER24 Uptarget magnet that can be located at 72.40$ area on the daily chart. This is a triple uptrend magnet in terms of price and could be met or hit when the time event # 89-uptrend day will be on the agenda.
Please always give -/+2 days, as far as a possible price extreme influenced by the often major important 89-Fib number time magnet is concerned.
Be a part of our exclusive sworn GUNNER24 Trader Community – now... I try to make you rich!
Be prepared!
Eduard Altmann